The Geneva motor show is often full of new performance cars. Many manufacturers use the compact show to display the latest, most extreme versions of their cars, reveal brand new models or take the covers off concept cars. You'd think that the Swiss show, being almost centrally located in Europe, would be full of German, Italian, French and English cars, but the show's dominance in the motoring calendar draws American and Asian manufacturers too.
The vast array of new performance cars from such a diverse selection of manufacturers is what makes the Geneva one of the most exciting motor shows of the year and most relevant to us. With so many cars to see and learn about, save yourself some time and find out what our highlights of the 2018 show were.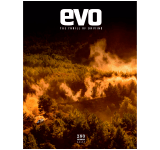 Subscribe to evo magazine
Subscribe today to have every issue of evo delivered straight to you. You'll SAVE 39% on the shop price, and get evo for its original cover price for a whole year!
> Click here for our live coverage of the 2018 Geneva motor show
BMW M8 Gran Coupe Concept
When was the last time you saw gold trim on the outside of a car? On a nineties Lexus LS400, probably. When was the last time it looked good? Well until now, never.
BMW's latest concept, the M8 Gran Coupe, eschews chrome or bushed aluminium brightwork for gold-tinted trim. The grill surround, side vents, wheel highlights and even the exhausts are gold. Matched with its two-tone flip paint – TVR Tuscan-style – you'd be forgiven for thinking it would over-the-top, in reality the BMW's menacing looks, amber lights and wide stance allow to get away with such flamboyant colours.
Toyota Supra Racing Concept
Toyota still hasn't shown us what the new Supra will look like. That's disappointing, yes. But to appease us – or taunt us, depending on how cynical you are – it has shown a racing version complete with wide arches and a full suite of aero devices called the GR Supra Racing Concept. The car doesn't conform to any current race regulations, but lurking underneath the race livery, extra vents and wings is the new Supra.
Mercedes-AMG GT63 S
Until this show, the AMG GT was Mercedes' two-door, two-seater sports car range. Now though, it has created the four-door AMG GT, or the Mercedes-AMG GT63, GT63 S and GT53 to be accurate. 
Despite being a saloon, the new AMG has a very coupe-like silhouette with a roofline that stretches right to its rear extremity. In Affalterbach tradition, it's fitted with a V8 – the 63 and 63 S models get the twin-turbo 4-litre V8 – but there's also a hybrid version, the 53 – its inline 6-cylinder engine combined with an electric motor. It's a sleek and sophisticated-looking car, just don't ask us why Mercedes needs the AMG GT53 and the AMG CLS53 – another four-door with coupe-like lines and the same drivetrain.
Ferrari 488 Pista
Like the Challenge Stradale, Scuderia and Speciale before it, the new 488 Pista takes its inspiration from Ferrari's GT race cars. Its twin-turbo V8 has been given more power (49bhp more to make a total of 710bhp), it weighs 90kg less, its aerodynamics have been improved and the chassis has been sharpened. It also boasts a whole load of electronic technology to allow the driver to access the car's incredible performance more easily.
The Pista has big boots to fill though, the 458 Speciale was a truly spectacular and involving car. It won our car of the year title in 2014 and we almost declared it the best car we had ever tested in evo's first 200 issues. However, it was beaten by the Porsche 911 (997.2) GT3 RS 3.8, another car that's successor is at Geneva…
Porsche 911 GT3 RS
Ok, so there are no surprises here. The new GT3 RS conforms to the well-trodden formula Porsche's GT department has followed for years, but that's hardly a bad thing when the results have always been spectacular.
This new car still has a 4-litre flat-six, but with a 9000rpm rev limit – like the GT3 – and with more power (513bhp) it's even faster than the outgoing model. As exciting as the performance of the 991.2 GT3 RS is, many of its race car-style details are just as tantalising. The GT2 RS-borrowed Naca duct on the bonnet and raised fins for the wheel arch vents make it look particularly purposeful.
Aston Martin Valkyrie AMR Pro
Even before the final road car has been revealed Aston Martin has shown us the trackday-only version, the Valkyrie AMR Pro. If you already thought the Valkyrie concepts looked like a race car sent back from the year 2030, then take a look at the AMR Pro version – it's equal parts single-seater, LMP1 car and driverless race car. Despite its futuristic looks, it's still powered by a tantalisingly old-school V12 engine developed by Cosworth; it's the same engine that'll power the road going Valkyrie, just with more power - over 1100bhp apparently.
Bugatti Chiron Sport
We didn't think that the 16-cylinder Bugatti Chiron really needed a sportier derivative. Its 261mph top speed and 2.5sec 0-62mph time certainly seemed impressive enough. But Bugatti thought differently and showed us the new Chiron Sport, with a firmer chassis, optimised torque vectoring and an 18kg lower kerb weight. Bugatti has managed to cut kilos from the carbonfibre hypercar with new wheels, special glass for the engine compartment window and carbonfibre wiper arms.
The biggest changes to the Sport seem to be visual alterations; there's a new four-pipe centre-exit exhaust, while inside there's black anodised aluminium switchgear and Alcantara trim. The show car looked imposing in red with the number 16 set into its front grille – pre-war race car style.
McLaren Senna GTR
If McLaren's Senna, with its aerodynamically optimised body, track-honed chassis and 789bhp twin-turbo 4-litre engine simply wasn't extreme enough for you, then this might be; the track-only Senna GTR. 
If GT1 regulations had continued to rule top class sports car racing, rather than ending in 1998, then we're quite sure this is what the race cars would look like today. Like its predecessor, the P1 GTR, the Senna GTR is more powerful – with 'at least' 814bhp – it also has slick tyres, a wider track and a gargantuan diffuser hanging from its rear. Sadly though, it's only destined for very exclusive track days and no real competition.
Ruf SCR 2018
Last year Ruf tricked everyone with its new CTR. From a distance it looked just like a Porsche 964 with some choice Ruf modifications. Everyone, forgivably, assumed it was based on an air-cooled Porsche platform but with carbonfibre bodywork, like its retro cars it revealed in 2015, but only painted yellow this time.
As you got closer – and you saw the pushrod suspension visible in the engine bay and front luggage compartment, the flush door handles, the LED headlights and, most importantly, the exposed carbonfibre sills apparent with the doors open –you realised it wasn't based on any existing 911 platform at all. Ruf had created a whole new carbonfibre monocoque structure for the CTR 2017, then dressed it up to look like an early 90s Porsche.
That same platform underpins the new SCR 2018, but rather than a heavily turbocharged engine in the back, it has a naturally aspirated 4-litre flat-six in its place. That's then mated to a manual gearbox. This is the purist's carbonfibre Ruf super car.
Rimac C_Two 
Rimac's first hypercar, the Concept_One, changed our view on how exciting, involving and how capable a fully-electric car could be. The company has now combined everything it knows about electric all-wheel drive propulsion, torque vectoring and autonomous driving and created a new car, the C_Two. It might have similarities with its predecessor, but it's an entirely new design.
With four motors, one for each wheel, the C_Two can perform extraordinary tricks like a 0-62mph time of just 1.85sec (with one-foot rollout, admittedly) and a top speed of 258mph. Yet, thanks to Rimac's technological expertise, it also has a range of over 400 miles from a full charge.
Jaguar XJ6
Jaguar Classic, the firm's internal classic restoration division, has gone to town modernising a 1983 Series 3 Jaguar XJ6. As well as some 18-inch wire wheels, the car has been modified with tweaked suspension, LED headlamps, bespoke bodywork, more modern-looking bumpers and a tweaked version of Jaguar's iconic XK 4.2-litre straight-six.
Inside the cabin has been retrimmed while including a host of modern features, such as air conditioning, central locking, sat-nav and a reversing camera. It also has a 1100W sound system, perfect for the man who commissioned the car, Iron Maiden drummer Nicko McBrain.
MAT Lancia Stratos
This modern interpretation of the Lancia Stratos, or at least its design, is not new. We saw it back in 2011, heck we even drove the F430 Scuderia-based concept. But now MAT (Manifattura Automobili Torino) has taken over the project and has revealed it will make 25 road cars, the first of which it brought along to this year's show. Even though it's a familiar design it's still utterly beautiful, not quite as attractive as the original Stratos parked next to it on MAT's stand though.
Alpine A110 GT4
We've definitely fallen for Alpine's new A110 sports car. Its small dimensions, low weight, mid-engined balance and rear-wheel drive chassis have made it a car to rival the sports car establishment. The prospect of an A110 race car, then, is truly exciting. Alpine used the Geneva show to unveil its A110 GT4 car, to take on Porsche, Mercedes, BMW, Audi, Ford and many more in GT and endurance races around the world.
The GT4 might not be as pretty as the clean and fuss-free A110 road car, but its low stance with its wheels tucked into its arches, its wide rear wing and prominent front splitter make it look much meaner.
Aston Martin Lagonda Vision Concept
More so than new production cars or simply derivatives of cars we've already seen, motor shows are about bonkers but beautiful concept cars. This year Aston Martin treated us to the unbelievably elegant Lagonda Vision Concept. The four-door, four-seat luxury saloon showcases Aston's new electric technology with batteries mounted in the floor and autonomous driving systems. But who cares what engine or propulsion system it's got when it looks this sharp?
Inside it's even more exceptional; there's crushed velvet on the floor and furry seat backs. The chairs inside have been created by English furniture designer David Linley and the front seats can rotate to face the rear, making the most of the completely flat floor.
Lamborghini Huracan Performante Spyder
Taking the roof off your hardcore drivers' car never really makes sense, compromising body rigidity and adding weight in the pursuit of wind-in-your-hair driving just doesn't seem worth it. However, when it's a Lamborghini, and the show and drama is as much about how the car drives, then it's as acceptable  as it'll ever be.
So the new Performante Spyder is slower than the coupe version, but it still has the same 631bhp 5-litre V10 engine and without anything between the exhaust and your ears other than fresh air, it promises to be just as exciting. With its marble-effect carbonfibre wings it looks just as exotic too. How the Performante's clever active aerodynamics, called ALA, will work with a gaping hole where the roof used to be is anyone's guess.
Ford Mustang Bullitt
The Mustang Bullitt is not new, it had already made an appearance at Detroit earlier this year. However, at Geneva, Ford revealed that the Bullitt would make its way to the UK in right-hand drive form.
Don't be fooled into thinking the Bullitt is just some green paint, it's a little more than that. The engine's output has been increased to 458bhp with torque up to 388lb ft thanks to a GT350-spec induction manifold. It also gets, as standard, heavy-duty front springs, a strut brace, a thicker rear anti-roll bar, Brembo brakes and the active exhaust has been retuned to deliver a deeper note.
Cupra e-Racer
You're probably perplexed as to why Cupra has separated from SEAT to become its very own brand, well don't worry, we all are. However, there's nothing like a race car to get us excited about a new car or brand. Pump up the arches, add a massive splitter and bolt a huge wing to the back of a car and it's guaranteed to look impressive.
That's why Cupra's e-Racer makes it onto our best in show list. Based on the SEAT Leon Cup Racer TCR touring car, the e-Racer doesn't just look cool it previews an upcoming electric touring car class too.