Honda Civic Type R review - ignore the looks, this is an astounding hot hatch - Engine and gearbox
Aesthetically displeasing perhaps, but the FK8 Civic Type R is magnificent. An honest real-world superhero
Engine and gearbox 
The 2-litre turbocharged four-cylinder engine that underpins the Civic Type R is the same basic unit found in the previous generation car. Fundamentally a relatively conventional engine, the 1996cc DOHC four cylinder utilises both VTEC variable valve timing and a high capacity single scroll turbocharger to produce its 316bhp and 295lb ft of torque.
It's available on a plateau of revs between 2500-4500rpm, it is the torque's spread in the rev range that provides the biggest point of contrast against Honda's previous Type R engines. The unit itself features direct fuel injection, cast alloy pistons, forged conrods, and what Honda refers to as a lightweight crankshaft. The engine itself isn't totally free of lag, catch it off-guard and it can take some time to wake up, but once its lungs are full, the Civic fires you down the road at almost ridiculous rate. The acceleration barely wanes at high engine speeds too, with a satisfying hard rev-cutout if you do brush the limiter.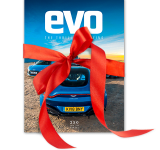 Subscribe to evo magazine
If you're passionate about the world's greatest performance cars, experience the thrill of driving with evo magazine. Try your first 5 issues for £5.
There wasn't much wrong with the gearshift in the FK2 - it was one of our favourite aspects of the car - but it's been further refined here with also a lower final drive ratio. Drive is once again deployed through a helical limited slip differential to the front wheels.