Honda Civic Type R review - ignore the looks, this is an astounding hot hatch - Ride and handling
Aesthetically displeasing perhaps, but the FK8 Civic Type R is magnificent. An honest real-world superhero
Ride and handling
In short, nothing like what you're probably expecting, at least initially. And why would you think any differently, when your eye is drawn to madcap elements like the Vortex Generators that jutt from the rear of the Type R's roof like a bristling porcupine. However, it takes just a few hundred metres to feel the massive improvement in ride comfort compared to before. In this regard, the Type R is now no more difficult to live with than any other hot hatch, particularly when put in the Comfort setting, which allows the dampers a surprising amount of stroke to deal with poor surfaces.
Sport is also well judged, but combined with much crisper throttle response, while even the +R mode is now perfectly useable on the road if you're in the right mood. Sometimes - just for a moment - you find yourself forgetting entirely you're driving something that looks quite so dramatic, it really is that much more refined in every respect.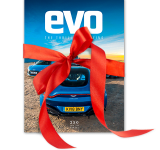 Subscribe to evo magazine
If you're passionate about the world's greatest performance cars, experience the thrill of driving with evo magazine. Try your first 5 issues for £5.
The FK8 Civic's interior is a major step on from the old car, and crucially for a hot hatch, all the really important interior bits in the Type R are spot on: great bucket seats, good pedal weighting including the brake, the tactile alloy gear knob and a lovely, slim, leather steering wheel. It's an environment that immediately sets the right tone for driving.
> Read our review of the previous-gen Honda Civic Type R here
All the laggy behaviour and awkward resonances of the old engine have been banished. It pulls cleanly and strongly from around 2,500rpm, then maintains that vigour unwaveringly to the 7,000rpm red line.
The switch to a single mass flywheel (compared to the dual mass setup of before), along with the much improved calibration, means that throttle response is sharp, the revs rising and falling notably swiftly, for example, when the clutch is in. It's an honest, energetic powerplant, with a breathy exhaust roar similar to an old Megane RS and no hint of electronic fakery to the induction rort.
When you find the right road, and really go for it, the Type R's character crystallizes into something viciously hard-edged. The steering is very precise, and the variable ratio now means steering is mainly via your wrists, rather than armfuls of lock. It's not dripping with feel, but neither does it ever register as being a hindrance to establishing a good rapport with the car. It is now far more poised, and it is more stable, and ruthlessly fast across the ground, summoning tremendous levels of grip, turning in with real keenness and begging the driver to push harder. 
And those 20-inch wheels. Well, aside from their relative delicacy over rough roads and kerbs, the ride remains incredibly well calibrated, supple yet taut (to fall into that motoring journalism cliche), an impressive example of Honda's final calibration capability. This is all the more impressive when you find there is barely enough sidewall on those 30-section tyres to brand them. That such a small sidewall can contain the Civic's huge lateral load without total deformation is utter witchcraft.
It does all of this yet combines it with the traditional thrills of manual cog shifting and busy footwork, because the best bits of the Type R are when you're revving the blazes out of it, feeling the front diff working with the front suspension, rather than despite it, to distribute the torque and steering inputs in one suave movement. Rarely, if ever before, has a front wheel drive car felt so assured, so incredibly polished when handling so much power.
It'll oversteer on turn in if provoked with the brakes, but its default setting is grip, grip, and more grip. It's a big car - every time you climb out of look at it, particularly in profile, it seems more like a sports saloon than a 'hot hatch' - and occasionally feels it, trading a smaller hatch's hyperactive agility for a more grown-up effectiveness, but that shouldn't be read that the experience is in any way dull. It's a 169mph riot.