The 2016 Paris motor show is upon us. Sharing its slot on the calendar with Frankfurt (the shows alternate each year) Paris never quite has the spectacular debuts we tend to see in Geneva, but there are usually a few significant European entries.
This year those should include cars like Alfa Romeo's SUV, a new Honda Civic and the latest (and much more attractive) Porsche Panamera. Keep this page bookmarked, as we'll be updating it with more vehicles as they're announced in the run-up to the show.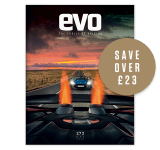 Subscribe to evo magazine
Subscribe today to have every issue of evo delivered straight to you. You'll SAVE 39% on the shop price, and get evo for its original cover price for a whole year!
When is the 2016 Paris motor show?
This year's Paris motor show opens Saturday, October 1st, and runs until Sunday, October 16th, with opening hours between 10am and 8pm. The first public show day is Wednesday October 5th.
Where is the 2016 Paris motor show?
The Paris motor show is based in the Paris expo Porte de Versailles, to the southwest of central Paris. It's signposted off the périphérique Sud as 'Porte de Versailles'.
2016 Paris motor show – key evo cars
Alfa Romeo Giulia Veloce, Stelvio
Confirmed for a Paris is a new trim line of the still only-just released Alfa Romeo Giulia. Familiar from several previous generations of Alfa saloon, the Giulia Veloce adopts visual cues from the Quadrifoglio and offers a choice of 276bhp turbocharged petrol or 207bhp turbodiesel engines.
Alfa Romeo has threatened us with a crossover for years now – remember 2003's Kamal concept? – but the Stelvio is actually happening. Based on the new Giulia (an excellent platform to start with, as we've already discovered) it should pack similar engines, including four-pot and V6 turbocharged petrol and diesel units.
Audi A5/S5 Sportback, Q5
Audi has launched the new A5 Sportback and S5 Sportback, and both will officially debut in Paris. While styling is very similar to the previous cars (if a little sharper, in places) the engine range has been updated and the car is a fair chunk lighter than before.
Audi's SUV assault also continues, with the latest generation of Q5 crossover (read our review of the current car here) expected to make a Paris debut. Styling should be similar to the Q7, albeit scaled-down (or similar to the Q2 and scaled up, if you like). Expect Audi's Virtual Cockpit instrument display to make an appearance in the Q5, too.
BMW X2
BMW released a cryptic teaser video recently, showing hints of the look of the new 5-series. Its appearance in Paris is unconfirmed, but we are expecting to see a new BMW of a different sort, in the form of the new X2 - a coupe-roofed version of the X1 crossover.
Citroen CXperience concept, C3, C3 WRC
Is there an internal power struggle between Citroen and its luxury offshoot, DS Automobiles? If there is, then Citroen has fired a hell of a salvo with the CXperience concept. Drawing elegance from Citroen's classic models and adding new technology, it's not yet been confirmed for production, but it's sure to be one of the brightest stars in Paris.
Paris will also mark the public debut of the quirky new Citroen C3 and more excitingly, its 2017 WRC counterpart in concept form. The latter will develop up to 380bhp thanks to new WRC regulations, and looks as dramatic as anything we've seen since the Group B era.
Ferrari GTC4Lusso T, LaFerrari Aperta
Ferrari recently revealed a new version of the GTC4Lusso. Called the GTC4Lusso T, it uses a tweaked version of the turbocharged V8 from the California T and sends its power to the rear wheels alone, in contrast to the V12, all-wheel drive GTC4Lusso.
The latter hasn't yet been confirmed, but Paris will be the first major motor show since Ferrari announced the drop-top LaFerrari so there's a good chance we'll get a chance to see it in the carbonfibre. The 217mph hypercar gets the same V12 hybrid setup as the coupe and 'extensive modifications' keep the structure solid.
Ford Fiesta ST 5-door
American customers have thus far been the only customers of the five-door Fiesta ST, but soon European buyers will gain better access to those rear seats too. Pricing will be only £600 more than the equivalent three-door.
Honda Civic
Honda's all-new Civic will officially debut in Paris, having made its American unveiling last month. We might even see a concept version of the next-generation Type R, which should use the current car's powertrain packed into the sleeker shell.
The styling may take some time to get used to, but will the new Civic be a better drive? There's a fair chance, given the Civic now once again uses independent suspension all-round. It's also lower, wider and longer, and has a stiffer, lighter body shell.
Hyundai RN30 Concept
Hyundai's performance car gets ever closer, and the RN30 concept is an exaggerated version of the hot hatch we're expecting to see some time next year. It's lower and wider than the production Hyundai i30 being revealed in Paris.
Infiniti variable compression ratio engine
It isn't a car that will star for Infiniti in Paris - it's an engine. The Japanese firm has been the first to unveil an official prototype of a concept that manufacturers have been exploring for years. The goals are to improve performance and economy simultaneously. Time will tell if it's a gamechanger for internal combustion.
Kia Soul T-GDI
The Kia Soul probably isn't the first car on many evo readers' wish lists but the quirky family car does have plenty of character. What it hasn't had until now is an engine to raise the pulse a little, but with the 1.6-litre T-GDI engine from the Kia Proceed GT behind its stubby nose (and a new seven-speed dual-clutch gearbox) it's one of this year's more unusual performance cars.
Land Rover Discovery
The current Disco is getting on a bit these days (did you even remember it was still on sale?) and a new model is set to make an appearance in Paris. Camouflaged test mules and the company's first teaser images suggest it'll be curvier than before – think a scaled-up Discovery Sport – and it should shed significant weight too, just as Land Rover's other big SUVs did in their most recent incarnations.
Mercedes-AMG GT R, AMG GT C
Not strictly new, but Paris will be the first opportunity for most to see the AMG GT R in the flesh. The pumped-up sports car takes cues from the GT3 race version, and puts 577bhp to the rear wheels through a set of Michelin Cup 2 tyres. Could it be a worthy rival to a Porsche 991 GT3 RS?
Alongside the GT R, Mercedes-Benz will also display the AMG GT Roadster and GT C at Paris, open-topped versions of the AMG GT and AMG GT S. They're actually a little more powerful than the coupes to take account of the extra weight of a folding roof.
Mini John Cooper Works Clubman
The Mini range continues to expand with the introduction of a new high-performance version of the practical Clubman. With similar styling features to other JCW models in the Mini range, it also uses the same 228bhp, 2-litre, four-cylinder turbocharged engine. Its most distinctive feature remains those two side-hinged rear tailgate doors however.
Porsche Panamera
At a quick glance you might not see much to differentiate the new Panamera from its predecessor, but the uncomfortable details and proportions of the old car are gone – the new car is much more cohesive. It's better to drive too, as Henry Catchpole recently discovered.
Smart Electric Drive
Smart has electrified its latest range of small cars, and each will debut in Paris. The Fortwo, Cabrio and Forfour Electric Drive won't be cheap (starting around £14,300 by the time the £4500 UK government plug-in car grant has been subtracted) but with 125lb ft of instant torque they should be nippy fun in the city. Charging will be significantly quicker than before.
Skoda Kodiaq
Sitting above the Yeti in Skoda's range is the new Kodiaq. Think of it as a larger, more practical version of SEAT's good-to-drive Ateca, so the Kodiaq should also be adept on the road - if maybe not as fun as the Yeti itself. Paris will be the first chance for most to get close to the new SUV.