As always, a full service history is crucial. Ensure that all stamps are either from an approved Porsche Centre or a recognised specialist who has the official diagnostic equipment. Don't worry about high mileage cars, concentrate on condition. If the car has been used for trackdays ensure that service intervals have been reduced accordingly. Finally, check the VIN plate has a C16 country code, meaning that it's a UK car, not an import, as these can be very different in spec.
Bodywork and interior There is a 10-year anti-rust warranty on 996s and they rarely show problems, except under the door catches on pre-2000 cars. Check underneath the car for signs of a misshapen floorpan, indicating that the car has been shunted. Interiors are hard wearing but can be prone to the odd rattle. On cabriolets the rear window can split in cold weather and it invariably means the whole roof needs replacing.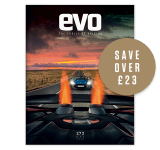 Subscribe to evo magazine
Subscribe today to have every issue of evo delivered straight to you. You'll SAVE 39% on the shop price, and get evo for its original cover price for a whole year!
Engines The main issue with 996 engines has been cracks appearing in the liners, resulting in hydraulic faults and the symptoms you'd expect to see with a blown head gasket. Specialists such as Autofarm (www.autofarm.co.uk) solve this by machining out the bad areas and fitting a bullet-proof lining. Also, intermediate shafts have been known to fail, causing the back bearings to go. A stronger shaft has been developed, so once replaced the fault won't re-occur. Autofarm quotes £7050 for a full engine rebuild, including all the upgrades mentioned above, along with a chain tensioner upgrade and the fitting of a 997 rear main oil seal. Leaks from this seal are common, particularly if the owner has been using a thin oil such as Mobil 1. It's a minor issue as far as engine life is concerned, but it's a labour-intensive job to replace the seals and therefore expensive (about £1100). Look out for a film of oil on the rear end of the crank case. If the car has not run for some time it will sound rattly on start-up. Don't panic, if it settles down it'll just be the hydraulic valve lay adjusters, which need a coating of oil.
Gearbox The transmission suffers few problems. The gearbox may feel sluggish when cold, but it will become slick once warm. There were some clutch failures on early cars, but these have mainly been resolved now. Expect at least 50,000 miles before replacement unless it has been abused. If you hear a knocking sound under load on the test drive it may be caused by a split driveshaft boot allowing dirt to get inside and break the joint.
Suspension Other than wear on high-mileage cars, problems are rare. However, the geometry has to be spot-on and it can be knocked out by kerbing or hitting pot-holes. This can cost £200 to set up correctly. The lower control arms should be examined for damage caused by grounding and the anti-roll bar bushes may need replacing on older cars.
Brakes, wheels and tyres If the car has been used on track it's likely that harder brake pads will have been fitted, another clue to the use it has been subjected to. Tyres must have an N rating. These are approved Porsche tyres and the 'N' will be stamped on the sidewall. Pirelli, Michelin and Continental all produce tyres for the 996, although we prefer the Pirelli.
Values Colour has a significant effect on values. Reds and yellows are hard to shift, while silvers and blacks are the most popular. Loud interiors are best avoided too.
In a private sale an average-mileage early car in a decent colour and in good condition will command around £25K, while the same car at a main dealer would cost closer to £27.5K. A 2000 model-year C2 will cost £32K privately and £35K at a main dealer, while a C4 will be about two grand more for a similar-age example. A GT3 from the same period will cost £42K in a private Top Marques ad, while a dealer will charge about £47K. An '03 Turbo demands between £65K and £68K, while a GT3 RS will set you back £64K.
If it's a rag-top you're after, a five-year-old C2 will cost around £37K and again the C4 commands a two-grand premium. A Targa from 2001 costs about £40K and a GT2 from 2003 would now cost you £70K, saving you £46K on the original new price.
Find used Porsche 996's for sale on the Classic and Performance Car site here.
Specifications
| | |
| --- | --- |
| Layout    | Rear engine, rear-wheel drive |
| Engine    | 3387cc, flat-six |
| Power     | 300bhp @ 6800rpm |
| Torque    | 258lb ft @ 4600rpm |
| Suspension | MacPherson struts, lower wishbones, anti-roll-bar |
| Susp. rear | Multi-link, anti-roll-bar |
| Tyres    | 225/40 ZR18 front, 265/35 ZR18 rear |
| Power/weight    | 231bhp/ton |
| 0-60mph    | 4.6sec |
| Top speed    | 173mph |
| Price new     | £55,950 |