Porsche CEO confirms turbocharging is here to stay
Speaking to evo at the Geneva Motor Show, Porsche reveals all future Boxster, Cayman and 911 Carrera models will stay turbocharged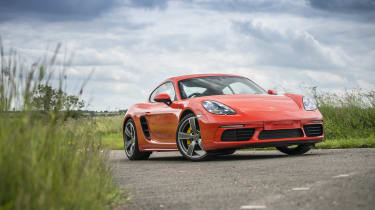 Porsche has confirmed that, GT models aside, it has no intention of bringing back its naturally aspirated flat-six engine therefore confirming that all future Boxster, Cayman and 911 Carrera models will be powered by turbocharged boxer-engines. 
Speaking at the Geneva Motor Show, Porsche CEO Oliver Blume confirmed that there was no way back for the company's fabled naturally aspirated boxer engines and that the company's engineers were focussed on turbocharging for its range of sports cars. However, Blume confirmed that Porsche's engineers will continue to develop a naturally aspirated engine for the GT3 and GT3 RS for as long as it can meet with emissions legislation. The next generation of Cayman GT4 will also continue to shun forced induction in favour of a naturally aspirated flat-six engine.
Blume also ruled out the possibility of any kind of electric propulsion for its halo model, claiming that current plug-in hybrid technology recently announced in the Panamera Turbo S E-Hybrid will not be suitable for a car such as the 911 due to packaging constraints.
> 2017 Porsche 911 GT3 revealed at Geneva
With development of the Porsche Mission E well under way, (the first prototypes are set to start testing this summer) the Weissach engineers EV focus is in developing the fully electric sub-Panamera four-door saloon rather than hybridisation of its sports car range. Mission E will be built on an all-new platform and incorporate a flat-floor battery pack.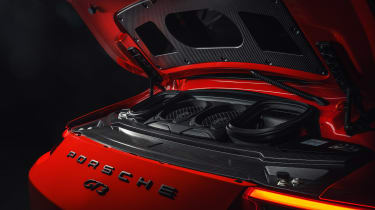 With a range of at least 300 miles, Mission E will be Porsche's first fully electric road car and will form the basis of a range of electric models developed alongside instead of in place of the company's existing range of performance cars. Crucially, Porsche's EV range will not only be fully connected to the extent that owners will be able to summon software updates to boost the car's performance, but it will still be capable of performing on track without batteries over heating and the car's complex systems shutting down. With a charging time of just 15 minutes Porsche is confident that Mission E will be an EV without compromise. 
Before Mission E arrives at the Frankfurt Motor Show in 2019 (four years after the concept made its global debut), Porsche will introduce a Cayenne Turbo S E-Hybrid that will take on the 680bhp powertrain recently previewed in the Panamera Turbo S E-Hybrid. 
Rest assured, however, that between now and the Mission E's arrival there will be a number of 'pure' Porsche sport cars launched, starting with the most powerful and fastest 911 to date arriving this summer.