Paris, Frankfurt, and now London all offer great motor shows, but the Geneva Motor Show is undoubtedly the most important of the European motor shows - and perhaps the most important globally. It's the highlight of the season, as it's where manufacturers show off their best, fastest, and most spectacular cars. Every year brings a glut of new and improved models for us to drool over, and this year was no different. There were plenty of cars already making the evo team weak in the knees - and we haven't even driven them yet!
Some highlights of this year's Geneva show were undoubtedly British, with models from Bentley and Aston Martin joining the spectacular new McLaren 720S on the show stands. Elsewhere, the Alpine name has returned, this time as a sporty sub-brand for Renault - and it's finally showing off the production version of the A110 sports car. Ferrari bought the 812 Superfast, Honda the new Civic Type R, and Lamborghini the record-breaking Huracan Performante - all vying for position next to everything from facelifted family transport to totally crazy concept cars from across the globe.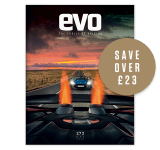 Subscribe to evo magazine
Subscribe today to have every issue of evo delivered straight to you. You'll SAVE 39% on the shop price, and get evo for its original cover price for a whole year!
These models were joined by lots of other debuts, which you can read about below.
Best cars of Geneva 2017
> Best exhaust pipes at Geneva
Geneva 2017: key cars
New cars at the Geneva motor show: A-Z
Alfa Romeo Stelvio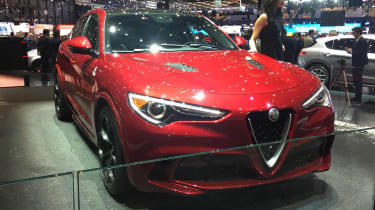 Another show, another crossover, but this was the first time we've seen Alfa's Stelvio in non-Quadrifoglio form. The cloverleaf-badged model (pictured) might make the headlines, but this is the one that (should) sell.
> Read about the Alfa Romeo Stelvio First Edition here
It's being launched in 276bhp petrol First Edition form, but a diesel will also be on the way to satiate those seeking lower company car tax and fuel costs. We've already taken the Stelvio for a first drive, and we came out impressed.
Alpine A110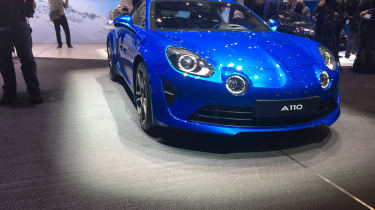 The new Alpine's gestation seems to be taking almost as long as that of the Honda NSX, but anticipation levels are if anything even higher. Now that we've seen the finished product in the metal, we aren't disappointed.
> 2017 Alpine sports car exclusive video and interview
The structure is aluminium and the engine and transmission will be a Renault four-pot turbo with a dual-clutch automatic gearbox. Performance is said to be on-par with cars like the Alfa Romeo 4C and Porsche Cayman GT4, with levels of luxury and usability somewhere between those two extremes.
Q by Aston Martin DB11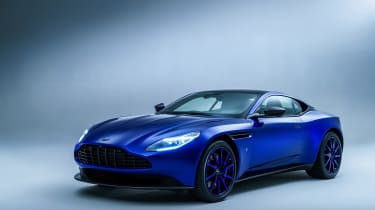 Of course, the DB11 isn't a new car - but this example came to Geneva as a showcase of what Aston Martin's bespoke Q division can cook up. Resplendent in a custom paint job with carbon fibre accents, customers can even buy a colour matched luggage set for weekends away.
> Read about the Q by Aston Martin DB11 here
It's all part of Q's latest Commission service, which builds on the idea of 'custom' and allows Aston Martin customers to order a totally unique car.
Aston Martin AMR range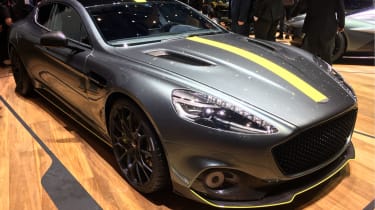 Aston Martin launched two new 'AMR' models at the show, based on the Vantage and Rapide. Both cars feature feature power increases, honed chassis and unique exterior and interior styling to more closely link them with Aston's GT racing campaign.
> Aston Martin Vantage AMR Pro and Rapide AMR
2017 Audi RS3 Sportback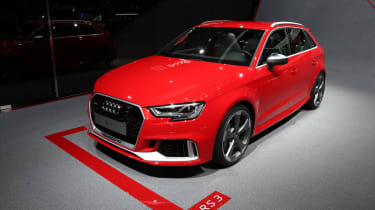 Not one of the most entertaining all-wheel drive hot hatchbacks on sale but undoubtedly one that offers a high feelgood factor, Audi has updated the RS3 Sportback for the Geneva show.
> Read about the 2017 Audi RS3 Sportback
Its sonorous five-cylinder turbocharged engine now delivers 394bhp, while all-wheel drive helps it scrabble to 62mph in 4.1 seconds. Better still, Audi has somehow scraped 26kg from the engine, so perhaps its nose-heaviness will have been banished too.
Audi RS5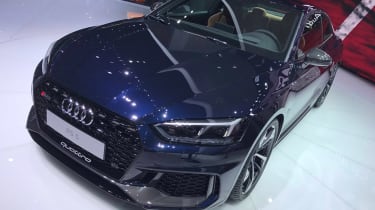 Audi's latest sport coupe is the RS5, which will top the current A5 range now it's been officially launched. Packing an all-new 2.9-litre twin-turbocharged V6 it also offers greater performance than its predecessor, while a rear-biased all-wheel drive system, an optional locking differential for the rear axle and a 60kg weight reduction compared to the old model give the latest RS5 extra credibility as a driver's car.
> Read more about the 2017 Audi RS5 here
Audi Q8 sport concept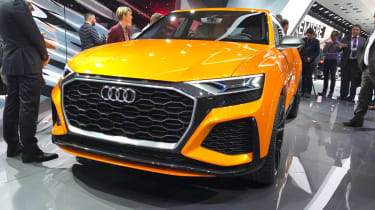 The final string to Audi's Geneva bow was the Q8 sport concept - a sportier version of the Q8 concept revealed at the Detroit Auto Show earlier in the year. It could preview a halo model for Audi's SUV range, badged as RSQ8. 
> Read about the Audi Q8 sport concept here
Bentley EXP12 Speed 6e concept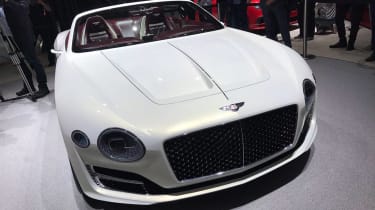 The first all-electric Bentley is this - the catchily named EXP12 Speed 6e. It's the brand's first ever fully electric vehicle and paves the way for Bentley's future strategy of adding electric and hybrid drivetrains to its range of vehicles. 
> Read more about the Bentley EXP12 Speed 6e here
The idea of an electric Bentley isn't so strange; the power delivery of an electric motor suits the torquey effortless nature that the luxury marque have become known for. However, the short range and long charging time of electric cars don't suit Bentley's continent-shrinking GT capabilities.
2017 BMW M4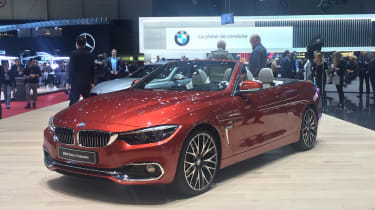 Blink and you'll miss it, but the BMW 4 Series (pictured), and the M4 range-topper, have been updated for the 2017 model year. Among the changes are standard LED headlights, restyled lamps front and rear, and interior trim improvements.
The M4 has been updated too, although it retains the same power output. The 3-litre TwinPower turbo inline-six develops 425bhp, while BMW's Competition Pack and Carbon Packs will be optional and illuminated M logos now grace the front seats, whether you like them to or not.
Dendrobium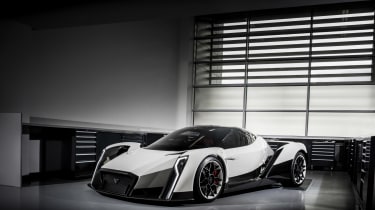 Yes, it's got a pretty silly name. And yes, it's yet another electric hypercar, a genre that appears to be virtually growing on trees these days. Though that's quite appropriate, as the name refers to a flower found in the maker's native Singapore.
Oh, that's the other thing - the Dendrobium is from Singapore. By way of Oxfordshire, since that's where much of the engineering work is being done at the hands of Williams Advanced Engineering, and Scotland, which is where the Bridge of Weir leather interior is being crafted. Colour us intrigued.
Ferrari 812 Superfast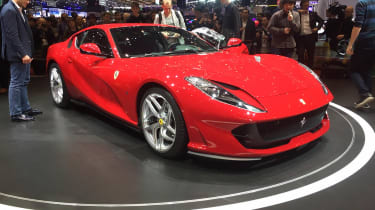 Ferrari did not waste an opportunity to shock at this years Geneva Motor Show, launching the aptly named 812 Superfast. Based on the same, albeit modified platform as the F12, the new Superfast features Ferrari's 6.5-litre V12 engine with a collosal 789bhp.
> Read about the new 812 Superfast here
The result of all that power are some pretty tasty performance figures, with the 812 dispatching 0-62mph in 2.9 seconds and topping out at 211mph. Combined with Ferrari's Virtual Short Wheelbase, the 812 should also handle with the finesse one expects of a modern Ferrari. We can't wait to have a go later this year.
Fittipaldi EF7 Vision Gran Turismo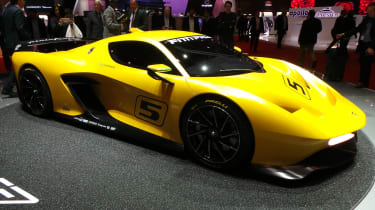 It's been a while since we've seen a Vision Gran Turismo concept - the one-off sports cars designed both to showcase a manufacturer's talents for visual flair and provide the top-selling videogame series with new vehicles.
> Read about the Fittipaldi EF7 Vision GT here
And as the name suggests, this one features input from former Formula 1 champion Emerson Fittipaldi, while the styling is by Pininfarina. It's said to also feature 'German engineering', though it's unclear in what capacity this might be.
Ford Fiesta ST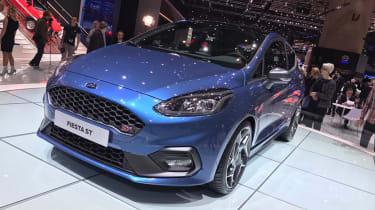 The latest Fiesta ST will have many petrolheads waiting with bated breath to see if Ford can pull off the perfect hot hatchback for a second time. The current model will go down as one of the greats, but things look promising for the 2017 car, which is more powerful than the outgoing car but loses a cylinder in the process.
Adjustable driving modes will change the ST's character on the go, while an upgraded interior means the new ST should be more suited to the dredge of the morning commute than the current model. Whether that alters its character on a twisty back road remains to be seen.
Honda Civic Type R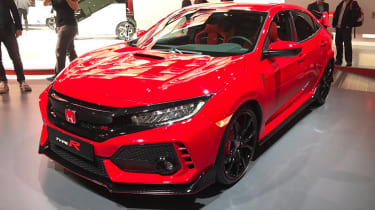 The latest Honda Civic Type R has blasted into Geneva with its aggressive styling and the promise of barnstorming performance from its 316bhp engine.
> Read more about the Honda Civic Type R here
Italdesign Zerouno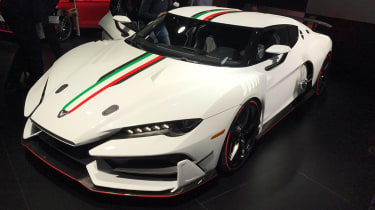 Italian design house Italdesign is using this car to launch its new, bespoke brand - Italdesign Automobili Speciali. Focussing on ultra-low production models, the Zerouno will be limited to just five examples worldwide.
> Read about Italdesign's custom supercar here
This car utilises an Audi-sourced 5.2-litre V10 engine, and quotes a 0-62mph time of 3.2 seconds and a top speed in excess of 200mph. It's the sharp-edged and fiercely angular styling that's likely to be the big talking point, though.
Kahn Vengeance Volante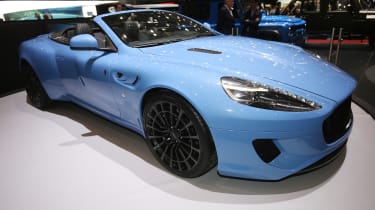 Purveyor of dubious taste, Kahn Design, will introduce its latest work at the Geneva show, in the form of the Vengeance Volante.
> Read about the Kahn Vengeance Volante here
As you might have guessed, it's ostensibly an Aston Martin, and a DB9 Volante at that, but granted reworked styling like the Vengeance coupe launched last year. Expect pricing to be somewhere north of £300,000. 
Lamborghini Huracan Performante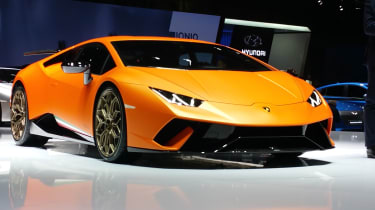 Lamborghini has revealed a more focused version of its smallest supercar, the Huracan. The new car will be called the Performante; it will be 40kg lighter and will have a more aggressive aero package than the standard car. The Performante has sophisticated active aero technology, which no doubt helped it make its mark on the world with a scorching (and record-breaking) Nurburgring lap time of 6 minutes and 52 seconds.
> Read about the Lamborghini Huracan Performante here
Lexus RC F GT3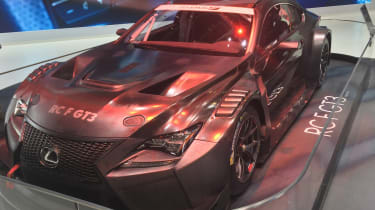 Lexus has hit the motor show with a fully race homologated version of its RC F super-coupe, named the RC F GT3. Fitted with a monster 5.4-litre V8 engine producing over 500bhp, it's set to compete in Touring Car and sports car races across the globe beginning later this year.
> Read about the Lexus RC F GT3 here
Mazda range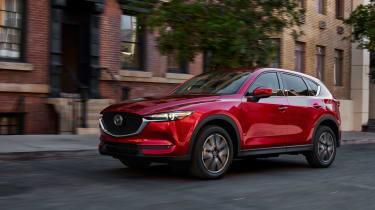 Along with Mazda's new CX-5 making its European debut at the Geneva motor show, the brand will also reveal updated versions of the CX-3 and its smallest hatch back the Mazda 2.
> Read about the Mazda CX-5 here
The new cars will have improved safety systems including Mazda's i-Activsense systems and adaptive LED headlights. The CX-3 and Mazda 2 will also get new interiors with redesigned steering wheels and better display quality displays. 
McLaren 720S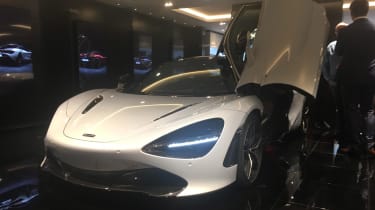 This is sure to be one of Geneva's highlights: A replacement for the core Super Series model in the McLaren range, the 650S. It's called the 720S.
> McLaren 650S replacement preview
Underpinning the latest car is McLaren's new Monocage II carbonfibre central structure, said to weigh less than the current setup, and overall the new McLaren will be lighter than its predecessor. Aero has improved too, and it's backed up with new and exciting styling. McLaren also recently revealed details of a new 4.0-litre engine which will power the new Super Series which will doubtless wrestle back supremacy from the Ferrari 488GTB.
Mercedes-AMG GT Concept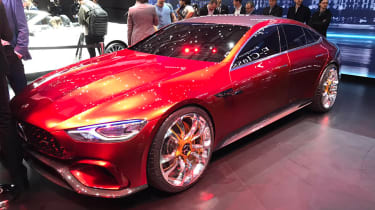 Mercedes-AMG has unveiled the GT Concept - a four-door super-coupe which previews an eventual production model to rival the likes of the Porsche Panamera. Fitted with a 4-litre V8 engine mated to an electric motor and battery pack, the hybrid sports car offers up in excess of 800bhp and Mercedes says it will sprint from 0-62mph in less than three seconds.
> Read more about the Mercedes-AMG GT Concept here
Mercedes-Benz E-Class Cabriolet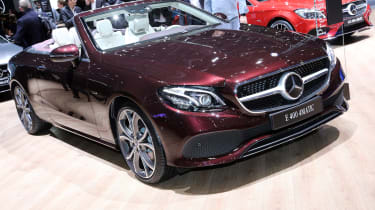 Mercedes-Benz will be completing its E-class relaunch with the release of the Cabriolet. Slotting nicely between the C and S-classes, the E-class Cabriolet offers the same quality interior and advanced technology as the rest of the E-class range, only in sleek cabriolet form.
> Click here for more on the E-class Cabriolet here
Touted as a proper 4-seat convertible, the new E-class Cabriolet is definitely on the cruising side of the driving spectrum in normal trim, although do we expect AMG to get involved in future. Available at launch with the same four and six-cylinder engine choices as the also recently revealed coupe, we expect to see the new Cabriolet gliding towards golf clubs all over the country later this year.
Mercedes-AMG E63 4Matic Estate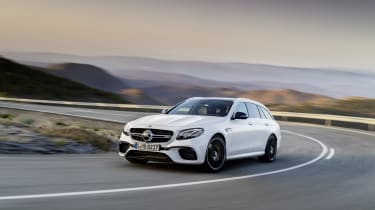 As estate cars go, this one is considerably further up evo's strasse. We've already driven (and enjoyed) the E63 saloon in its latest, all-wheel drive configuration, and now you can have it with more practicality.
> Read about the Mercedes-AMG E63 Estate here
It has the same V8 engine developing 563bhp, or 603bhp as the S, and while it still sends power to all four wheels you can still fiddle with the settings to the point where all of those horses are sent to the rear wheels alone. There are few more dramatic ways of taking your dog to the park.
Mitsubishi Eclipse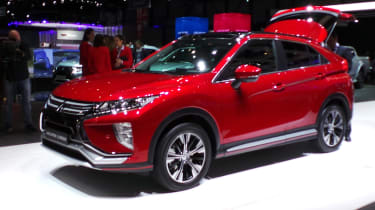 If the name sounds familiar, that's because Mitsubishi has previously used the Eclipse moniker on a line of sports coupes that proved popular in the US market but never made their way to the UK. Only now, it's set to be used on the replacement for Mitsubishi's ageing crossover, the ASX.
Styling takes cues from the recent XR-PHEV concept, albeit toned down to a suitable degree, while the interior will also have a classier look. Our sister title Auto Express confirms two engines will be available initially, a new turbocharged 1.5-litre petrol, and the existing 2.2-litre diesel. It's supposed to drive well, and should bolster Mitsubishi's already growing sales figures.
Pagani Huayra Roadster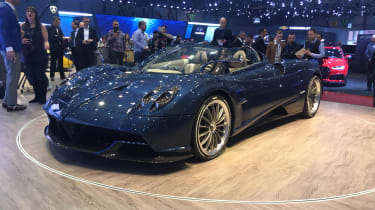 In a rather suprising move, Pagani has launched a roadster version of its Huayra with both more power and less weight than its coupe sibling. With bespoke bodywork, an improved interior and an 80kg weight advantage over the coupe, we expect the Roadster to be a shining carbonfibre star at this years show.
> Pagani Huayra Roadster revealed here
In regards to its Mercedes-AMG sourced engine, Pagani has raised power to 753bhp while re-engineering the turbo's for improved throttle response. The gearbox is also new, with Pagani promising improved refinement at low speeds for extra posing prowess. 
Peugeot Instinct concept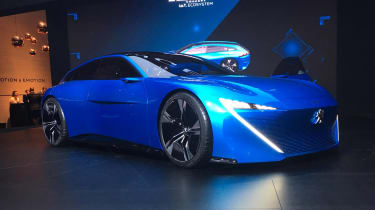 The low-slung shooting brake body of the Instinct concept is instantly appealing; less so for evo readers thanks to the hybrid drivetrain and raft of autonomous driving tech. The Instinct is capble of full level 5 autonomy, but Peugeot says it retains driving pleasure.
> Read about the Peugeot Instinct concept here
It's also one of the most connected cars we've seen, with a link to the Internet of Things – allowing it to seamlessly interface with a wide variety of connected items like fitness trackers, smartphones, and even kitchen appliances.
Pininfarina H600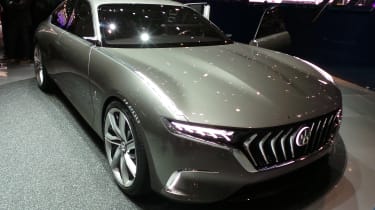 An electric luxury four-door saloon, the Pininfarina H600 looks set to be yet another 'Tesla-fighter' – but this time, it's coming from Pininfarina, a company more renowned for its bodywork designs than its advanced powertrain experience.
But since being purchased by Mahindra, Pininfarina has diversified into full vehicle design, so we're hoping that the H600 won't disappoint upon its reveal.
Porsche Panamera Sport Turismo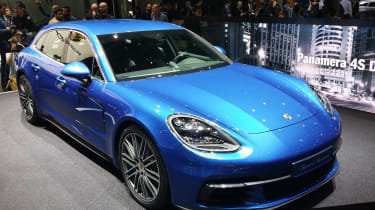 Porsche has shown off a more practical version of the Panamera in the form of the Sport Turismo. Previewed by a concept of the same name a couple of years ago, the Sport Turismo offers a slightly larger loadspace and the option of a fifth seat, something not offered on a Panamera before. 
>Click here for more on the Porsche Super Turismo here
Expected to offer the same powertrain options as the normal Panamera, this Sport Turismo should appeal to those who want a little more versitility in their continent-crushing GT. Porsche also displayed the new Panamera Turbo S e-hybrid, a 680bhp, V8, twin-turbo, hybrid assisted flagship. 
Range Rover Velar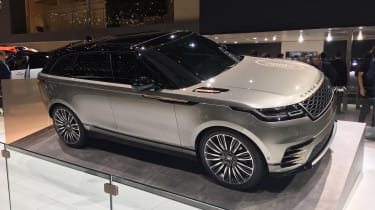 Land Rover will be utilising its Geneva stand to show off the new mid-sized Velar. An all new model for Land Rover, the Velar fills the gap between the Evoque and Range Rover Sport, but does so with its own unique coupe/SUV style and next generation Land Rover design. Powered by a combination of four and six-cylinder petrol and diesel engines, the current flagship is the P380 model, which features a 3-litre supercharged V6 engine. Expect in-house tuning division SVO to be getting their hands on it in the future if you want your Velar with a bit more grunt. 
>Click here for more on the Range Rover Velar
The Velar also introduces the next generation of Jaguar Land Rover infotainment and user interface design, combining a button free dash and two 10-inch screens which control all of the Velar's functions. Compared to current Land Rover products, the Velar looks like it's from the next generation - time will tell if it drives like it too.
Renault Zoe E-sport concept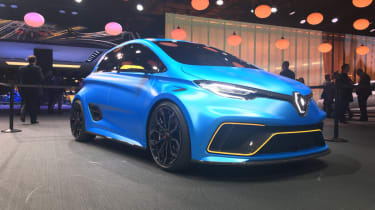 The standard Renault Zoe isn't much of an evo car thanks to its environmentally friendly but not exactly powerful electric drivetrain. However Renault's Geneva concept is more up our street, as it packs 456bhp and lightweight carbonfibre bodywork.
RUF CTR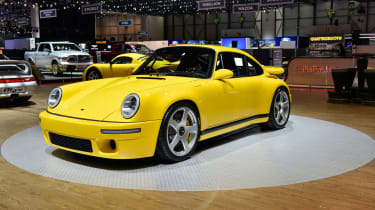 Without knowing all the details you might not think this was a completely new car at all; from a distance it looks like may of Ruf's other creations. But to dismiss it as just another Porsche 964-based car would be a huge mistake, because what lies under the CTR's skin is remarkable.
The new 2017 CTR is built around a bespoke carbonfibre tub that's then bonded to a steel structure to create the upper passenger cell, and front and rear frames. The end result is a thoroughly modern car that looks just like the 90's original.
Scuderia Cameron Glickenhaus SCG003S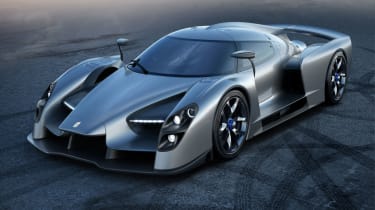 Scuderia Cameron Glickenhaus will be releasing a road going version of its mid-engined race car. The new supercar will be called the SCG003S, the S suffix standing for 'stradale' rather than the race car which is called a SCG003C, the C standing for 'competizione'.
> Read more about the Scuderia Cameron Glickenhaus SCG003S here
The road car will be powered by a 4.4-litre twin-turbocharged V8 that produces 789bhp, will have a 0-62mph time of less than three seconds and is expected to lap the Nurburgring in approximately 6:30sec.
Skoda Octavia vRS 245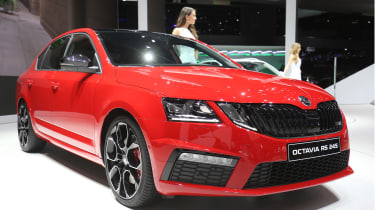 We like the Octavia vRS. It's not the most enthralling hot hatchback on the market (though it's certainly among the biggest), but as an everyday proposition it's up there as one of the best.
> Read about the Skoda Octavia vRS 245 here
We're always open to the idea of more performance though, and with the newly-facelifted vRS getting more than before, Skoda has seen fit to offer a version with an even greater 242bhp output. An electronic limited-slip diff is standard.
2017 Subaru XV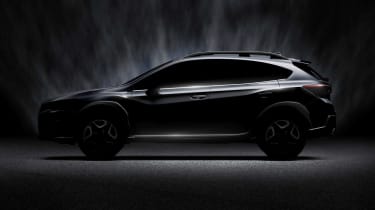 Previewed by the XV Concept at last year's Geneva motor show, we'll see the production version of Subaru's Impreza-based crossover at Geneva this year. Sharper styling is a given, while a range of petrol, diesel and hybrid powertrains could be offered.
All will be boxer engines, as is Subaru tradition, while all-wheel drive will also be standard across the range. In effect, there'll be little to disappoint the Subaru faithful. The hybrid model is expected to pair a 1.6-litre turbo boxer at one axle with electric power at the other.
Suzuki Swift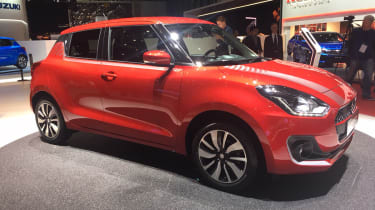 We'd not normally be too excited by the debut of a new supermini, but while dated and low on modern kit, the outgoing Suzuki Swift is something of a hidden gem, particularly in Sport form.
News that the new model is significantly lighter than the outgoing car is extremely promising, as is Suzuki's claim the car has been developed on European roads. While we're unlikely to see the new Swift Sport at Geneva (with its expected 1.4-litre turbo engine), it'll be interesting to see the regular production model in the metal.
Toyota Yaris hot hatch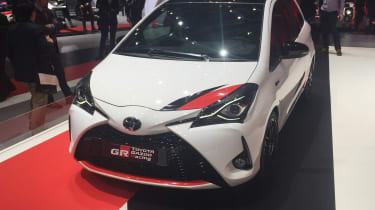 Here's a supermini we can get behind immediately - Toyota is finally dropping back into the hot hatchback market, with a 210bhp take on the refreshed (but not all-new) Toyota Yaris. It will finally give the Japanese brand a rival for cars like the Ford Fiesta ST and Peugeot 208 GTI.
> Toyota Yaris hot hatch preview
It's also the first hot Yaris in more than a decade, and a lot has changed in that time - the new car's output will be double that of the old Yaris T Sport. Styling is influenced by the new WRC machine (though not quite so extreme) and we can expect interior revisions too, with a set of well-bolstered seats. 
Vauxhall Insignia Sports Tourer
Perhaps not the most exciting car we've seen at Geneva this year, but it's nevertheless good to see Vauxhall's product line continually improving, and the Insignia Sports Tourer will almost certainly take a big step forward from the current model.
> Read about the Vauxhall Insignia Sports Tourer here
Among new technologies in the Sports Tourer are torque vectoring on all-wheel drive models, matrix LED headlights and significantly lower weight than before. We're holding out hope for a hot VXR version.
Volkswagen Arteon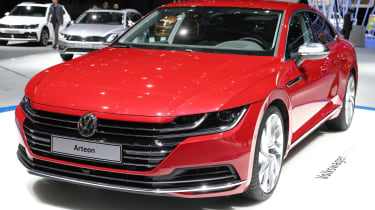 Replacing the Passat CC, the Arteon follows in that car's footsteps with a four-door coupe-saloon body style. More importantly, though, it continues the evolution of Volkswagen's new design language, previewed on the less conventional I.D. electric concept.
> Read about the VW Arteon here
Volkswagen is said to be focussing its efforts on interior space and luxury for the Arteon, but it also includes all the latest driver aids and autonomous tech that we've seen in previous VW concepts. As far as engines go, the Arteon features the usual mix of VW Group petrol and diesel powertrains, plus the option of a plug-in GTE model might come along later. 
2017 Volkswagen Golf GTI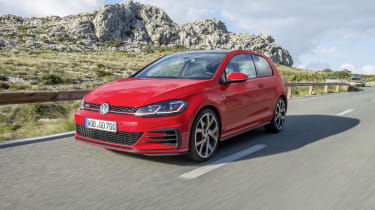 You'd be hard-pressed to tell the difference, but this is the new Golf GTI and it'll appear in public in Geneva. We've already driven it, and it's still the most broadly capable hot hatch on sale.
> Read our 2017 Volkswagen Golf GTI review
New details include standard LED headlights and tail lights, a revised front grille and a slight power boost - now 227bhp in standard form and 242bhp with the Performance Package.
Geneva Motor Show 2017: live news feed