Threats that performance cars will be outlawed get stronger by the year, yet car manufacturers continue to prove the naysayers wrong. And this year has been the perfect example, numerous fantastic supercars, sports cars, hot hatches and super saloons have being released to add to the list of wonderful drivers' cars that have been built over the years.
It's a good thing these cars exist, because for every one there is a picturesque, twisting road or demanding track they need driving on. Whether it's a carbonfibre-bodied supercar, a back-to-basics track car or an all-wheel drive B-road weapon there's a place that's appropriate to take it for a drive. In the course of the last twelve months we've endeavoured to drive the greatest cars in the best locations, as we do every year.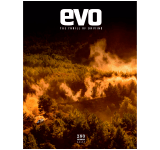 Subscribe to evo magazine
Subscribe today to have every issue of evo delivered straight to you. You'll SAVE 39% on the shop price, and get evo for its original cover price for a whole year!
> evo car pictures of the week
Such places aren't just the locations of dream drives, or even the perfect roads to test cars, but they provide the ideal backdrop for our photographers to snap the prettiest of shots, too. Hours of toil and torture go into getting the perfect shots; photographers get wet, cling to the edge of cliffs and bury themselves in ditches – roadtesters, drivers and journalists then have to listen to the resulting moans and groans. The results are worth it, however. For the rare occasions that we don't get to drive the car, it's usually beautiful or outrageous enough to look good standing still.
To celebrate another year of amazing cars and brilliant photos, we've selected one shot from the past 12 months for each day of this year's advent. We'll be releasing a new image every day between now and Christmas so follow us on Twitter and Instagram to see each picture first...
evo Advent picture 24
Porsche 911 GT2 RS (evo 244) by Aston Parrott
'There's so much more to the RS than its raw firepower. If it feels within itself during normal driving, then its poise at higher workloads is breathtaking. I never question the steering from the first mile. Its accuracy is absolute, and if it doesn't drip with feedback like an early 911, it tells you everything that's important.' – Adam Towler
evo Advent picture 23
Lamborghini Aventador S (evo 240) by Stephen Hall
'Paddle-click down into third and (some old- school parlance needed here) drop the hammer. What happens next is absolutely bloody fantastic – a rush so raw, so visceral, so violent it pushes the air from our lungs ' – David Vivian
evo Advent picture 22
BMW M4 CS (evo 237) by Stephen Hall
'It's how the CS reacts to your steering inputs that hits you first. Where previous M4s have an uncomfortable dead spot and take a moment for the front tyres to react, the CS's nose is rich in clarity, speed and precision.' – Stuart Gallagher
evo Advent picture 21
Lotus Exige Cup 380 (evo 240) by Aston Parrott
'Dynamically, the Cup operates on a plain some way above what can be fullyexperienced on the public road. However, so engrossed are you in the drivingexperience that this Lotus provides more sheer enjoyment than most modernsupercars combined.' – Adam Towler
evo Advent picture 20
Porsche 911 GT3 (996.1) v Porsche 911 GT3 (991.2) (evo 242) by Aston Parrott
'The 991 has just enough of the old 911 character to engage and entertain. And the 996 GT3? In comparison, it's off the scale, double- concentrated, and just as fast as you want or need it to be, too.' – John Barker
evo Advent picture 19
McLaren540C v Audi R8 v Porsche 911 Turbo (evo 234) by Dean Smith
'The honour goes to the car that excites more than its rivals both at low and medium speeds and also when you're hanging it over the edge. That honour goes to the only car here that truly makes you feel connected. It goes to the McLaren 540C.' – Dan Prosser
evo Advent picture 18
Audi Quattro 20V v Nissan GT-R (evo 242) by Stephen Hall
'Both represent cutting-edge technical genius on the part of their respective manufacturers, albeit expressed in a somewhat different way and separated by nearly three decades. Both cars, ultimately, are led by technology. And both cars, in their own way, pretty much obliterated any sort of competition when they were first introduced.' – Steve Sutcliffe
evo Advent picture 17
Alfa Romeo Giulia Quadrifoglio v BMW M3 (evo 237) by Aston Parrott
'The Alfa is the more nuanced car, more subtle in many ways, with a supple ride and a relaxed long-distance demeanour, yet it always steers with a directness that gives it a wonderfully agile feel. That engine delivers a big hit and works beautifully with the slick auto gearbox, though you have restricted access to its total performance and full-blooded soundtrack – some drivers simply won't ever use Race because it turns off stability control.' – John Barker
evo Advent picture 16
McLaren MP4 12C v McLaren 650S (evo 236) by Aston Parrott
'The 650S corners so flat and so hard that it honestly doesn't feel like it is ever going to break traction, even with the thump of 500lb ft of torque arriving at the seriously loaded rear tyres.' – John Barker
evo Advent picture 15
Caterham Seven 420R Donington Edition (evo 240) by Matt Sayle
'Although it takes more speed and more commitment to edge up to where the tyres want to give up, the way this car reacts is recognisably friendly-Seven behaviour. You're able to balance it right on the edge of grip, and a little bit over.' – Will Beaumont
evo Advent picture 14
Anatomy of a Group B car – Ford RS200 (evo 235) by Andy Morgan
'Unprecedented levels of power, excitement – and controversy. Group B rallying had it all. Even 30 years after it was banned, the legend surrounding the category remains as powerful as ever.' – Adam Towler
evo advent picture 13
Mercedes-AMG GT R (evo 236) by Dean Smith
> Click here for our review of the Mercedes-AMG GT R
'There's none of the GT S's worrisome edginess. Kill the power mid bend and the tail stays nailed to the tarmac. The meanest Merc feels as if it can pull well over 1G in longer turns.' – David Vivian
evo advent picture 12
Toyota GT86 v Mazda MX-5 RF (evo 234) by Aston Parrott
'The Toyota gains on the way into corners, but the RF finds easy pace where the GT86 requires maximum driver commitment' – Antony Ingram
evo advent picture 11
Alfa Romeo Museo Storico (evo 241) by Aston Parrott
'Think Alfa Romeo, think curves. Think lustrous crimsons, cherries, scarlets and garnets, rolling like the Tuscan hills over sophisticated underpinnings and strident engines, and glittering with heart-shaped scudettos or the occasional serpent or delicate four-leaved clover.' – Antony Ingram
evo advent picture 10
Audi RS3 v BMW M2 (evo 244) by Aston Parrott
'It's a poised, planted and virtually foolproof device. Simply turn into the corner, plant your foot on the throttle and feel the brilliantly effective four-wheel-drive transmission slingshot you down the next straight. Body control is immense, too, with sudden crests, big bumps and internal-organ-crushing compressions failing to knock the Audi off course.' – James Disdale
evo advent picture 9
Honda NSX (evo 233) by Dean Smith
'Let loose across the moors, the NSX is a spellbinding car. Of course, there's speed to spare. So much that you have to restrict yourself to short bursts of acceleration before settling into a reined-in canter, trading raw G-force for enjoying the way this car finds a flow.' – Richard Meaden
evo advent picture 8
Renault Clio Williams (evo 233) by Aston Parott 
'This left-hand-drive example is '0001' – the car that sat idle in the Williams Grand Prix Collection for many years and is now owned by Renault UK. With just over 2000 miles on the clock it looks, smells and drives like a new car. It really is like stepping though a time portal back into 1993.' – Adam Towler
> Click here for our icon review of the Renault Clio Williams
evo advent picture 7
Mercedes-AMG GT Roadster v Audi R8 Spyder (evo 239) by Aston Parrott
'What matters most, though, is not the practical stuff, or the fact that the AMG would probably fit more easily into most people's lives than the R8. What matters is that when you let rip in these cars, it's the R8 that goes deepest, hits hardest, and satisfies on a level that the AMG can never quite match.' – Steve Sutcliffe
evo advent picture 6
Audi RS5 v BMW M4 Competition Pack v Mercedes-AMG C603 S (evo 240) by Andy Morgan
'This is shaping up to be a bruising encounter. The new Audi RS5 has not long arrived in the UK and already it's spoiling for a fight. Lighter, faster and more agile than before, it's got the recently revised BMW M4 Competition Package and hard-hitting Mercedes-AMG C63 S Coupe firmly in its sights.' – James Disdale 
evo advent picture 5
Ferrari 812 Superfast (evo 238) by Barry Hayden
'It feels nothing short of rabid in a straight line, with the kind of throttle response that only ever comes from a big, naturally aspirated engine that revs high and hits hard, everywhere. Even at 4000rpm in third gear the car feels ready to take off. And at 8500rpm in second gear it's actually hard to describe how fast it feels, how loud it sounds, how utterly fantastic it just is.' – Steve Sutcliffe
evo advent picture 4
McLaren 720S (evo 242) by Dean Smith
'The SP478 is the Mille Miglia route and it's where the 720S wakes up. Such is the car's monstrous performance that until now I've just been dipping my toe, literally and metaphorically, into its capabilities.' – Adam Towler
evo advent picture 3
Eagle Spyder GT (evo 232) by Dean Smith
'Eagle's Spyder GT has a silver-screen quality that makes you feel like you're living in some perfect film of your own life.' – Henry Catchpole
evo advent picture 2
evo Track car of the Year (evo 237) by Aston Parrott
'that this Global Cup racer does highlight is just how good this latest MX-5 can be on track. Tough as old boots and light on its tyres and brakes – you know it would take plenty of punishment.' – Richard Meaden
evo advent picture 1
BMW M3 GTS v BMW M4 GTS (evo 232) by Aston Parrott
> BMW M3 GTS v BMW M4 GTS - Roads to Redemption
'What a place. The M3 GTS and M4 GTS match the location, if anything on four wheels really can. Something of the purity of the old car with its hard-edged engine and delicate handling has been lost, but the brutally effective M4 GTS shows that the M division still understands.' – Jethro Bovingdon. 
Follow us on Twitter and Instagram to get each installment in the evo advent calendar as it arrives...
Review of the Year 2017 
> Our favourite cars of 2017 - the new cars we loved most> Drive of the year - our highlights behind the wheel in 2017> Car news stories of the year - our pick of 2017's automotive news> Driver of the year - the drivers that did it best in 2017> Motorsport moment of the year - 2017's best track and rally stage action> evo advent calendar - best car pictures of the year 2017> evo car quiz 2017 - our mega car quiz of the year
Subscribe to evo now for more on the thrill of driving in 2018...