The appeal of a fast estate doesn't need a great deal of explanation, in the same way a hot hatchback is fairly easy to understand. You're combining performance with practicality, albeit to an even greater degree, and throwing in a sleek, elongated profile as a bonus - often resulting in a car with more elegance than the hatchback or saloon upon which the estate is based.
In recent years we've seen performance crossovers and SUVs muscle in on the fast estate's role, but for some customers the original is still best. The lower centre of gravity benefits handling (and often ride quality, given taller vehicles often use firmer setups to maintain their dynamics), while the lower profile, smaller frontal area and lower weight all benefit both performance and efficiency.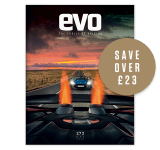 Subscribe to evo magazine
Subscribe today to have every issue of evo delivered straight to you. You'll SAVE 39% on the shop price, and get evo for its original cover price for a whole year!
It's difficult to pinpoint the origins of the concept - American manufacturers were dropping powerful V8s in "wagons" as far back as the 1940s and 1950s, while for those of an evo disposition, it was the 1990s and early 2000s when the concept really took off, from Volvo's 850 in the BTCC through various AMGs and the first "super" estate, the V10-engined  E61 BMW M5 Touring.
Today the choice remains wide, albeit one dominated largely by German manufacturers. There are pockets of resistance here and there - notably Ford's Focus ST, the Volvo V60 Polestar, and the seductive Ferrari GTC4Lusso - but otherwise most options hail from BMW, Mercedes-Benz or the wide-reaching Volkswagen Group. Even considering the German bias though, there's variety here, from practical and economical front-drivers to rear-drive sledgehammers and all-weather, all-wheel drive heroes.
Best estate cars 2019
Alpina B3 S / D3 BiTurbo
BMW makes some impressive fast estates, but Alpina makes even better fast BMW estates. The 3-series Touring-based B3 S (petrol) and D3 (diesel) are among our favourites, combining knee-tremblingly handsome styling over Alpina's classic multi-spoke alloy wheels with knockout performance and beautifully-trimmed cabins.
If you already own a 3-series Touring in 340i or 335d specification, imagine it with every tangible aspect improved by maybe 20 per cent. Unfortunately, you'll also have to imagine it with the price increased by about 20 per cent too in the case of the D3 (to around £50k), or about a third for the B3 S (in the £60k range), but consider that an exclusivity tax.
The D3 BiTurbo gets you a 345bhp, 516lb ft version of BMW's 3-litre straight-six diesel, with a 4.6-second 0-62mph run and 170mph top speed. The B3 S's figures are 434bhp, 487lb ft, 4.3sec and 188mph, so both surely provide all the "fast" you're likely to need from a practical 3-series. Both ride and handle fluently too - even on Alpina's customarily large 19- and 20-inch wheels.
Audi RS4
The latest RS4 might have dropped its predecessor's 4.2-litre V8, but there's still a lot to like both about the new car and its 2.9-litre twin-turbocharged V6 drivetrain. The performance, for one - 0-62mph in 4.1 seconds and, with a raised limiter, 174mph is as quick as you're likely to need to transport Labradors, wardrobes or other estate-car luggage clichés.
The RS4 also has a pleasing duality to its personality that allows it to serve both as an estate car and as a performance car. Left in its Comfort settings the ride is pliant and the engine smooth and quiet, making long-distance touring little chore. And ramped up to Dynamic it's fast and responsive, but thanks to all-wheel drive, remains secure.
The cabin is great too, with high levels of quality and a great driving position, though the lack of colour may bother some. In fact, the cabin is a good analogue for the car as a whole - very well done, but perhaps lacking that final element of excitement offered by some rivals.
Audi RS6
There's something deeply compelling about the RS6. Maybe it's the styling, which expertly treads a line between handsome and aggressive, with great proportions and well-considered detailing.
It could be the engine - a 552bhp twin-turbocharged V8, which delivers as much in terms of aural appeal as it does blistering performance: this is a car that can reach 62mph in under four seconds - as little as 3.7sec in 597bhp "Performance" trim - with a potential top speed of 189mph.
Equally, the RS6 meets its estate car brief well too, thanks to 565 litres of boot space with the seats up, a spacious, comfortable and quiet cabin, impeccable standards of build quality and plenty of technology on offer. With all that, it's only an ultimate lack of involvement that prevents the RS6 from being the best performance estate car on sale.
Ferrari GTC4Lusso
Ferrari's GTC4Lusso isn't an estate in the sense of some of the other cars here, but it's certainly one of the most desirable practical performance cars on the market, undoubtedly one of the more expensive, and one of very few that doesn't have a German badge, so it's already got plenty going for it.
There's more to it than that of course, as our 4.5-star evo rating suggests - it's also blisteringly fast (with a claimed 208mph top speed), delivers a spine-tingling V12 soundtrack (though it's more muted here than in more single-minded Ferraris), and surprisingly agile for such a substantial (1920kg) car, thanks in part to four-wheel steering.
While its abilities are more impressive than they are involving, it does fulfill the grand tourer role better than any other Ferrari, with a comfortable, spacious cabin, an unexpectedly large 450-litre boot (not far off the Focus ST estate below) and a smooth ride. If you own a chalet in the Dolomites, this is probably how you should get there.
Ford Focus ST TDCi
Ford does do a petrol version of the Focus ST estate (though with a new Focus on the way soon, it's unclear for how much longer). But we're not huge fans of it. While undoubtedly great value for its performance capabilities (at £27,015), the way it delivers that performance through the front wheels is frustratingly unruly, just like its hatchback counterpart. We applaud Ford for making it, but the execution could use more work.
Surprisingly, the diesel ST estate (£26,835) is a better job. It's still brisk, with a 182bhp, 295lb ft 2-litre diesel pulling it to 62mph in 8.3sec and on to 135mph, but the diesel's urge doesn't overwhelm the front axle to anything like the same degree and this slightly calmer delivery makes for much more satisfying progress without being a great deal slower in real-world driving. We've run both petrol and diesel long-term test STs in the past, and the diesel engendered far more warmth towards it while it was with us.
Throw in combined economy of 67.3mpg (optimistic, but numbers in the high 40s and low 50s aren't outside the realms of possibility) and slightly more interesting/in-your face (delete as appropriate) styling than its rivals from the VW Group and there's certainly merit here. The only small issue is boot space - despite the estate body, its 476-litre luggage area is miles behind those VW Group equivalents.
Mercedes-AMG C43
If you're surprised to see the V6-engined AMG C43 in here among the V8 63s, don't be. While the 43 doesn't offer the full bombastic, tyre-smoking AMG experience, it's a deeply satisfying car with ample performance without the slightly terrifying edge of its faster stablemates.
A base price of £47,030 (significantly less than the C63) gets you a 3-litre turbocharged V6 wrapped in an understated estate body - as the C43 lacks the wider arches and more prominent wheels of its V8 counterpart. That V6 develops 362bhp and 384lb ft of torque and sends it through a nine-speed automatic to all four wheels, good for a 0-62mph time of under five seconds.
That all-wheel drive traction makes the C43 a reassuring performance car to drive in virtually any weather conditions, but keen throttle response, well-judged steering and a pliant chassis (as well as an appealing exhaust note) mean it's still capable of entertaining you - just in a less sweaty-palmed way than the quicker AMGs. We've just adopted one on the evo Fast Fleet, so keep an eye on the latest issues to learn how we get on.
Mercedes-AMG C63
Step up from C43 to C63 and you're entering proper Affalterbach hot-rod territory. The four-litre turbocharged V8 has the kind of muscle and drama that AMG's products have become known for and significantly outpunches even its dramatic naturally-aspirated predecessor.
In regular C63 trim the V8 makes 469bhp, thunders to 62mph in 4.2sec and headbutts a 155mph limiter. As a C63 S, power rises to 503bhp and you'll shave a tenth off the 0-62mph sprint. Both feel indecently, addictively brisk, and while there are subtle dynamic differences to the saloon and coupe, the gulf isn't huge.
It's practical, too. The current C-class has an attractive and comfortable cabin - albeit not quite as flash as that of the E63 above it - and there's 490 litres of boot space available, with decent space in the back seats too. The only demerit from a usability perspective is a firm ride, even in the car's more comfortable modes.
Mercedes-AMG E63 S
You'll pay handsomely for the privilege - E63 S Estates start at £91,290 without going anywhere near the options list - but AMG's most brutal estate is one of the best fast wagons currently on sale.
It's gone all-wheel drive in this generation, but with 604 turbocharged horsepower in E63 S form that's probably for the best, because there's 850Nm of torque finding its way through the transmission too, and the potential for shredding tyres is high. The S still gives you that option with a drift mode (and amusing it is too) but realistically you're better off letting all four corners do the work.
The surprise isn't the performance though - 0-62mph in 3.5sec and 186mph (okay, that's pretty surprising) - but the way the body control tightens in Sport and Sport+ modes and the predictable steering, despite the way that turning everything to Comfort gives it an impressive cruising gait. Oh, and the other vital figure? 640 litres of boot space. Plenty of performance, plenty of storage.
Porsche Panamera Sport Turismo
Here's the first shock with the Panamera Sport Turismo: It's a genuinely good-looking car. Given the fuss the original Panamera's visuals created at launch, the Panamera's gradual blossoming has been well worth the wait.
The next is that from behind the wheel you'd have little idea of the metal behind you. In fact, in the best Panamera and Porsche tradition, the Sport Turismo shrinks around you somewhat on a twisty road. It can still feel rather wide elsewhere though.
And it's fast. In ultimate Turbo S E-Hybrid form you get a 193mph top speed and 3.4-second 0-62mph time, but even the regular Panamera 4 Sport Turismo with its turbocharged six-pot delivers a 5.5-second sprint and 160mph maximum. What it doesn't do as well as some is act as an estate car. The rear is better for two than three, and there's 520 litres of boot space - only marginally more than the smaller C43 and C63 estates above.
SEAT Leon Cupra ST 300 4Drive
The first of the MQB-based Volkswagen Group trio. SEAT has offered a quick Leon Cupra ST for some time, but before it's replaced by an all-new model SEAT has spent the last few years giving it more and more power and now the option of all-wheel drive - matching the VW Golf R.
At £32,580 you're paying not far off Golf R money for the privilege. £30,895 gets you the front-drive version of the same car, but all-wheel drive does add to the all-round practical appeal of a car like this, and helps the Leon put its substantial output to the tarmac.
How substantial? A nice round 300PS, or 296bhp in old money, good for a 0-62mph sprint of 4.9sec and a limited 155mph top end. Yet back off the gas and nearly 40mpg could be yours, so it doesn't flake in the sensible family car role. We ran one as a long-termer and discovered as much, but be wary of those 19-inch wheels with their skinny-sidewall tyres, as we managed to clang one on a hidden roadside rock, and they aren't cheap to replace.
Skoda Octavia vRS 245
Yet another Volkswagen Group fast estate in our list, but for good reason. It's the most affordable car here for a start, opening at £29,295 (or under £27k if you opt for the vRS 230 or a touch more for the diesel) but remains eminently practical with 610 litres of seats-up boot space, 5 litres more than the Golf and 23 litres more than the Leon Cupra ST.
It's also a handsome thing, pairing understatement with just the right level of visual purpose, and touts strong performance, hitting 62mph in 6.7sec (whether manual or DSG) and nudging a 155mph limiter. The cabin is unimaginatively designed but you can't fault its clarity or space, and it's a little more relaxing to drive than its SEAT or VW counterparts owing to a marginally more supple ride.
The only minor criticism is that petrol vRS estates cannot be had with all-wheel drive, unlike the Leon or Golf performance versions - but Skoda's Octavia vRS TDI is still a compelling combination - just a second slower to 62mph than the 245, 280lb ft of torque, standard DSG, and a combined 55.4mpg. All Octavia vRSs are fantastic all-rounders though - we've run several on our long-term Fast Fleet, and there's always a slight pang of disappointment when they go.
Volkswagen Golf R
And so to the third VW Group estate. If the R has any party piece above its two stablemates above it's that it's the only one available with a manual transmission. For some, that three-pedal option will be enough on its own, and makes the Golf R Estate a relatively unique proposition in terms of fast estates full stop - only the Focus ST further up also comes with a manual gearbox.
So equipped, the R is a strong performer: 0-62mph takes 5.1 seconds (with DSG, it goes better than the SEAT with a 4.6-second run), and top speed is limited to 155mph. The engine is among the better turbocharged fours to use too - the sound generator is perhaps a little contrived, but the EA888 unit pulls strongly from low revs yet spins keenly to higher engine speeds too.
And the chassis is great, despite an 80kg weight penalty next to the hatchback. You do need to drive the Golf quite quickly to uncover its adjustability and interactivity, as at lower speeds it feels little different from any other Golf, but get the R up on its toes and you'd probably not notice the extra bodywork behind you.
Volvo V60 Polestar
Visually the V60 is getting a little long in the tooth, given Volvo's recent design renaissance, but there's something still deeply appealing about Volvo's sole entrant into the performance estate sector - the £50,765 V60 Polestar.
Originally launched with a howling turbocharged inline six and a six-speed automatic transmission, Volvo switched that for a four-pot and eight-speed auto a couple of years ago - but it's still a very rapid car. 62mph is passed 4.8 seconds after setting off, and the Polestar has little problem getting to its 155mph limiter thanks to 362bhp.
The new 'four lacks charisma and the handling too plays on the safe side, but would you expect any less from Volvo? The enormous 20-inch wheels and - if you select the option (and you definitely should) - Rebel Blue paintwork give it stand-out styling in an otherwise fairly understated sector. Surprisingly for a Volvo, it's the boot space that disappoints - at 430 litres you'll get a great deal more luggage volume in a humble Octavia vRS Estate.