BMW M3 (2005)
The E46 M3 and its extreme CSL offspring are archetypal evo cars. With prices as low as £23K, you'll want a good one!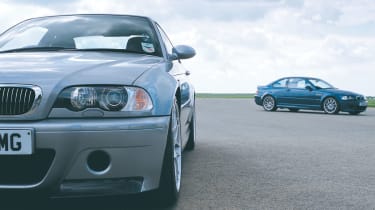 When the E46 M3 arrived in the early months of 2001 it had little to prove. The legendary M-Power DNA had been established long ago, so we knew what to expect. The traditional recipe of a magnificent, normally-aspirated motor up front sending abundant power to the rear wheels via a well balanced chassis with red-hot dynamics had become meat and drink to BMW's M division. Yes, the previous generation M3 had gained a little weight, but the first glimpse of the muscularly taut, recontoured 3-series physique was enough to realise this was a crushingly good return to form.
The stats were impressive, too; 104bhp per litre is an exceptional figure for a non-turbo engine and few have ever revved with the conviction of this 3246cc straight-six. The 0-60mph dash was dispatched in 5.1sec with the rev needle flashing around to the 8000rpm red-line accompanied by a beautifully clean and soulful metallic rasp.
The chassis' character had been honed during an incredible 80,000 development miles around the Nürburgring, which goes some way to explaining the sharp responses. And think on this – you could now own one of these wonders, originally the thick end of £40K, for £23K or less.
Of course, you might yearn for the more hardcore version, the CSL. It arrived in 2003 with more power, less weight, an SMG paddleshift gearbox and a seriously hefty £58,455 price tag. Now that those early cars have been mauled by the depreciation devil, you can secure a 20-month-old CSL for £20K under that original list price. 
The E46 M3 confirmed BMW's reputation as a committed builder of drivers' cars aimed squarely at the likes of you and me. With prices having tumbled, it's now a bit of a bargain but, as with all used cars, there are certain things to be aware of. Here's the inside line to finding a minter…
Evolution In 1998 the launch of the new E46 3-series range sparked much speculation about the spec and potential of the M version. Cutting-edge technology had to be partnered to an involving chassis if it was to sate enthusiasts expecting the 'Ultimate Driving Machine'. A fast-spinning straight-six developing 338bhp was BMW's starting point and behind that enormous specific output was a further evolution of the 330Ci's Double Vanos variable valve timing system. An in-house engine management processor and a lightweight crankshaft allowed it to spin at 8000rpm while the aluminium pistons were graphite-coated to cope with the incredible speeds involved.
Around 85 per cent of the suspension parts were changed from the 330Ci with beefed-up springs, dampers and anti-roll bars fitted to the stiffer bodyshell. Traction was aided by BMW's own M diff-lock, essentially a clever, speed-sensing limited-slip diff.  A switchable DSC stability control system was also fitted to gather everything up in case a heavy right foot got the better of you.
A year after launch, BMW introduced the SMG gearbox with a paddleshift system that delegates clutch control to hydraulics and a microprocessor. It's a complicated arrangement that gives the driver six different shift programmes, the fastest of which (number 6) can be accessed only with DSC off and delivers brutally rapid, slamming gearchanges in just 0.08sec. From the outset this system proved so effective it's now the standard by which all other semi-autos are judged. In spite of this, aficionados still argue over whether it adds to or detracts from the purity of the driving experience.
SMG costs an extra £2400 on top of the £41,150 current list price, but was fitted as standard to the hardcore CSL when the stripped-out road racer came to our shores at the end of 2003. It had been keenly anticipated and no-one was to be disappointed by the CSL's hard-hitting visuals, thanks to a new front splitter, kicked-up tail, carbonfibre roof and cut-slick tyres.
The CSL's interior was swathed in Alcantara and yet more carbonfibre, helping to justify on a visual level its £20K premium over a standard M3. Yet you were buying much more than simply a racy-looking makeover. Weight fell from 1570kg to 1385kg, while power climbed to 355bhp, which equated to an extra 36bhp per ton. Of the 1500 CSLs produced, 422 came to the UK; the last was delivered just a few months ago.
Driving them today
The M3 may be a techno tour-de-force, but none of the trick hardware gets in the way of enjoying yourself. Even the early cars are but a few years old, and with 40,000 miles under their wheels they still feel fresh; it's as though someone else has just run it in for you. The damping still feels taut, the chassis alert and the steering keen to obey.
The engine is a peach. It punches hard at any revs without the need to drop a cog or two, rocketing off with that characteristic growl and fizz from as low as 2000rpm. Leave the DSC system on and it barely intrudes; it's set up to cut in only when the tail begins to shift. Switch it out and you can feel the M diff locking up progressively to keep both rear tyres hooked to the power.
The CSL feels markedly different, with more turn-in bite at the front and more grip at the rear. However, it can be more difficult to sense when the limit of grip has been reached. Suspension set-up is critical to the feel of a CSL and on factory settings things can seem a little numb when pushing those Cup tyres hard, though a small camber adjustment makes a massive difference.
Some owners also suggest a slight increase in rear toe-in, too. This means when test driving potential purchases one car may feel very different to another. Mind you, the salesman's trick should simply be to thumb the 'Sport' button. Your ears will fill with the sound of one of the all-time great induction cries and rational thoughts will disappear from your brain.
Find used BMW M3's for sale on the Classic and Performance Car site here.