evo Car of the Year 2017 - evo Car of the Year winner - McLaren 720S
In just seven short years, McLaren Automotive has claimed its first eCoty title. Here's why it is so deserved.
Twelve months, hundreds of test cars, hundreds of thousands of miles driven – all whittled down to ten class winners and one evo Car of the Year.
Over the last seven years the McLaren Automotive journey has been a flat-out ride to the top. The hurdles it hit in the early days with the MP4-12C have been cleared and the company's expansion has been nothing short of remarkable. Since 12C morphed into 650S, the Super Series range has feared nothing the establishment has sent its way, and the 720S is the culmination of this confidence, ability and desire to be the best.
> Click here for our full look ahead at the most exciting cars of next year
Throughout the year the 720S has proved its credentials at every opportunity. From our first drive back in May (evo 236), contributing editor John Barker concluded: 'The new generation Super Series McLaren is astonishingly, effortlessly fast, and remarkably efficient. You can cover ground at unbelievable pace in complete control, and yet feel oddly unexcited.' Damning with faint praise? Slightly. But with more exposure, more time behind the wheel and more superunleaded fed into its 4-litre V8, the 720S came to us more, got under our skin and proved to us why it's worthy of the 2017 crown.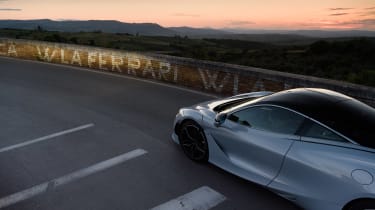 A 2000-mile road-trip (evo 242) had deputy ed Adam Towler convinced: 'Precision is, for me, the 720's defining characteristic, but by no means its only one. Completely absorbing, frighteningly intense, life-affirming, but not inherently scary – everything the car does is defined by absolute precision.'
Steve Sutcliffe described the 720S as an intense experience when it came to extracting a lap time from it (also issue 242): 'Insane. Absolutely, brilliantly insane.' For evo's new road test editor, James Disdale, it was equally enthralling: 'It'll cause no more sweat on the commute than an executive saloon, but find the right road to fully explore its potential and you'll experience the biggest hit of undiluted adrenaline this side of a base jumper.'
For me the 720S is all of the above, but it's also what it says about the company, how far it has come and, perhaps crucially, what is yet to follow. The 720S is the product of a manufacturer that hasn't changed its focus on wanting to build the most exciting, thrilling and best performance cars it can despite any obstacles it has faced along the way. McLaren Automotive has defined itself as one of the greats, and in the 720S it has created the best of the best: evo's Car of the Year.
evo cars of the year
Supermini: Peugeot 208 GTi by Peugeot SportHot hatch: Honda Civic Type RSports saloon: Alfa Romeo Giulia VeloceSupersaloon: Alfa Romeo Giulia QuadrifoglioSports car: Lotus Elise Sport 220Coupe: BMW M4 Competition PackSUV: Porsche Macan GTSGT: Bentley Continental GTSupercar: McLaren 720SHypercar: Bugatti ChironCar of the year: McLaren 720S