It's probably not what you're expecting us to say, but the thing with the Chiron is that it's simply too fast to put to meaningful use on the public road. It's not alone in this respect – all Hypercars are too fast for the road – but that doesn't mean we can't still love them… and of its ilk the Bugatti Chiron really is out of this world.
We can talk about how it's a much more involving drive than the Veyron ever was, that it has confidence inspiring-handling and that you can feel the car working beneath you, but that's to miss the point. This car is ultimately about one thing – mind-boggling straight-line performance.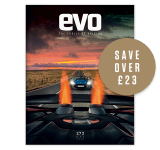 Subscribe to evo magazine
Subscribe today to have every issue of evo delivered straight to you. You'll SAVE 39% on the shop price, and get evo for its original cover price for a whole year!
> Click here for our first drive of the Bugatti Chiron
Figures can sometimes seem a little meaningless but in the case of the Chiron they're utterly defining. 0-124mph in 6.5sec; a (restricted) top speed of 261mph; unfettered it'll do 280mph. And in order to post those figures you need power, lots of power: 1479bhp and 1180lb ft from a quad-turbo 8-litre V16 to be precise. Oh, and lest we forget, a mind-numbing price tag of £2.1million… before taxes.
The figures tell part of the story, but this is a car that makes a Ferrari LaFerrari feel a little bit anaemic and comprehensively blitzes a McLaren P1. The faster you go the more it impresses with a relentless verve as it blitzes through sixth and seventh gears before head-butting its limiter with seemingly huge amounts of power in reserve. 
That it can do all this with no race car pedigree and with an interior that's as sumptuous as you could wish for is deeply impressive. The exterior is unmistakably Bugatti with some unashamedly brutal functional design elements that are then mated to the sheer art of the delicately curved full-width tail light and the delightfully partially exposed engine.
Having such unimaginable performance at your beck and call with the simple flex of an ankle is utterly bewitching and the car's ability to blitz its way from one corner to the next seriously changes your perception of speed. Too fast for the road perhaps and an utter licence loser, but what a way to go. 
Highly commended
Pagani Huayra: for its speed, exotic materials, drama and heavily fettled and turbocharged AMG V12.
Koenigsegg Agera RS: for its bespoke character, epic performance and its brilliant 1380bhp 5-litre turbocharged V8.
evo cars of the year
Supermini: Peugeot 208 GTi by Peugeot SportHot hatch: Honda Civic Type RSports saloon: Alfa Romeo Giulia VeloceSupersaloon: Alfa Romeo Giulia QuadrifoglioSports car: Lotus Elise Sport 220Coupe: BMW M4 Competition PackSUV: Porsche Macan GTSGT: Bentley Continental GTSupercar: McLaren 720SHypercar: Bugatti ChironCar of the year: McLaren 720S