Ferrari 488 Pista
Despite having the sort of performance only F1 drivers could realistically experience only 30 years ago, the Ferrari 488 Pista is just as easy to drive as the 488 GTB. Its suspension is a little firmera and exhaust a little louder, but it could realistically be used as an everyday car (should you be slightly mad).
Don't be fooled, though. Step inside, glance around the cabin and you'll notice four-point harnesses, fabric door pulls and hardcore bucket seats, all communicating the car's more focussed nature. You need that focus, too. Throttle response is uncannily sharp, and from go the motor simply erupts, the numbers on the digital speedo rising too quickly to process, the onslaught punctuated by the weil of the flat-plane V8 that betrays your brain has subconsciously hooked the next gear with a paddle. Even on hot, sticky tarmac, it still manages to break traction at the driver's will with a squeeze of throttle in second, third, sometimes even fourth gear.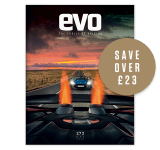 Subscribe to evo magazine
Subscribe today to have every issue of evo delivered straight to you. You'll SAVE 39% on the shop price, and get evo for its original cover price for a whole year!
However, as is the case with many cars in this class, when your time at the track is over and it's time to drive home on normal, broken and busy roads, the Pista lacks the character that so defined its illustrious predecessors. This is due to the sheer performance the Pista is capable of, attempting to stay within the law and out of ditches proving to be rather more difficult than it should. It's intimidating, yes, but also feels a little sterile, too hemmed in by the limitations of the public road.
Mercedes-AMG GT R
Affalterbach's answer to Stuttgart's favourite child, the Porsche 911 GT3, is some effort. AMG's comprehensive overhaul of the standard GT, to create the Mercedes-AMG GT R, started with the ubiquitous 4-litre V8. Uprated turbos - which blow harder – a remap and a new flywheel are among the list of upgrades, which lift respective power and torque peaks to 577bhp and 516lb ft.
However, it's outside of the engine bay where AMG has made the greatest changes. A broader body is stretched over wider tracks at both ends, the suspension hardware has been beefed up and a rear-wheel steering system has been fitted, too. Elsewhere, the rear-wing, vertical fins and active-aero elements grafted onto the squarer body yield 155kg more downforce than the GT at the 199mph top speed.
You won't mistake the engine's AMG origins. Its sounds every-bit the V8 and catapults the R out of corners with real aggression. It's the steering, though, that really moves the game on from the standard car. You can guide the front into corners confident it will stick, and that the rear will follow; any understeer can be banished with a measured application of the throttle.
It negotiates medium and high-speed corners with equal aplomb, exhibiting incredible grip and a planted stance, making light of quick direction changes. The R's unflappable character elevates it far beyond the AMG GT, however it hasn't lost its relative's sense of humour. Lurid powerslides can be initiated, held and arrested – on track – thanks to the chassis' precise yet progressive nature. 
Lamborghini Aventador SVJ
As all V12 Lamborghinis should, the Aventador SVJ most certainly has the intimidation factor - it's an essential part of the Lamborghini recipe after all. Lift the scissor door, drop into the comically uncomfortable bucket seat and you'll find that visibility is limited to say the least. Its girder-like A pillars have always compromised forward visibility, and thanks to the addition of new ALA ducting, rearward visibility is further reduced too, not so much a letterbox any more as a slip window in a modern art gallery. Look through the side mirrors and you'll see little more than chiseled flank. It's a proper supercar, then.
Everything we loved about the Aventador's naturally-aspirated 6.5-litre V12 power plant has only been amplified in the SVJ too. The car pulls slightly harder in the mid-range, but it's still all about that race to the redline. Bang through the gears in a dramatic, not-so-refined manner, thanks to the single-clutch ISR 'box, and the engine noise at 8,500rpm is all consuming; from the outside it's utterly spectacular.
> Lamborghini Aventador SVJ review
Although this is a more focussed version of the standard Aventador S, at 1,525kg it's not quite what you'd call featherweight. Brake from high speed and you'll be made very aware of the heavy V12 behind you, the car teetering on its tip toes. The enormous ceramic brakes have a softer pedal feel than one of McLaren's track-oriented offerings, but there's good modulation on offer and no questions over their outright stopping ability.
Turn in is impressive despite its sheer size though, with fantastic agility and grip on offer. Go into a corner too hot and a lift of the throttle hands you back an impressive lump of control without the car feeling nervous as the weight shuffles between the axles. It's certainly a car that demands the utmost of respect at the limit, but there's always the invisible safety net of the systems to rely on. So deft is its operation that the 'Ring lap time was recorded with some of its assistance left in place, in fact.
Porsche 911 GT2 RS
There's weight of expectation on the GT2 RS's shoulders – for those that care about such things it's the quickest road car around the Nordschleife – as well as being the most powerful 911 Porsche has ever lined up in its showrooms. It has a 3.8-litre flat-six that develops 691bhp and 553lb ft of torque, enough for a 2.7sec 0-62mph time and a top speed limited to 211mph, figures assisted, no doubt, by its low 1470kg kerb weight.
As well as being quick and expensive (it costs £207k, or £228k with the Weissach Package) it also wears some of the most aggressive aero yet seen on a 911. Start it up though and the looks are quickly forgotten as the aural aggression emanating from its titanium exhaust has to be heard to be believed – it sounds like one very angry supercar.
> Click here to read our review of the new Porsche 911 GT2 RS
Initially this isn't translated into the driving experience as driven gently the GT2 RS is remarkably tractable and could almost be mistaken for a standard Carrera. But that's not how you're going to drive it is it? Turn the volume up to 11 and the GT2 certainly doesn't disappoint with monumental turbocharged shove from that flat-six that somehow Porsche has managed to blend with a throttle response that's absolutely razor sharp.
 Given the GT2 RS is channelling getting on for 700bhp through its rear wheels you could be forgiven for thinking it would be a trifle unwieldy but nothing could be further from the truth. It's incredibly well balanced with nigh-on perfect balance thanks to its weighty yet unequivocal steering and superbly judged damping. As a way from getting from A to B it has few peers… it's just a shame there are so few places where you can really unleash its performance.
McLaren 570S
It's probably a little bit off to refer to a car that costs £143,000 as a bit of a bargain but the McLaren 570S certainly punches above its weight in this company and despite impressive performance figures this is a car that's actually remarkably practical and dare we say it almost every-day usable. 
At its heart is the 3.8-litre twin-turbo V8 that's the mainstay of the McLaren range and in its 570S application it's good for 562bhp at 7500rpm and 443lb ft from 5000rpm which gives vital stats of 204mph, cracking the 0-62mph barrier in 3.1sec on its way there. The V8 is mated to a seven-speed twin clutch transmission that drives the rear wheels through an open diff.
> Click here for our review of the McLaren 570S
While the engine is impressive – if a bit lacking in low-down torque in some circumstances – it's the 570S's chassis that particularly breath taking. When driven normally it's perfectly comfortable and supple yet turn up the handling and engine modes to Sport and the McLaren is hugely approachable, lithe and nimble-footed. While its body movement is always well controlled it retains enough of its pliancy to not be put off its stride by unexpected dips, crests and bumps.
Its carbon brakes are strong and responsive with good feel while the steering is well weighted and follows inputs with alacrity. While it uses the McLaren carbon Monocell it's been modified to lower the sills to make entry and egress easier and the cabin itself is a lovely place to spend wheel time whether you spec the Sport or Luxury interior.  
Click on the list above to read our individual reviews of the cars in this list.