Ferrari 2+2s have always been a source of fascination. Exceptions that prove the rule, they take a tangential path from Maranello's well-established model lines to offer something altogether different. Always unpredictable, they are eccentric conveyances for a small but discerning group of customers.
evo's first exposure to this kind of Ferrari was 2004's 612 Scaglietti. To say its styling challenged convention is an understatement. I'm not sure I've ever attended a launch where there was greater unease over a car's styling, or a car that was such a departure from its predecessor (the beautiful 456 GT), yet when I see a Scaglietti in 2017, I think it looks sensational. Go figure.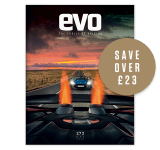 Subscribe to evo magazine
Subscribe today to have every issue of evo delivered straight to you. You'll SAVE 39% on the shop price, and get evo for its original cover price for a whole year!
Much like its styling, the 612 ushered in a new era for Ferrari's 2+2s – one in which its construction mirrored its all-aluminium stablemates and its 5.7-litre 533bhp V12 was slung behind the front axle for a front-mid-engined layout. The tech revolution didn't sweep away all traces of the past, though, as the 612 came with a manual transmission as standard. That said, most were ordered with the optional F1A single-clutch paddleshift gearbox, making stick-shift Scagliettis more like unicorns than Prancing Horses.
It might have looked a bit ungainly, but the 612 had a beautiful balance and bulk-belying poise that encouraged you to drive it as a Ferrari should be driven. On the launch, that meant a blast up to 185mph on the autostrada. And before you say anything, that sort of behaviour was acceptable in Italy in 2004.
Looking back, it was a special car. One that offered a unique range of abilities and revealed a glimpse of Ferrari's mature side. Consider just 40 cars were expected to come to the UK in that first year, and that it was priced at £170,500 (Aston was asking £104,000 for the new DB9) and you can see why it confidently laid claim to being the world's best four-seater.
It's an indication of Ferrari's worldliness that in 2011 it replaced the 612 with the FF. A car more suited to the tastes of increasingly influential Russian and Chinese markets, the FF's all-wheel drive and shooting-brake styling were an even greater departure from the norm.
Like the 612, it was a big car; Audi A6 Avant big. Yet its whirring, turbine-smooth V12 engine ensured it could hurl itself down the road like a supercar. Think 3.7sec to 62mph and an Enzo-chasing top speed of 208mph. Gone was the choice of manual or paddles, but to be honest the performance and demeanour of the FF combined with the effectiveness of the DCT gearbox really had rendered the stick-shift obsolete.
I loved the idea of the FF, but never truly fell for the reality of it. The absurdity of it still tickles me to this day – I mean to say, who would have predicted Ferrari would build a 651bhp, all-wheel drive, three-door estate car? – and the interior is a fabulous place to be.
But whenever I drove one I never quite gelled with it. Largely because it had the same rapid reactions as the true sports cars in the Ferrari range, yet would have felt better if its focus was to soothe rather than stimulate.
> Click here for our Ferrari GTC4Lusso review
And so to the less-than-snappily titled GTC4 Lusso. Unlike the jump from 456 to 612, and then to FF, this was an incremental evolution rather than a complete revolution. The engine now has 680bhp (there's also a 602bhp V8-powered Lusso T), the gearbox is quicker-witted, the AWD has been further developed with four- wheel steer. Perhaps inevitably, it hasn't made the same leaps in performance and, perhaps disappointingly, it remains a somewhat confused proposition. And yet the world is most definitely a better place with a quirky 2+2 Ferrari in it. Long may that continue.