Mazda RX-8 R3
Mazda's rotary engine's as smooth as silk. We just wish it wasn't as thirsty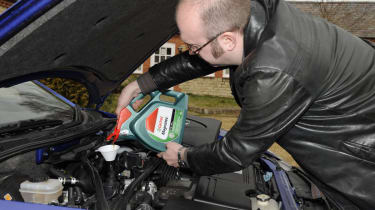 Beep, beep, beep! Seat belt's on. Handbrake's off. Beep, beep, beep! Doors are closed properly. Beep, beep, beep! Ah, it's the oil light. Of course.
No doubt you've heard of the RX-8's reputation for getting through the golden brown stuff. Perhaps, like me, you thought it was all a bit exaggerated. Well, it seems not. It took two litres of 5W-30 to bring the Mazda's oil level back up to the maximum marker on the dipstick, which is exactly where I had topped it up to (with another litre of oil) just 1200 miles earlier.
If it were any other car, you'd be looking beneath the engine for a leak or at the tailpipes for smoke, but in an RX-8 this level of consumption is clearly not unusual – how many other cars do you know that come with an emergency bottle of oil in the boot? An admission of guilt if ever I saw one. (Mazda was obviously still in denial when the RX-8's owner's manual was written, though, as there's no entry for 'Oil' in its index!)
Given how often the Wankel needs topping up, it seems odd that you have to go through the faff of removing the engine cover to get to the oil filler. Yes, there is a handy flap in the cover to make getting to the dipstick easier, but the chances are that if you're checking this car's oil, you're only doing so to decide how much to put in.
Rotary engines like oil, then, and they really like unleaded (I've crept up to an average of 20.6mpg this month), so what, you might be wondering, are the benefits? The most obvious one is smoothness. Despite having 'no torque' (actually 156lb ft at 5500rpm) the RX-8 will happily potter around at low revs in a high gear where a conventional engine might stutter and struggle. Then, if asked, it'll pull cleanly right the way to the 9000rpm red line.
The RX-8's twin-chamber Wankel is also compact for its level of power (228bhp at 8500rpm). This not only allows the car to have its distinctive low bonnet line, it also means the engine can sit closer to the ground and nicely behind the front axle line, giving the car a lower centre of gravity and contributing to its perfect 50/50 front/rear weight distribution. It's a light unit too – the rotary design doesn't have valves, conrods or a crankshaft, and this translates to weight savings, further benefiting handling.
Does it all make a difference? I reckon it does. The RX-8 feels like it's skimming closer to the ground than most coupes, and come the corners all four tyres seem to take an equal share of the load, rather than the effort being biased towards one end or the other.
You can't help but wonder what Mazda's coupe might be like if it had a V6 instead of its rotary engine, but it's not quite that simple, for while it might mean more power, more torque and lower fuel bills, having a taller, heavier engine up front would make the RX-8 a very different car indeed.
Running Costs
| | |
| --- | --- |
| Date acquired | January 2009 |
| Total mileage | 7134 |
| Costs this month | £29.99 (4 litres oil) |
| Mileage this month | 1631 |
| MPG this month | 20.6 |