'The elusive thrill of driving is more readily accessed with the roof down'
Perhaps more evidence of his advancing years, Meaden confesses to a growing passion for convertible motoring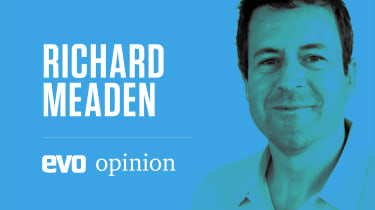 Here's a question for you: have you owned a convertible car? I'm not talking dedicated sports cars like Caterhams or Elises, or even MX-5s, as they're all great and meant to be roofless. I mean a Roadster, Spider, Speedster, Volante, Cabriolet or any other fresh-air version of an otherwise tin-topped model.
Even asking such a question in the gung-ho pages of evo feels like I'm broaching a taboo subject. One that risks you marking my card as an effete charlatan and a traitor to the cause of rock-hard suspension, Nürburgring lap times and tyre-shredding oversteer.
Yet the truth – unsettling for me and, perhaps, unpalatable for you – is I rather enjoy roofless cars. Not all of them, but quite a few. That's confusing and contradictory I'll admit, but hopefully goes some way to you giving my confession a sympathetic hearing. Some of you might even come out in my defence...
I don't get soft-top hatchbacks, though. Nor do I like the idea of saloon-based soft- tops. I'm not sure I get metal folding roofs either. I'll also concede there have been some heinous crimes committed in the name of open-top motoring over the years. Whoever signed-off on the E30 M3 Convertible should be shot, as should those who bought them. Similarly I still feel my teeth splintering at the memory of the abomination that was the B7 Audi RS4 Cabriolet. Saloon? Yes! Avant? Double yes! Cabrio? Hell no! Likewise, I still can't countenance 911 Cabriolets of any flavour, though perversely I would entertain a Targa. Go figure.
And then there's the rise of the diesel convertible. Apart from the abominable PT Cruiser Convertible, is there anything sadder than an open-top oil-burner? As Colonel Kilgore never said in Apocalypse Now, 'I love the smell of NOx and carcinogenic particulates in the morning. It smells like desperation. Or a cheap lease deal.'
Some years ago I ran a Jaguar XKR-S Convertible on evo's Fast Fleet. I'll admit my inner cabriophobic purist grimaced at the prospect. Largely because anti-convertible sentiment had been drummed into me by much of the motoring media I'd consumed in my impressionable youth. I also knew it would provide endless amusement for former evo contributor Jethro Bovingdon, who took great delight in snorting with derision when he saw me drive it with the roof down. Which was a lot more often than I would have predicted prior to living with the car. It helped that the year I had the Jag included a properly hot summer, but I recall the winter was a hard one. I should know – I was living in a caravan on a building site at the time. Funny thing was I'd feel just as inclined to drop the roof on a cold, frosty morning, or one of those cloudless days after heavy snowfall, as I did on a scorching summer's day. The pleasure, and the sense of occasion and connection, weren't temperature dependent.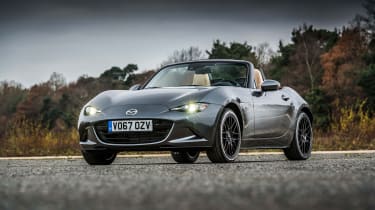 It sounds like a terrible cliché to cite the heightened sights, sounds and smells that come with open-top driving as a source of sensory pleasures denied those cocooned in their coupes, saloons or hatchbacks. But, like most clichés, that's only because it's true. The Jag wasn't a great drivers' car, but it was characterful, memorable and genuinely enjoyable. I'm sure I liked it more because it was a convertible; I have a suspicion the coupe would have focused me more on the XKR-S's lack of feel and traction. Not having a roof just seemed to suit it to a tee.
Maybe the sun's gone to my head, but of 2017's new models I have the major hots for the Aston Martin Vanquish S Volante (just imagine the noise of that V12!) and the AMG GT C, which looks absolutely stunning. I wouldn't have one over an AMG GT R, but I suspect it's a more desirable and enjoyable machine than the regular GT.
Pagani's Huayra Roadster looks utterly sensational. Likewise I think I'd choose an Aventador SV Roadster over a regular model, and I'd be sorely tempted by a 488 Spider despite my reservations about metal roofs on convertible cars. Lower down the ladder I'm certain I'd have a Boxster over a Cayman. At least before Porsche stuck that gruff flat-four in them. I'd even have a job deciding between a 981 Boxster Spyder or the venerated Cayman GT4. Sorry – I'll get my coat.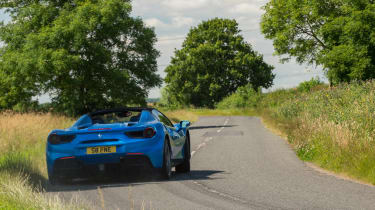 Madness? Maybe. But as high-performance cars become ever more powerful, capable and exploitable in a world less and less tolerant of speed, I think I'm finally starting to crave ways of injecting fun and engaging my senses without feeling compelled to drive at crazy velocities. I love a hardcore hot hatch, supersaloon, Speciale or RS just as much as the next man, but perhaps it's time to consider that, far from being softcore, the elusive thrill of driving is more readily accessed with the roof down.
Find more evo opinion though the links below...