Blending pure driving thrills with a comfortable, continent-crushing demeanour is no small task; the two are almost diametrically opposed to one another. Yet that's what we demand in a proper GT car, for it to be as relaxing as a limousine on the run to the Alps but for it be as sharp as a sport car as a soon as you hit your favourite mountain pass.
As impossible a task as that sounds there are at least ten cars on sale that pair those two attributes with aplomb. Our list of ten best GT cars sees all the usual suspects making an appearance; at least one model from Aston Martin, Ferrari and Bentley all make the cut. Yet some unconventional GT cars also make the grade, and we've included some cars that at face value you wouldn't consider a grand tourer because, when you drive them, they exhibit all the qualities needed to thrill you when it's twisty and calm you when the road is straight.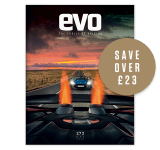 Subscribe to evo magazine
Subscribe today to have every issue of evo delivered straight to you. You'll SAVE 39% on the shop price, and get evo for its original cover price for a whole year!
The Best GT cars to buy now
1. Bentley Continental GT V8
The old Continental GT may have been a sales success for Bentley, but it was only really the special models, Supersports and GT3 versions that ever really impressed us. The brand-new Continental GT looks lower and sleeker than its predecessor but, even better, these visual attributes signal just how different it is to drive; it's a more dynamic driving experience than ever before. That's because, firstly, it sits on a platform co-developed with Porsche, so rather than taking the underpinnings from a VW Phaeton it shares a lot with the new Panamera – including electromechanical variable anti-roll bars and three-chamber air suspension.
Furthermore, the Continental GT now has a torque-varying four-wheel-drive system too. It predominantly sends torque to the rear wheels, only shifting drive to the front when more traction is required. In Sport mode, when the car's in its most aggressive settings, only 17 per cent of drive ever goes to the front axle.
> 2019 Bentley Continental GT V8 review - the driver's Conti GT
As well as being more agile and more entertaining on twisting roads than before, the GT is more cosseting and relaxed on a long cruise. The suspension, exhaust noise and gearbox in the new Continental are in their calmest state when the car's in Comfort mode, making it feel like a true luxury car. A third mode, 'Bentley', straddles the gap between Comfort and Sport.
Although Bentley's trademark twin-turbocharged W12 offers more performance and refinement than one could ever need, the V8 is the driver's choice. Though it falls short of the W12's 626bhp output, power delivery and a 50kg reduction in weight make the V8 GT considerably keener to change direction.
2. Lexus LC500
The Lexus LC500 looks like nothing else. In pictures you don't sense just how unique its tall windowline, its Predator-style mouth, complicated lights and unadorned flanks make it look. On the road, amongst mostly dour European machinery and grotesque SUVs, it's distinctive and supremely elegant.
But as unusual as it looks, it's equally as conventional and natural to drive. Its 5-litre naturally aspirated V8 not only makes it feel fast thanks to a 470bhp output, it responds instantly to every squeeze of the accelerator and makes an intoxicating induction howl as you rev it, too.
> Lexus LC 500 Coupe review – Lexus's buji coupe a brilliant alternative GT
The steady progression of torque (398lb ft that peaks at 4800rpm) means every millimetre of throttle travel is useful when controlling the car; it's refreshing after the on/off torque delivery that turbocharged engines typically offer up. The engine allows you to easily exploit the rear-wheel-drive chassis, too. You have the control to keep things neat and quick around corners or flamboyant and sideways. It's an incredibly fun car.
If anything, the Lexus's GT attributes have been sacrificed to make its persona sportier; it's a little too firm and a little too noisy to be the perfect cruiser. Also, the infotainment controls and driver aid buttons are so baffling and awkward to use that any serenity you've cultivated will be destroyed by the frustration they generate. However, with such an exquisite, well-built and interesting-looking interior there's plenty to appreciate at low speeds.
3. Mercedes-AMG S63 Coupe
Of all the cars on this list, it's the S63 Coupe that does the best job of being an all-out cruiser, but that comes at the expense of its sporting potential. That's not to say there isn't some performance prowess for the S63 to boast about – with its 4-litre twin-turbo V8 (the same as the one found in the AMG GT C, also on this list) putting out 604bhp and 664lb ft of torque it's by no means slow. The S63 Coupe can reach 62mph in just 4.2sec and a top speed of 186mph if equipped with the AMG Driver's Package – it's restricted to the regular 155mph as standard.
> New Mercedes-AMG S 63 Coupe 2018 review – a GT to top Bentley's Continental?
Remarkably, considering those performance figures, there is an even faster and more powerful version of the S-class coupe. With a 6-litre twin-turbo V12, the S65 Coupe has 621bhp and can hit 62mph in 4.1sec. However, the V12 is noticeably heavier and its delivery is slightly lazier, shifting the car's attitude even further towards being that of a luxury barge than a sporting GT. The S63 has a better spread of abilities than its V12 brother, and is more likely to put a smile on your face on a twisty back road.
4. Porsche Taycan
Revealed as Porsche's first modern-day EV, the Taycan goes head-to-head with Tesla's venerable Model S. Though the Tesla boasts some of the best straight-line performance and range figures in its class, the Taycan is the driver's EV we've all been waiting for.
Range is down on that of the Model S and it's not as accelerative on paper, but the Taycan applies Stuttgart's formula to an EV, with ride and body control far superior to that of even the accomplished Panamera. Damping from the PASM chassis masks its 2295kg weight figure, and although lacking detailed feedback, the steering is remarkably accurate too.
> New Porsche Taycan review - Stuttgart puts its stamp on the electric car era
In the range-topping Turbo S, the 93.4kWh Performance Battery Plus sends power to a pair of electric motors, one on the front axle and one at the rear. Unlike in the Tesla, the latter puts power through a two-speed gearbox for acceleration to match that of seven-figure hypercars. Thanks to the 750bhp boost available during a launch, standstill to 62mph happens in only 2.6sec, with top speed restricted to 160mph.
Though a WLTP range of between 241 and 256 miles means you'll have to stop more frequently than with internal combustion counterparts, the use of 270kW fast charging is said to allow drivers to go from five per cent to 80 per cent charge in just over 20 minutes.
5. Ferrari GTC4 Lusso
These days, even Ferrari's sports cars have an amazingly supple ride – especially when in their 'Bumpy Road' mode. So it's not surprising to find the Italian firm's grand tourer, and its replacement for the FF, the GTC4 Lusso, is even more proficient at smoothing out rough and craggy tarmac.
It's not all about its pillowy ride though. As you'd expect from a Ferrari GT, there's a big V12 up front – to be precise, a 6.3-litre naturally aspirated V12 with a rev limit of 8250rpm, developing 680bhp and 514lb ft of torque. There's also four-wheel drive for better traction, four-wheel steering for better agility as well as stability, and four seats for plenty of interior space; it ticks all the necessary GT car boxes.
However, although it might be a refined GT car, we can't help but want to hear the Ferrari's V12 a little bit more prominently within the cabin; it's just a little too muted as it is.
> Ferrari GTC4Lusso review - the ultimate in practicality and performance?
6. Bentley Flying Spur W12
The Bentley Mulsanne and its 6.75-litre V8 is no more, with the new Flying Spur taking its place as the brand's flagship luxury saloon. Despite the advent of today's latest in-car technology, the Flying Spur still utilises the marque's long-standing twin-turbocharged W12 power plant, but the similarities with its predecessors stop there…
The unit is more refined than ever, and despite an increase in efficiency it now sends 626bhp and 664lb ft of torque to all four wheels for a 3.7sec 0-60mph time and a 207mph top speed – impressive numbers for a 2437kg Bentley. Straight-line performance isn't where it ceases to impress, however.
> 2020 Bentley Flying Spur review
Thanks to the use of active anti-roll bars, four-wheel steering, three-chamber air suspension and more, the new Flying Spur is one of the only cars in its class that's as good to drive as it is to be driven in. Adaptive all-wheel drive also sends power only to the rear unless traction is required at the front, making it more agile than you might imagine.
Both its kerb weight and starting price are higher than most would like, but should you be looking to cover miles at a brisk pace and in the utmost comfort, you can't go wrong with the new Bentley Flying Spur. 
7. Panamera Sport Turismo Turbo
The first-generation car had questionable looks, but the Porsche Panamera is undoubtedly one of the most capable performance saloons on the market. Unlike its rivals from Mercedes-AMG and Audi, it doesn't feel the need to shout about it, either, making it an excellent grand tourer.
Despite its size, the Panamera has an incredible ability to control its mass through advancements in its air suspension technology; in some circumstances, it leads you to believe that you're in a car of the class below, and hauling 500kg less. Thanks to Porsche's build quality and refinement, you'll struggle to find a car in its class that offers the ability to cover miles at speed in more comfort.
> Porsche Panamera Sport Turismo Turbo review - is Porsche's first estate any good?
The Sport Turismo variant takes things one step further, applying the same formula to an estate with little to no performance penalty – more boot space and rear headroom make it ideal for long journeys. The £120,065 Turbo is the sweet spot of the range, offering a 4-litre twin-turbocharged V8 for a 535bhp, 568lb ft torque output. Zero to 62mph comes in a brisk 3.6sec (with the Sport Chrono package), with top speed at 188mph.
8. Aston Martin DB11 V8
We weren't initially convinced by Aston Martin's new era of turbocharged cars when it launched the DB11 V12. The chassis felt confused, as if it was trying to spread its abilities too thinly; there wasn't the control and resistance to body roll to make it feel truly competent on the road, and the ride was only comfortable when the road surface wasn't too rough. The sportier chassis settings made the dampers firmer and ruined the ride, but didn't increase the control hugely.
Its engine, in comparison to Aston's old V12, also felt one-dimensional, the noise lacked depth, and its sudden delivery of torque was way too much for the rear axle to cope with alone.
The V8 version, with AMG's 4-litre hot-V V8, rights many of the V12's wrongs. The engine is more suited to the chassis and the lighter motor means there's less for the dampers to try to contain. That the suspension has been treated to a retune has helped significantly too.
> Aston Martin DB11 V8 review – is less still more when applied to a suave GT?
9. Mercedes-AMG GT63 S 4-Door
Launched as a rival to Porsche's highly successful Panamera, the GT63 4-Door had a big task at hand. Under the bonnet is the same 4-litre twin-turbocharged V8 you'll find in all of the brand's current '63' products, offering excellent response and one of the best exhaust notes from a car of its kind.
Officially one of the most powerful AMGs on sale today, second only to the £330,000 GT Black Series, 630bhp and 664lb ft of torque are enough to propel it from standstill to 62mph in an astonishing 3.2sec, and on to a top speed of 196mph – not bad for a 2045kg saloon. 
The use of a trick all-wheel-drive system prevents it from being a straight-line machine, with power sent only to the rear under moderate loads, engaging the front differential when additional traction is required. In the range-topping S, you also receive the same drift mode you'll find in the E63 S, which ensures power is sent only to the rear.
> Mercedes-AMG GT63 S 4-Door review - AMG's Panamera rival lands a one-two
Despite its name, the supersaloon shares very little with its Coupe counterpart. Though based on Mercedes' MRA platform used by the E-class and CLS, it adopts aluminium strut towers and subframes, a carbonfibre rear bulkhead and boot floor, with high-strength steel crossmembers used to stiffen its shell.
Despite its size, weight and number of doors, the GT63 4-Door behaves like a smaller, lighter machine, with spritely acceleration and incredible agility thanks to the likes of its adjustable all-wheel-drive system and four-wheel steering.
10. Polestar 1
Being its very first model since it became a standalone manufacturer, the Polestar 1 aims to be a high-tech, high-end super GT to compete with models such as the Bentley Continental GT. Though it features Volvo design elements inside and out, the tech under the skin is not something you'll find anywhere else.
Though the brand aspires to produce pure-electric models, it decided to opt for a hybrid powertrain to ensure it could fulfill its grand tourer requirements. Though EV range is seemingly increasing by the month, the combination of a 2-litre turbocharged and supercharged four-cylinder with a trio of electric motors was chosen to maximise useability.
A single 67bhp motor sits between the engine and gearbox on the front axle alongside the 305bhp combustion engine, while two 85kW electric motors can be found at the rear, producing a healthy 229bhp and 354lb ft of torque – these combine for an output of 601bhp and 738lb ft, enough for a 4.2sec 0-62mph time and 155mph top speed.
> Polestar 1 review - can it compete with pure combustion counterparts?
Under the skin is the same Scalable Product Architecture platform you'll find in many Volvo products, albeit with the addition of carbonfibre crossmembers to increase rigidity by 60 per cent. Damping is good, and with the use of torque vectoring it hides its enormous 2350kg mass well.
Though occasionally jarring, its relative firmness does wonders for body control, and turn-in is positive too. We find that the Polestar 1 is most satisfying when driven a couple of notches back from maximum attack, with its quiet hybrid powertrain making it a fantastic grand tourer.
Best GT cars top 10
Click the links below to read our full review on each or our top 10 GT models.