20 years of evo - the interviews - Ian Eveleigh, Managing Editor interview - 20 years of evo
To mark 20 years of the magazine, we ask Managing Editor Ian Eveleigh to recall his most memorable evo moments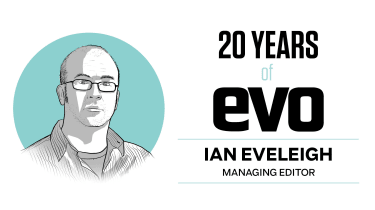 This year evo celebrates its 20th birthday. To mark the occasion, in this series we're asking key members of the team to recall their most memorable evo moments
Tell us your earliest evo memory
Stumbling across issue 001 in a newsagent's one day back in 1998 and reading it cover to cover that same evening. Finally someone had had the good sense to make the kind of car magazine I wanted to read. Perhaps less sensibly, that first issue contained a competition for which one of the prizes was to join evo on a group test. I entered and won, and eventually spent a couple of days testing a Honda Accord Type R  and four of its rivals in the Yorkshire Dales (issue 012), meeting evo stalwarts Stuart Gallagher, David Vivian and Andy Morgan in the process. They seemed to think that what they were doing was work. It made me start thinking about a career change.
What was the first car you drove for evo?
I believe it was the Mondeo ST200 on the aforementioned test. After that test it would be a further four long years before I drove another car for evo. This time it was for my first 'proper' job for the mag: a feature on Run What Ya Brung drag racing, for which I used my own Mk1 Golf GTI, rather foolishly missing an opportunity to borrow something far more tasty from a manufacturer's press office. I clearly had a lot to learn.
What's the most memorable evo test you've been part of?
The second Grand Challenge, with the convertibles, and specifically the day when we lapped our open-top sheds on a snow-covered Bedford Autodrome (evo 129). Drifting my team's MGF around the West Circuit was a hoot, Jonathan Palmer photographing proceedings from his helicopter above was surreal, and the laughter in the pitlane as people slipped and stumbled during driver changes was unforgettable.
And your most memorable evo drive?
evo Car of the Year 2009, on the Isle of Skye, driving a Murciélago SV in pursuit of John Simister in a Noble M600 while Matt Monro crooned 'On Days Like These' on the radio. (My memory may be playing tricks with the details here.)
Your worst evo moment is…?
Issue 210. The absolute low point in evo's disorganised years, and boy did we pay for it with some long, long days in the office. One particular feature in that issue, called 'Fast, Fun and Under Warranty', has gone down in evo legend for how behind schedule it got. It very nearly kept us in the office till sunrise. Turns out that working for a car magazine can be a bit like a real job at times.
Tell us about the most disappointing car you've driven while at evo
The BMW M3 CSL. Anyone who can overlook that gearbox is considerably more charitable than I am.
Your favourite evo story by a colleague?
David Vivian going in search of the Grossdeutschlandring in an Audi R8 GT in minus 14-degree temperatures (evo 169) springs to mind. A proper evo driving adventure and classic Viv. It's a shame readers never got to see the uncut version with its longer passage about driving on an autobahn with frozen washer jets. The sense of peril was amazingly palpable.
The one car you wish you had driven during the last 20 years?
The Lexus LFA. With anything else I've missed out on I can build a mental picture of what it might be like from related models. But the LFA sits by itself: a Japanese supercar with a front-mounted V10 and rear-wheel drive. I haven't got a good reference point for that.
And finally, what's your favourite car launched in the last 20 years?
I want to say something different, I really do, but it has to be the 3.8-litre 911 GT3 RS. Sorry.