20 years of evo - the interviews - Nick Trott, Editor (2009-2016) interview - 20 years of evo
To mark 20 years of the magazine, we ask Editor (2009-2016) Nick Trott to recall his most memorable evo moments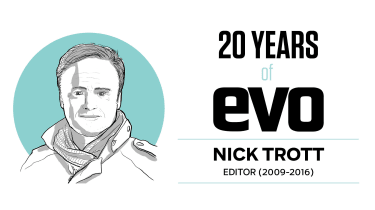 This year evo celebrates its 20th birthday. To mark the occasion, in this series we're asking key members of the team to recall their most memorable evo moments
Tell us your earliest evo memory
It was 1998. The first issue. I'd just started my career as a motoring journo and it became my dream to work on evo.
What was the first car you drove for evo?
I think it was a SEAT of some kind – a Driven written as a freelancer before I was editor. Nothing glamorous, but I was so excited when Peter Tomalin asked me to write that review.
What was your first car launch for evo?
That SEAT. The best launches were when the manufacturer just threw us the keys and said 'come back tonight'. evo did just that with the GT3 RS 4.0 in France (issue 142). I knew where rally legend François Delecour lived, so I asked Chris Harris to seek him out. Porsche was not expecting that or the resulting video (or tyre bill).
What's the most memorable evo test you have been part of?
Either the 'analogue supercars' test in 2013 or eCoty 2015. For the former (evo 186) I worked for months behind the scenes to get the cars together – F1, F40, F50, Carrera GT, Zonda, Murciélago SV  and Noble M600 –  but it was worth it. We had a £1million excess on the F1, which probably would've shut the mag if we'd crashed it. I was so moved by that test that I had a tear in my eye when driving the F1. eCoty 2015 (evo 216) was magnificent. I'd been negotiating with the then-new North Coast 500 initiative in Scotland to do the test on the route, but little did we realise just how beautiful it would be. I heard that Prince Charles, who supported the initiative, was given a copy of that eCoty test. I know what he thought of it, too, but I'm not allowed to say!
And your most memorable evo drive?
KTM X-Bow to the Arctic Circle Raceway with photographer Gus Gregory (evo 142). Any road trip with Gus is an adventure. I remember him spotting a photo opportunity, but it meant walking into a rocky river of meltwater. I dropped him off thinking he'd never do it, but sure enough five minutes later he emerged holding his jeans and camera above his head. He'd fallen in, of course… but had bagged the shot. Gus's photography helped shape the mag – he's an unsung evo hero.
Your worst evo moment was…?
My first eCoty was pretty bad (2010, evo 152). I had to ask two supercar makers to collect their cars – or what was left of them. And Chris Harris nearly inserted a GT2 RS into a Merc SLS, while Ollie Marriage spun a 458 right in front of me. There was also the time we blew up Harry Metcalfe's TVR Griffith. That was particularly awkward.
Tell us about the most disappointing car you drove while at evo
Alfa Romeo 4C. Heartbreaking.
Your favourite evo story by a colleague?
Dickie Meaden's record-breaking Skoda Octavia drive at Bonneville (227mph in a 2-litre forced-induction production car; evo 162). His story was so beautifully written that you could taste the salt. Sam Riley's video of it was sensational, too.
What's the one car you wish you had driven during the last 20 years?
It seems almost churlish to say, as I had the chance to drive pretty much everything. Even a Porsche 917 (in-joke). Um, I missed out on the LaFerrari, but I can't grumble!
And finally, what's your favourite car launched in the last 20 years?
Can I give you a best, a 'most evo' and a favourite? Best is the Porsche Cayman GT4. I honestly don't think there's a better road car. Most evo is the Porsche 997 GT3 RS 3.8, but the McLaren 675LT runs it close. Favourite is probably the Lexus LFA. The car and the story behind it are just so intriguing.