20 years of evo - the interviews - Peter Tomalin, Contributor & Former Associate Editor interview - 20 years of evo
To mark 20 years of the magazine, we ask Contributor & Former Associate Editor Peter Tomalin to recall his most memorable evo moments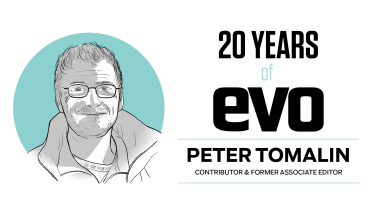 This year evo celebrates its 20th birthday. To mark the occasion, in this series we're asking key members of the team to recall their most memorable evo moments
Tell us your earliest evo memory
Sitting in a beer garden in a pub near Cambridge on a summer evening in 1998, flicking through the 'dummy issue' that Meaden, Barker and Gallagher had spent the day showing to various industry PRs. Would I like to join the yet-to-be-launched mag as associate editor? (In reality I'd be chief subeditor, but associate editor always sounded cooler.) I knew them all well from Performance Car days. But I said yes anyway.
What was the first car you drove for evo?
Jaguar XKR to north Wales for the very first evo Car of the Year (issue 003). It was a fine car, but it didn't win (obviously, because there was a 911 present).
What's the most memorable evo test you have been part of?
That would have to be 'The Test' (issue 022), when we brought together a bunch of supercars – including the Diablo 6.0 VT, 550 Maranello and an interesting newcomer called the Pagani Zonda – on part of the old Mille Miglia route through Tuscany. We stayed at Harry Metcalfe's villa in the middle of this glorious landscape and every night drank beer under the stars. Not too shabby.
And your most memorable evo drive?
It ought to be driving a Veyron from the Bugatti factory down to the French Riviera to find Pierre Veyron's old garage for evo's 10th birthday (issue 124). But my most memorable drive was in a car that cost less than one of the Veyron's wheels. That was the Westfield XI, which Roger Green and I built (with a lot of help from a mate called Roger Swift). Our dream was to drive it to Le Mans, and after one aborted trip when a hose broke and it pissed out all its engine oil, we finally made it down for the Le Mans Classic (issue 095) – and somehow blagged a handful of laps. Hammering down the Mulsanne in a car we'd built ourselves was just the best feeling.
Your worst evo moment is…?
Watching our lovely little Westfield XI go up in flames at the Bedford Autodrome after a fuel line broke and leaked petrol all over the exhaust manifold. Within ten minutes it was unsalvageable. When the last fire extinguisher was spent, we just sat on the grass at the trackside, heads in hands. That was pretty bloody awful. Oh, and Barker giving away the winner of eCoty. Twice.
Tell us about the most disappointing car you've driven while at evo
Having banged on for years – along with everyone else – about the world needing more no-frills, naturally aspirated, rear-wheel-drive sports cars, when Toyota/Subaru actually built one I can remember feeling massively underwhelmed by the GT86/BRZ.
Your favourite evo story by a colleague?
Two of Dickie Meaden's stories stand out. His piece on driving Pikes Peak (evo 109) was superb, but if I can choose only one, it would be his account of competing in the Nürburgring 24 Hours for the first time (with Maserati, in 2006; evo 094). Totally gripping from first line to last.
What's the one car you wish you had driven during the last 20 years?
Everything I've read about the 458 Speciale tells me I'd love it to bits.
And finally, what's your favourite car launched in the last 20 years?
Until I drive a Speciale, the first-gen 997 GT3, the car that beat the 430 Scuderia to win eCoty 2007. As fast as you'd ever need, not too big, just enough tech to keep you out of trouble unless you went looking for it, but not so much that it got between you and the car and the road. And simply, utterly brilliant.