20 years of evo - the interviews - Richard Meaden, Founding Editor interview - 20 years of evo
To mark 20 years of the magazine, we ask Founding Editor Richard Meaden to recall his most memorable evo moments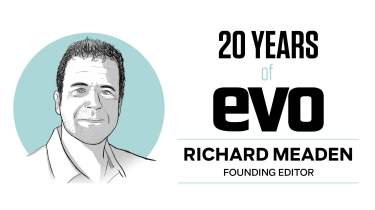 This year evo celebrates its 20th birthday. To mark the occasion, in this series we're asking key members of the team to recall their most memorable evo moments
Tell us your earliest evo memory
My earliest memory predates evo. I was sitting on a bench on the Great Orme in Llandudno, chatting with Harry Metcalfe during the final Performance Car group test. By this time H had become part of the extended PC family, so I made sure he was with us for the last test. Of course, there may have been an ulterior motive…
What was the first car you drove for evo?
I honestly can't recall, but the first evo-related drive was probably in Harry's rather tired Golf GTI. I recall using it to 'liberate' our old magazine archive from the PC offices before the cleaners slung it in a skip. That venerable Golf also got us to and from the printers – handily based in Cornwall – for the first few issues. It was a true founding member of the team.
What was your first car launch for evo?
Maserati 3200 GT – the cover car of issue 001. It was something of a coup for a start-up magazine to get an invite. I know it put a few of the established titles' noses out of joint! We owe Ferrari/Maserati's then PR manager, Tim Watson, an enormous debt of gratitude for putting his faith in us.
What's the most memorable evo test you have been part of?
For spectacle, 288 GTO v F40 v F50 v Enzo (issue 064). For fun, the 'Five Decades of Hot Hatches' test (issue 195). For never-to-be-repeated commitment between photo locations, the 'Extreme Sports' group test between S2 Exige, Noble M400, 996 GT3 RS and 360 Challenge Stradale (issue 068). Balls 'oot!
And your most memorable evo drive?
It's hard to select one. Motor racing adventures are right up there: my first time racing in the N24; competing at Pikes Peak; doing 229mph in a Skoda Octavia vRS at Bonneville Speed Week. All unforgettable. However, for me the heart of evo has always been extraordinary drives in fabulous road cars. Of these, retracing the Targa Florio course in a Mk1 996 GT3 for issue 028 is the one I would love to do again.
Tell us about the most disappointing car you've driven while at evo
Any Alfa Romeo introduced before the launch of the Giulia Quadrifoglio.
Your worst evo moment is…?
The lowest but also funniest-in-hindsight moment was one of Harry M's legendary motivational speeches. We had just completed the third issue – our first eCoty. Spirits were high. Then H told us we were skint, issue 2 hadn't sold well and we'd be lucky to get to issue 4. He then wished us a Merry Christmas. We can laugh about it now…
My absolute worst evo moments seem to involve undergrowth. And John Barker. There was the time I crashed his Evo VI RS Sprint long-termer into a hedge. Then I put his wedding car – a white Jaguar S-type V6 – into another hedge. On the night before his wedding. Awkward.
Your favourite evo story by a colleague?
Peter Tomalin's story about Dino Ferrari (evo 106) was truly fantastic. Thoughtful, original and beautifully written. However, I think my favourite was the late Russell Bulgin's short piece on 'evoness' (see issue 015 or 046). Having something with such personal significance explained better than you could explain it yourself – and by my absolute favourite motoring writer – was very special.
What's the one car you wish you had driven during the last 20 years?
I honestly can't think of one. I've been a bit spoilt over the years.
And finally, what's your favourite car launched in the last 20 years?
Any number of 911s (including a Singer) commend themselves, as does the Ferrari 458 Speciale. However, I think an S1 Elise Sport 135 is my pick.