20 years of evo - the interviews - Henry Catchpole, Contributing Writer interview - 20 years of evo
To mark 20 years of the magazine, we ask Contributing Writer Henry Catchpole to recall his most memorable evo moments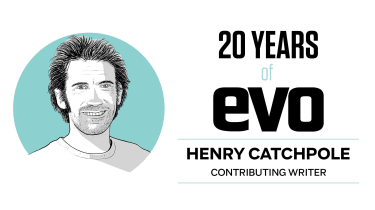 This year evo celebrates its 20th birthday. To mark the occasion, in this series we're asking key members of the team to recall their most memorable evo moments
Tell us your earliest evo memory
I was 16 years old and Bruce, my best friend at school, brought in a copy of this new car magazine with a silver Maserati 3200 GT  on the front. It might sound fanciful, but it was after reading issue 001 cover to cover that I knew exactly what I was going to say to the careers advisor.
What was the first car you drove for evo?
A black Mini Cooper S. The second car I drove for evo was a white Mini Cooper S.
What was your first car launch for evo?
The Smart Forfour Brabus  (issue 079). Not a very memorable (or good) car, but I do have memories of the wonderful hairpin roads around Sospel in the south of France and the smell of hot brakes. It wasn't a big launch, but I remember thinking how glamorous it all was.
What's the most memorable evo test you've been part of?
The drive stories are what I've always enjoyed doing the most. Finding a jaw-dropping piece of road and then working with a photographer to get a shot of an amazing car doing something cool is very rewarding. I've also been very lucky to do the trips with people I consider friends. I think my most memorable journey was with Dean Smith when we took an MP4-12C to Morocco and drove over the Atlas Mountains and back (issue 173). Never did see goats climbing trees, though.
And your most memorable evo drive?
My best drive was probably in a WRC car… or a Caterham… or an R26.R, but undoubtedly my most memorable was in XP5, the dark green prototype McLaren F1 we had in our analogue supercars test (issue 186). It was at night and I was chasing Jethro Bovingdon through a patchily damp Wales. He was in an F40, so it was like an early '90s schoolboy dream come to life. The F1's headlights were pretty terrible and I can vividly remember seeing the sparks from under the Ferrari as it encountered some of the more vicious bumps. It was intense, to say the least, as I think the insurance excess on the McLaren would have bankrupted evo. The addictive sound of the V12 was just incredible, though. Indelible even.
Your worst evo moment is…?
My worst moment was actually at the start of one of the greatest things I've ever done for evo. In fact, it was more like a worst evening. Several months and quite a bit of my own meagre funds had led to the moment when I finally got behind the wheel of a little Suzuki rally car. It was the Pirelli Rally, the first round of the British Rally Championship, and we were in Kielder Forest for three special stages (evo 119). The darkness felt all encompassing, the ruts big enough to swallow the car whole, and it seemed like we were permanently on the verge of having a massive accident. I was terrified. So terrified that between stages two and three I wanted to get out of the car and never get back in. I felt like a fearful failure and it was horrible. Thankfully, the rest of the season was rather better!
Tell us about the most disappointing car you've driven for evo
A small yellow thing called an Elfin MS8 Clubman. It was Australia's answer to a Caterham, with a V8 under its protuberant snout. The recipe sounds fun, but the reality was rather unpalatable. The steering was slow yet had almost no lock. Try to slide the car and a spin was almost inevitable. It was christened the Elfin safety hazard.
What's the one car you wish you had driven during the last 20 years?
I've never driven a Ferrari 550 Maranello (or a 575, for that matter). As it was proclaimed evo's greatest driver's car in 2004 (just before I joined), it feels like a small piece is missing from my own evo jigsaw. One day…