20 years of evo - the interviews - Jethro Bovingdon, Contributing Writer interview - 20 years of evo
To mark 20 years of the magazine, we ask Contributing Writer Jethro Bovingdon to recall his most memorable evo moments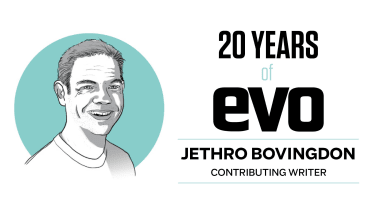 This year evo celebrates its 20th birthday. To mark the occasion, in this series we're asking key members of the team to recall their most memorable evo moments
Tell us your earliest evo memory
I suppose it would be my interview with John Barker and Dickie Meaden. I was pretty nervous, but within minutes it became a relaxed chat about cars we loved, events we wanted to go to and the amazing roads I'd read about in previous issues. It was great. Afterwards I told my girlfriend that it was 'in the bag'. Needless to say, I didn't get the job. Fortunately, nine months later they saw sense…
What was the first car you drove for evo?
I seem to remember that my mum gave me a lift to evo Towers on my first day – which was the Monday after Dickie's 30th birthday bash. I foolishly arrived for 9am; they mostly rolled in at 10ish looking half-dead. Turned out this had nothing to do with the party, it's just how it always was – 'evo time'. Anyway, waiting for me was a Fiat Seicento Sporting. It later transpired I wasn't insured on it. Fortunately, SEAT had a more lenient insurance scheme and so I drove home in designer Chee-Chiu Lee's Leon 1.8 20VT.
What's the most memorable evo test you've been a part of?
eCoty 2001, based out of Harry Metcalfe's pad in Tuscany. We had the E46 M3, 996 3.6, Lancer Evo VII, Sagaris, Ruf R Turbo, Vanquish, Murciélago and a Zonda amongst others. I'd never seen anything like it. Ruf's test driver brought his unfeasibly tall girlfriend called Astrid. This completely flummoxed Harry, who spent an entire week calling her Ostrich. With a completely straight face.
And your most memorable evo drive?
The best ones are always in convoy. It's a toss-up between our 'Ultimate Ferrari' test (evo 064), following 288 GTO and Enzo in an F50, and another in a 996 GT3 RS  with Dickie desperately trying to get past in an Exige. I caught him napping when a derestriction sign appeared and overtook him; he then drove like a madman to resume his position. He got past in the end (obviously, I lifted). The owner of the 996 GT3 RS – Neil Primrose, the drummer from Travis – was in the passenger seat, and when we eventually stopped he uttered the immortal words 'Balls ooot!' in his thickest Scottish accent. Dickie and I still use the term to this day.
Your worst evo moment?
Marcos had been working day and night to get us their new TSO ready for a big test. They turned up tired but elated and with a fully finished car. An hour or so later I crashed it. The engineer who'd tirelessly prepared it was sitting beside me and I had time to turn to him and apologise before the impact.
Tell us about the most disappointing car you've driven while at evo
A very early Lamborghini Diablo. Horrendous. Oh, and the first Ferrari 575, before they hastily launched the Fiorano Handling Package. Like a bigger, heavier California. Yikes.
Your favourite story by an evo colleague?
Peter Tomalin's feature on learning how to oversteer with instructor Don Palmer (evo 046). He was so chuffed with himself when he returned, but his heroics weren't documented by a single sideways image. I'll never forget how crestfallen he was, having feverishly searched through the images on the light box, nor the mirth this sparked in the office. We've called him 'The Crab' ever since.
What's the one car you wish you had driven during the last 20 years?
I've been so lucky I tend not to dwell on the ones that got away! I guess any road-legal GT1 car would be the ultimate.
And, finally, what's your favourite car launched in the last 20 years?
I can't choose one: Porsche Carrera GT, 997 GT3 RS 4.0, Ford GT (2005) or Ferrari 458 Speciale.