20 years of evo - the interviews - Andy Morgan, Staff Photographer (1998-2007) interview - 20 years of evo
To mark 20 years of the magazine, we ask Staff Photographer (1998-2007) Andy Morgan to recall his most memorable evo moments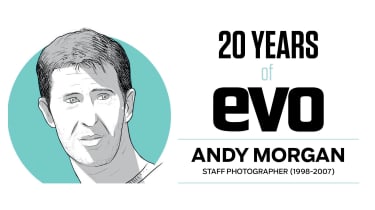 This year evo celebrates its 20th birthday. To mark the occasion, in this series we're asking key members of the team to recall their most memorable evo moments.
Tell us your earliest evo memory
I found the first issue for sale, right next to where I was working in Peterborough – at the same publishing house where several months earlier the founders of evo had been working. Any magazine that had an NSX buyer's guide was going to be good. It was the first magazine that truly reflected how I felt about cars.
What was your first photoshoot for evo?
I was asked to take some photographs for a feature, shooting alongside one of the top photographers in the country: Gus Gregory. I couldn't have been more nervous. We started at MIRA in the pouring rain and I proceeded to constantly get in Gus's way whilst we both tried to shoot – on transparency film – the cars going sideways around a handling track. Art editor Damian Smith asked if I wanted to photograph the opening image, of Dickie Meaden going sideways past 13 static cars (evo 011). It was the most nerve-racking thing I had ever shot. Then it was off to north Wales for the six finalists to shoot it out. The opening shot for that, by Gus, is one of the best multiple car-to-car shots I've seen. I must have done OK – I was offered the staff photographer job a couple of weeks later.
What was your first car launch for evo?
The Ford Fiesta Zetec S, with Stuart Gallagher, in Barcelona (evo 014). Our hotel was next to the Camp Nou football ground. Barcelona were playing rivals Madrid that evening and Stu and I got stuck for an hour in the traffic. It wasn't the first time we'd got stuck that day. I got the Fiesta stuck in mud on a building site whilst trying to do a static. Not the best introduction to launches, or Barcelona.
What was the most memorable evo story that you photographed?
'The Devil's Playground' (issue 022) was a 'pinch yourself' shoot. It started for me as a passenger with Dickie, who pedalled a Dodge Viper through the night from the UK to Maranello. The magazine had secured the top supercars of the time and we were taking them to Tuscany. Dream moments such as shooting a 360 Modena; chasing a Zonda through cypress tree-lined roads; being feet away from a Diablo on full charge, kicking the clay dust into the air – they almost became normal for those three days. Reversing a 911 Turbo into a ditch did scar my trip a bit, though.
What was your worst evo photoshoot?
It should have been amazing. The plan was to hit 250mph on a runway in the Koenigsegg CCR (evo 073). Except it was raining. Lots! My camera was soaking wet and playing up. After a few runs I jumped into the CCR to read the climbing speeds out for the very focused Dickie. We did a run that saw us hit 170mph and Dickie had had to wrestle the CCR all the way. On the next run we spun at about 130mph, careering off. I knew we were in trouble when I could see Dickie no longer had his hands on the steering wheel and was looking at me! When we came to a stop we found a trail of flattened grass leading back to the runway, passing with only inches to spare by a concrete platform. It still makes me shudder.
Your favourite shoot by another photographer?
Gus Gregory shot a 911 GT3  on the Targa Florio (evo 028) and completely nailed it. There wasn't one shot that I wouldn't have wanted in my portfolio.
What's the one car that you wish you had photographed?
I've been so incredibly lucky to shoot some of the greatest cars there have ever been. But the one car I have never had the chance to shoot is a Lotus Cortina. Ironic, as it was the first car I ever went in.
Your favourite car that you have photographed for evo?
The Lotus 72 studio shoot for a 'Legends' feature (issue 068). The JPS 72 is motorsport royalty. I had a poster of it on my bedroom wall when I was very small and the chance to have it to myself in a studio was incredible. I even managed to get a new poster out of it.