What makes a great performance car? It doesn't always have to be power, a super-quick gearbox or a rowdy rear-wheel-drive layout. Some of the best performance cars on sale are collected together here, with a couple picked from each genre to ensure it's not a Lamborghini and Ferrari fest. So, in no particular order…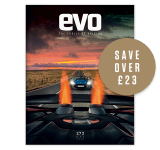 Subscribe to evo magazine
Subscribe today to have every issue of evo delivered straight to you. You'll SAVE 39% on the shop price, and get evo for its original cover price for a whole year!
The 458 Speciale is our favourite supercar on sale. Its 4.5-litre V8 engine is 35bhp healthier than a standard 458, with 597bhp, and helps fire the mid-engine, rear-drive Ferrari to a 202mph top speed, via a 3.0sec 0-60 time. It also looks spectacular, sounds glorious, and thanks to its manettino switch to toggle between levels of stability control, will flatter drivers of all talent levels. Even better is SSC - side slip angle control - which indulges those who like their supercars to go sideways. The regular 458 is already an amazing bit of kit, and it was our favourite supercar... but the Speciale follows in the tradition of the 360 Challenge Stradale and 430 Scuderia and makes the car it is based on even more, well, special. The supercar to buy.
The V12 Vantage S is a deeply well-sorted drivers' car, and quite probably the best Aston Martin of the modern era - if not ever. The Vantage itself is getting on a bit compared to most of its sports coupe rivals, but this is essentially a greatest hits package, combining Aston's most honed technology with the 'small car, big engine' formula that has defined the V12 Vantage since its 2009 introduction. With 565bhp, this is the most potent yet, while its 205mph top speed makes it the fastest Aston this side of the ultra-rare One-77 hypercar.
The Caterham 7 is 40 years old now. It's been a performance car force for a good chunk of those years, with a version to suit most budgets and skill levels. You can spend less than £20,000 and build a low-power, low-grip version in your shed in kit form, or you can gather together twice as much and utterly embarrass supercars on road and track with a ready-built monster. The latest extreme version is the Caterham 620R, so-called because of its Bugatti Veyron-besting power-to-weight ratio. It replaces the old R500 and is more extreme in every way. Boss just about every trackday on the planet with this £49,995, 2.8sec 0-60 loony.
What list of performance car greats would be complete without the Nissan GT-R? After five years on sale, it continues to terrorise the highly priced and heritage-rich supercar hierarchy… despite wearing the same badges as a Juke and costing over £100,000 less than a similarly powerful Ferrari, with a £76,610 price tag. Some people get off purely on its numbers – its 2.8sec 0-60 time matches the Caterham above despite the GT-R weighing three times as much – but the big Nissan is so much more than that; it offers a mind-blowing driving experience, combining a devastatingly fast acceleration with incredibly precise dynamics. A fully-lit GT-R will literally leave you breathless.
Porsche Boxster S
The Boxster has been described in some corners as boring. Though that only seems to be a reaction to its utter dominance in the roadster market since its launch over 15 years ago. For a mixture of fine mid-engine balance and total usability, the Porsche is king. And with a 311bhp 3.4-litre flat-six engine giving the Boxster S a 173mph top speed and 5.0sec 0-60 time, all for less than £50,000, it represents decent value too.
The Pagani Huayra is the twin-turbo follow up to the Zonda and simply one of the fastest, most exciting cars on sale. With 720bhp powering its skinny 1350kg frame, the gorgeous Huayra could demand only one rival when we took one to the south of France – the Bugatti Veyron Grand Sport Vitesse, all 1183bhp and 254mph of it. Our joint car of the year in 2012 (with the Lotus Exige S).
From our list's most expensive (£1million) to its cheapest (£17,000). You might be able to buy 59 Ford Fiesta STs for the price of a Pagani, but the Italian certainly isn't 59 times more fun. In fact, on wet, grimy and busy British roads, the Fiesta is more likely to put a smile on your face with its punchy 179bhp turbo engine, slick six-speed gearbox and fun, chuckable chassis. Its our junior hot hatch champion.
Mercedes performance arm AMG makes some of the lairiest and most fun sports saloons on the market, and the latest E63 is our favourite of its wares. There are two versions – the 'basic' 549bhp E63 AMG and the madcap 577bhp E63 AMG S Model, which when equipped with optional four-wheel drive, will whisk the big Merc to 62mph in 3.6sec – quicker than a Ferrari F40. There's even an estate version…
Our favourite convertible on sale is the Audi R8 Spyder, in its V8 or V10 formats, though the former is arguably the better balanced car. Why is it so good? It takes the superb chassis and high quality of the regular R8 and gives it an extra dose of desirability and, with the soft top folded, better access to the Audi's intoxicating soundtrack. With a 194mph top speed, it also boasts supercar levels of performance.Porsche 911 GT3
There's been plenty of fuss about the new 991-generation Porsche 911 GT3's adoption of a seven-speed PDK paddleshift gearbox rather than sticking to the more involving manual transmission of old, but in truth, that's just a diversion from what is possibly the best drivers' car on sale. With a superb 3.8-litre flat-six engine which provides 468bhp and revs to 9000rpm, it sounds and feels fantastic. And with a £100,540 price tag, it could even be considered a bargain when compared to £150,000-plus supercar rivals.
The sports saloon class honours return to the BMW M5's bulging trophy cabinet. It saw off the E63 AMG, Porsche Panamera and Jaguar XFR with some conviction upon launch, not only on the road, but on track and in a straight line – check out our BMW M5 drag race video. With a ballsy 552bhp twin-turbo V8 engine and a super quick twin-clutch gearbox, it's monstrously fast, while a new Competition Pack option promises to sharpen it further still.
For years Renaultsport has led the hot hatch back, and in recent years there has been nothing to top the sublimely balanced and addictively focused Megane 265 Cup. Well, it's finally happened, and the source of defeat for the heroic Renault is probably a little unexpected. For once, the flagship Golf is the best hot hatch VW offers, and the R is not only the fast, classy and comfortable affair you'd expect, but there's real fun and engagement to be taken from its quite adjustable chassis. At a smidge under £30,000 it actually looks like great value compared to a well-specced mk7 GTI, too, not least because it has an additional 60bhp and two more driven wheels.