While the French may have struggled to compete with other countries when it comes to luxo-barges or supremely focused supersaloons, it has a long history of being able to finely hone and massage a great drive from the seemingly mundane. There's a reason for that clichéd French farmer howling along an N-road at the wheel of an underpowered shopping hatch, and that's the ability of French manufacturers to create great driver's cars from quite ordinary machinery.
We've long been fans of Renault Sport hatches and in the 205 GTI you could quite happily argue that Peugeot perfected the hot hatch over three decades ago. That's not to say it's all rosy in the kitchen, and while there's a huge back catalogue of French performance machinery to choose from, the country's manufacturers are lagging behind these days. SUVs are overtaking the diminutive hatch as the nation's choice of transport and we seem to be seeing fewer hot hatches hitting the market of late.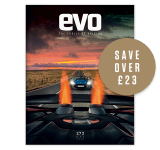 Subscribe to evo magazine
Subscribe today to have every issue of evo delivered straight to you. You'll SAVE 39% on the shop price, and get evo for its original cover price for a whole year!
There are still plenty to choose from though and we've selected a handful of France's best ever efforts – both old and new – below, illustrating the breadth of talent available from the country's car makers.
The best new French cars
Alpine A110S
You wait decades for a new Alpine to arrive… and then, like buses, you get two almost at once. The standard A110 has quite rightly been lauded as a fantastic performance car, opting for lightness and a deft touch, but could Alpine sharpen it for the S model without ruining the standard car's USP? A small power hike is almost obligatory, but would stiffer anti-roll bars and springs and retuned dampers spoil the original?
Not a bit of it. The S ultimately enhances the standard car's abilities without spoiling its excellent ride and skill at flowing and dancing down any given stretch of road. There's a little less body roll and a sharper feel to the steering, turning in with more precision yet not destroying the original car's adjustability on the throttle mid-corner. It's perhaps not perfect – the twin-clutch 'box isn't up to Porsche standards and we'd still love the option of a manual –but as an overall proposition the Alpine A110S really does offer a sublime drive.
> 2019 Alpine A110 S review - has France's brilliant sports car been spoilt?
Alpine A110 
Operating on the Lotus principle of adding lightness, Alpine's A110 has been a stunning success. Its styling brings evocative memories of Alpines from days gone by without in any way seeming like a retro pastiche, and while its 1.8-litre 'four' might seem like a less than glamorous power plant, just under 250bhp is plenty to be getting on with when you've only got around 1100kg to haul around.
Where the Alpine really scores is with its chassis and it's certainly a match for Porsche's evergreen Cayman in its responses. The steering's light yet accurate and has a crisp precision on turn-in, while the rear end is controlled and well balanced. The A110 has an uncanny ability to glide down a road and not be thrown off course by dips and ruts, although in extremis slightly more precision from the rear end wouldn't go amiss. It's not the roomiest of coupes, nor the fastest, but if you value driver satisfaction above all else the A110 is the car to have.
> Alpine A110 review - style, speed, agility; the French coupe delivers
Renault Mégane RS (Sport chassis) 
We've long been fans of Renault Sport Méganes and the latest incarnation is no exception. It's significantly more sophisticated in the hardware it utilises with the biggest change for this generation being the standard fitment of rear-wheel steering, while there's also an option for a dual-clutch gearbox, too. It might be based on a less than overtly sporting five-door shell, but we reckon it's a bit of a looker as well.
But it's the way it goes that will really grab your attention. It's quick thanks to 275bhp from its turbocharged 1.8-litre four-pot (the same as you'll find in the Alpine A110S) but it's the chassis that grabs your attention. Initially when you get behind the wheel the steering feels hyperactive, so direct is its response when you're on a charge, but you learn to trust the rear-wheel-steering set-up and the result is an incredibly agile hot hatch that's blisteringly quick on the back roads. The ride is harsh at times – even on the motorway – and the interior isn't great, but you can forgive this for the way it devours challenging roads.
> Renault Mégane RS review – capable of toppling the Civic Type R?
Renault Mégane RS Trophy-R
The RS Trophy-R might be Renault's take on the ultimate hyperhatch, but while it's great on track to our mind it's slightly too compromised to draw us away from the RS with the standard Sport chassis. It might have more power – now a heady 295bhp – and have been on a weight loss programme (shaving 130kg), but on the road it's just too hard to cope with a typically lumpy B-road.
In its quest for light weight the Trophy-R eschews the standard RS's clever rear-wheel steering, but it does gain the Cup's limited-slip diff, sticky tyres and Öhlins dampers, and on the right surface it has heroic grip levels and the ability to stop and turn on the proverbial penny. Sadly, for much of the time though it's too stiff to deploy its new-found agility, the driven wheels losing contact with the road and bigger bumps throwing the car off line. If you're going to spend all your time on track it's the one to have, but for road work we'd take the standard RS every time.
> Renault Mégane RS Trophy review – is this Renault Sport's redemption?
Top five best classic French cars
With a back catalogue of iconic hot hatches and the occasional oddball there are plenty of French performance cars from years gone by to add to your wish list.
Renault Sport Clio Trophy
In any of its incarnations the Renault Sport Clio 182 still punches above its weight even today, nigh on 15 years since its production came to an end. But it's the 182's swansong, the limited-edition Trophy, that offers the ultimate Clio experience. All were painted in Capsicum red and featured Recaro seats, Sachs suspension and 16-inch Speedline Turini wheels and, most importantly, offered a divine drive.
The 180bhp 2-litre four-pot is punchy and with just 1090kg to haul around it's plenty fast enough. The slightly notchy 'box doesn't detract from the experience of keeping it on the boil, but it's the combination of superb chassis control, oodles of grip and balance and a steering set-up that's bordering on the telepathic that makes the Trophy such a hoot to drive quickly. If there's a French hot hatch with a greater depth of talent we've yet to encounter it.
> Renaultsport Clio 182 buying guide
Renault Sport Mégane R26.R
Not the most practical of hatches, the R26.R does without fripperies such as rear seats and a radio in favour of carbon-shelled front seats and an unfiltered driving experience that's just about as good as it gets from a track-orientated hatchback. With a diet programme that saw it lose 125kg, the R26.R is dripping with feedback and driver appeal and is one of the most grin-inducing machines to have graced the planet.
It eggs you on, getting better the faster and harder you drive it, the suspension (that's actually softer than on the standard Mégane R26 thanks to carrying less weight) offering perfect levels of compliance yet still doling out the sort of precision that's missing from so many of today's offerings. Well-weighted, quick-witted steering is perfectly matched to the rest of the car, and while its 227bhp might be nothing to write home about these days it's still a ferociously quick companion on a back road foray.
> Renaultsport Megane R26.R (2009) review - an all-time great hot hatch
Peugeot 205 GTI 1.9
How can the Peugeot 205 GTI possibly be 35 years old? For a hatch from that era to still be touted as one of the all-time greats, a template for everything a hot hatch should stand for, is a testament to its intrinsic 'rightness'. Weighing in at a featherweight 800kg in its original 1.6-litre form it had added a few kilos by the time the more powerful 1.9 arrived, but the additional grunt more than made up for the slight weight gain.
The pert GTI still looks great today, fresh and lithe, and it has a deftness of touch about the way it handles too. It needs respect though – it was renowned for lift-off oversteer in its day – but that's part of its charm, an antidote to more modern machines that can be driven nigh-on flat out with their built-in stability control safety net. You need to concentrate to drive the 205 GTI quickly, but do so and it will reward with fantastic turn-in and delightful throttle adjustability.
> Peugeot 205 30th anniversary picture gallery
Peugeot 306 Rallye
The 306 Rallye used the 306 GTi 6 as its base and ditched the unnecessary to focus on getting the very best from its 167bhp four-cylinder and its excellent chassis. Weight-saving measures included losing the air conditioning, front fog lights, electric windows and sunroof for a 52-kilo drop in kerb weight, but otherwise it was nigh-on identical to the more generously appointed version. If you can't find a decent Rallye, a GTi 6 isn't a bad substitute.
What the Rallye did so effectively was to make the absolute best of its perhaps somewhat humdrum underpinnings with a wonderful ability to flow down any given road with plenty of compliance, especially on bumpy back roads. It turned in well and offered plenty of grip, although like its 205 GTI ancestor it wasn't averse to some lift-off oversteer. Driven with precision though and it rewarded with superb grip and plenty of feedback. Today it's still something of a bargain, too. 
Venturi Atlantique
Produced throughout the 1990s, the Venturi Atlantique is one of France's best-kept secrets and offers a viable alternative to similar mid-engined exotics from the period. Perhaps not the fastest or best-handling car to have graced the planet, it was still quick and looked good and best of all offered the sort of exclusivity you just wouldn't get with a contemporary Ferrari.
Powered by a variety of French V6 engines – the 300 sported a 3-litre Peugeot/Citroen with either 210 (naturally aspirated) or 281bhp (when turbocharged), while the Biturbo version offered 306bhp along with a 4.7sec 0-62mph time and a 170mph top end. While its performance was impressive it was also a relaxing machine to drive with decent visibility and modest dimensions. A compliant ride along with decent handling made it a viable alternative to other glassfibre sportscars such as the Lotus Esprit.