'We should begrudgingly endorse the SUV not lament it'
Meaden dons a flak jacket and presents a robust defence of the cars we all love to hate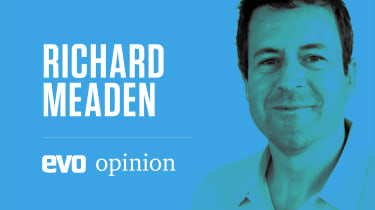 If 2015 was the year of hypercar, then 2016 is shaping up to be the year of the luxury SUV. In the space of just a few days, evo received launch invites for the new Jaguar F-pace and Maserati Levante. And these came hot on the heels of the newly introduced Bentley Bentayga and Range Rover Sport SVR – cars that along with the raft of other premium luxury SUVs populate an ever-growing sector of the market perhaps most accurately described as 'most-hated best-sellers'.
It's traditional at the launch of such cars for the more easily agitated members of the motoring press to work themselves into a bile-flecked lather, hammering away at their MacBook keyboards with indignant rage.
Perhaps I'm out of step with my learned colleagues (and maybe you lot, too), but I've never understood the default hatred of SUVs. Perhaps the best example of this knee-jerk reaction was when Porsche launched the Cayenne. Yes, in its first iteration it was a powerfully ugly machine and, of course, it challenged all our preconceptions of what a Porsche should be. What mystified me at the time was how the principle of a Porsche SUV could be so offensive when it clearly presented an opportunity to generate huge revenue for the company. Was Porsche going to take its beady eye off the sports car ball? Hardly. Given that its success has subsequently played a major part in funding the development of an unprecedented succession of exceptional Boxster, Cayman and 911 models – and a Le Mans-winner – the decision to build the Cayenne was clearly an inspired one. Yet still the haters hate.
As I write this column, I'm a few days away from driving the Maserati Levante. Should I be offended by the reality of a trident- wearing SUV? Perhaps. Perhaps not. Thanks to the vagaries of print schedules, you can find out what I think of it on page 34. What I do know is that I find it more upsetting that both the Ghibli and Quattroporte lack the verve and Latin sparkle I've previously associated with the brand. If the Levante is a more polished product than these lacklustre saloons, it will be a start. If it flies out of the showrooms and boosts Maserati's ability to build cars like the upcoming – and truly mouth-watering – Alfieri, then surely we should all welcome the Levante, even if it's for an ulterior motive? Business is business, after all, especially as the age of sports car makers surviving by just making sports cars has long gone.
It's no secret that I adore the current Range Rover. To have one in my life would be bliss. Armed with this disclosure, you'd think it unlikely that I'd despise anything wearing the Range Rover badge, yet the very notion of the Range Rover Sport SVR makes my teeth splinter. It's something I can trace back to pre-launch footage of one drifting in slow motion around a rain-sodden Rockingham Motor Speedway's infield circuit. I mean, seriously, what's the point? A Range Rover has the class, confidence and veracity to rise above all that, surely? Dragging it into a willy- waving competition seems as undignified as it is unwarranted.
If I've concluded anything from all this, it's that authenticity is the key to credibility and desirability. A car that has it feels right; a car that lacks it feels wrong. The Range Rover has it. The Sport SVR doesn't. Simple as that. The Cayenne didn't have it initially – hence the widespread unease – but it has now come to define the younger, more dynamic sector of the premium SUV market.
That's why a Cayenne Turbo will always be more authentic and more evo – if no less pointless – than a Range Rover SVR. That's why I'm looking forward to driving the Lamborghini Urus, for if ever there was a brand with the justification to build a full-on SUV, it's that which gave us the LM002. 
I'll probably get flamed for this, but Ferrari's GTC4Lusso could be described as an SUV of sorts; similarly Aston Martin's DBX, which might be tagged a crossover, but that's just industry-speak for SUV-lite. With its elevated stance and electric, all-wheel- drive powertrain, the DBX concept upset many dyed-in-the-wool purists, but I took it as an indication of Aston's willingness to confront a challenging future with bold ideas. The recent announcement of a new production facility at St Athan, in Wales, confirms the DBX is set to become reality, albeit it with petrol-only power at launch. As an Aston fan I can't wait to try it.
> Porsche Cayenne Turbo review
Done badly, top-end SUVs are the most loathsome, clichéd products the car industry has to offer, but even that's no reason to despise them out of some misguided duty to sports cars. Not only are future versions of the cars you love increasingly reliant on sales of the cars you hate, but as they continue to morph and evolve, the best SUVs are becoming refreshing, intriguing and exciting high-performance cars in their own right.