It's funny to look back a decade or two at stories predicting the end of the performance car. Here we are, in 2019, and evo Car of the Year is in its 21st running - with another field of contenders that illustrate all that is great about the year's driver's cars.
Sure, we do seem a little closer to the automotive end of days a few decades down the line since the first eCoty, but that's just even more reason to celebrate the fact that there are still companies out there that believe in creating cars that are more than mere transportation and instead, something life-affirming.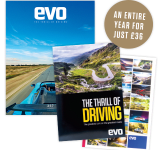 Subscribe to evo magazine
evo is 21 and to celebrate, we're returning to 1998 prices! Subscribe now to SAVE 39% on the shop price and get evo for its original cover price of £3.00 an issue, plus get a FREE gift worth £25!
This year we've found six such cars, and after several wet and windy years in the British Isles, eCoty once again moves abroad for 2019. Our six contenders will be driven on the glorious roads around Ronda in the south of Spain, with a mix of smooth and challenging surfaces, open sweepers and tight hairpins, and scenery almost good enough to pull our attention away from the cars.
What's more, 2019's event enjoyed the hospitality of both the Ascari Race Resort, and of our colleagues at evo Spain - without whose assistance putting together such a test would have been considerably more difficult.
Our Ascari location also allowed us to take the cars on track to explore their limits. While track time is rarely the focus of evo Car of the year, ever-escalating performance means there's nowhere better to really see what a car is capable of. We'd be lying if we said it wasn't also great fun, of course…
But now all is ready to be revealed, as above, our full evo Car of the Year video has gone live, revealing out 2019 eCoty champion. Enjoy the film, and keep in touch with evo.co.uk, our social media channels on Twitter, Instagram and Facebook, and of course evo magazine in 2020 as we prepare for a massive year in search of the thrill of driving!
Below are the six contenders we've brought together for eCoty 2019.
Morgan Plus Six
Morgan's brand of thrills has always been unique. You could charitably describe it as a company that majors more on the experience of motoring than it does on satisfying the needs of keen drivers, but as limits become ever higher, there's plenty of room for a car that delivers its best from the moment you twist the key.
That would undersell the Plus Six though. It's more modern than most Morgans, certainly - with a BMW-sourced turbocharged six-cylinder and ZF automatic, it's essentially got the drivetrain from a BMW Z4 (or indeed a Toyota Supra). There's a lot more aluminium in the average Morgan's construction these days, too.
Here is a car that thrills from the word go. Z4 power but sub-Z4 weight makes it hugely quick in a straight line, and it's not bad around corners either. Few cars look better blatting through the English countryside - but the warmer weather of our Spanish location will be much more appropriate for top-down driving...
Renault Sport Megane Trophy-R
The Megane Trophy-R arrives at eCoty with the weight of expectation upon its blistered shoulders, its predecessors not just great cars in their own right but among our favourite performance cars full stop.
It also has a score to settle: In last year's event, the car upon which it's based, the Megane Trophy, finished at the bottom of the pile. Since then we have discovered the basic Megane Renault Sport is more satisfying more of the time, but in this year's company the entry-level Megane RS would surely be outgunned.
The Trophy-R though brings incredible focus to the hot hatch segment, with less weight, more exotic components and a completely revised suspension setup. Better still, our eCoty contender wears its full carbon battledress, with lightweight carbonfibre wheels at each corner, and carbon front brake discs.
The price is eye-watering, but will the holder of front-wheel drive lap records at the Nurburgring, Spa and Suzuka beat its eCoty rivals on road and track?
Mercedes-AMG GT R Pro
This isn't the first time we've had an AMG GT in eCoty, but it could be the platform's best chance for glorious victory. AMG rarely drops a clanger, and continuous improvement means the GT has been transformed from appealing 911 rival into one of the most exciting road cars on sale.
Not that it looks much like a road car. If the regular AMG GT R was brawny, the GT R Pro looks like a works GT3 racer with hastily-attached numberplates. The matte paint scheme and green stripes aren't subtle, but since when have the best AMGs been shy and retiring?
Still, there's some tough competition in this year's eCoty, and in previous years we've seen that the most exotic and most expensive cars don't necessarily walk away with the top prize. There's no chance of a ninth-place finish like 2015's AMG GT S this time around, but the Pro still needs to be fun and involving as well as simply fast if it's to challenge for top honours this year.
Porsche 718 Cayman GT4
The Porsche 718 Cayman has had a rocky ride since replacing the 981 Cayman, and that's been almost entirely down to Porsche's adoption of four-cylinder power instead of the old sixes - the rest of the car is as great as it ever was.
So in returning to a naturally-aspirated flat six, and a four-litre one at that, the new 718 Cayman GT4 is off to a good start. The GT4 badge has eCoty form too - the old 981 Cayman GT4 won 2015's competition, fending off the excellent McLaren 675LT and even its close relation, the 991 GT3 RS.
This year's GT4 has the old car's affordability on its side, and that compelling combination of characteristics that is a naturally-aspirated powertrain, mid-engined layout and manual transmission. It arrives at eCoty on the back of predictably excellent first impressions, but being only subtly different from 2015's winner, will the game have moved on too far for it?
Jaguar XE Project 8
A five-litre supercharged V8 and compact saloon body should make for one of the most appealing driver's cars on the market, but while our initial introduction to Jaguar's Project 8 was cautiously favourable, it's always been a struggle getting past the brash styling and enormous price tag.
The more recently launched Touring model though, despite being identical on paper, has much greater appeal. Shorn of its wild rear wing and graced with a rear bench seat, it now feels like a class-leading supersaloon rather than optimistically-aimed 911 GT3 rival.
And given the way Project 8 drove was never the problem before - it's fast and fluid, and handles much better than its hefty kerbweight suggests - it now feels like an appropriate contender for eCoty, where a broader spread of talents are required. Bursting with character, the Project 8 could be capable of an upset.
Mercedes-AMG A45 S
One of two hot hatchbacks in this year's event, an eCoty billing is something we never could have imagined with the previous-generation Mercedes-AMG A45. That car was fast but also flat-footed and uninvolving - aspects nowhere to be seen in Affalterbach's latest attempt at a four-wheel drive hot hatch.
It enters the fray as one of the most powerful hot hatchbacks ever, and with a specific output we've not seen in a 2-litre engine since the days of the old Mitsubishi Evo FQ-400. The A45 S in fact develops 416bhp and 369lb ft, and sends its drive to all four wheels too, so it has more in common on paper with those old rally-bred saloons than it does most hot hatches.
As we discovered on the car's launch though, there's far more to the A45 S than its numbers. This is a genuinely involving driver's car with a remarkable level of ability and a searing powertrain - well worthy of a spot in eCoty