With 400-horsepower hatchbacks, 600-horse supersaloons and hypercars now stretching well into the thousands, car makers seem to be putting as much energy into headline power figures as they are into electric vehicle programmes and autonomous driving.
How much of that power you can use outside of autobahns or racetracks is open to debate – it's fair to say that several within evo already think things have gone too far, and you can read more thoughts on that on the next page.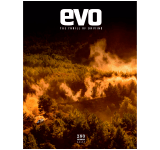 Subscribe to evo magazine
Subscribe today to have every issue of evo delivered straight to you. You'll SAVE 39% on the shop price, and get evo for its original cover price for a whole year!
But there's no doubt that huge power figures contribute to huge excitement in several of these cars, and the fact that manufacturers have found a way to make them driveable despite eclipsing 1990s Formula 1 power outputs is impressive in itself.
Below are the top ten most powerful cars for sale in the UK – plus a brief rundown of cars sitting firmly in the thousand-horsepower club, and a few we'll be seeing in the near future. It's fair to say this list is by no means comprehensive, with new models coming and going all the time, but it's a good overview of the horsepower race as it stands...
Porsche Panamera Turbo S E-Hybrid – 671bhp
We start our list of the most powerful new cars with a sensible four-door family hybrid… of a sort. The Panamera Turbo S E-Hybrid might be more useable than a 911, and might be able to run for nearly 30 miles on electric power alone, but this is firmly in the 'additional power' breed of hybrids.
That's 671bhp to be precise, a not insignificant 129bhp more potent than the regular Panamera Turbo, and with 568lb ft of torque to call upon and all-wheel-drive traction, initial thrust is absolutely mighty. Electric power serves not only to assist off the line, but also to boost the motor however long you hold the right-hand pedal down. It's little surprise more and more hypercars are beginning to mix petrol and electric power.
Ferrari GTC4 Lusso – 680bhp
With 680bhp at its disposal there's no shame for Ferrari's GTC4 Lusso being near the bottom of this particular list – especially as it's effectively Ferrari's grand-touring model rather than an out-and-out sports car or supercar.
Like the most powerful Ferrari featured below, the Lusso derives its power from a naturally aspirated V12 engine, though unlike the 812, it displaces 6.3 litres in this incarnation. It doesn't rev (quite) as high either, and with an 1865kg kerb weight to the 812's 1630kg, doesn't lunge forward quite as voraciously. Still, it's a small price to pay for the potential to take an extra pair of passengers along for the ride.
Porsche 911 GT2 RS – 690bhp
We described the 991-generation GT2 RS as the ultimate road-going 911, and with a full 690bhp from its 3.8-litre, twin-turbocharged flat-six – and power to the rear wheels alone – you can understand why. Throw in a 0-62mph time of 2.7sec and a top speed limited to 211mph, and you have further context.
It's mighty. Not the rev-happy screamer of the GT3 models, of course, but the GT2 RS has its own aural appeal, with whooshing turbochargers and a roaring exhaust to go along with the rampant accelerative performance. It's hard not to imagine the next generation of GT2 breaching the 700bhp barrier, either...
Ferrari 488 Pista – 710bhp
The most amazing thing about Ferrari's 488 Pista isn't the 710bhp output of its 3.9-litre, twin-turbocharged V8, which matches McLaren's 720S precisely from similar capacity. Instead, it's how Ferrari's wizards have managed to concoct a hugely powerful turbocharged engine with seemingly no turbo lag.
While the noise isn't quite as spine-tingling as its predecessors, you'd be hard-pressed to know from any other cues that the Pista uses forced induction. It may be the most track-focused 488 too but it's eminently usable on the road – firm, obviously, but wonderfully damped and ultra-precise. With so much power and torque, what gear you pick barely even matters, either.
McLaren 720S – 710bhp
While Ferrari's lagless V8 means you can stir along the Pista at ludicrous speeds with very little effort, McLaren's 710bhp, four-litre twin-turbo V8 needs a little more care and attention to deliver its best. There's lag here and a more boosty delivery – but when you've found the sweet spot, few road cars feel as fast.
Driven to its maximum, 212mph is possible, but given an empty stretch of derestricted autobahn it's the way the car piles on speed in the intermediate gears that astounds. The engine note is slightly tuneless and industrial but the acceleration is eye-widening – and it's all backed up to a chassis that feels fluid and adjustable even well below regular speed limits.
Aston Martin DBS Superleggera – 715bhp
Such is the march of performance cars that Aston Martin's current luxury flagship, the DBS Superleggera, is now knocking on the door of the limited-production One-77 of just a decade ago. While the latter still tops the Superleggera, at 750bhp to the Super's 715, the DBS is a proper series production model rather than a short-run special.
And with turbocharging, the Superleggera has considerably more torque, at 663lb ft to the One-77's 553. Thankfully, it's still a V12, and one that works as well dawdling as it does converting the rear tyres into clouds – and the engine's ability is clear in the quoted 211mph top speed, matching its closest rival, Ferrari's 812 Superfast.
Pagani Huayra BC – 745bhp
Seven years after launch, the Pagani Huayra has lost none of its visual impact – perhaps not surprising considering the Zonda is now two decades old itself and still looks incredible. But while the designs have evolved slowly and aged beautifully, power has come on in leaps and bounds, with the latest Huayra BC making 745bhp.
As ever, that output comes courtesy of a reworked 6-litre Mercedes-AMG-derived V12, fed by a pair of turbochargers and sent through a seven-speed single-clutch sequential transmission. However, a titanium exhaust gives the V12 an angrier tone than usual, and with little weight to move along – it's 1218kg – its performance is intoxicating.
Lamborghini Aventador SVJ – 759bhp
Alongside Ferrari, Lamborghini has chosen natural aspiration for its V12 engine, and like Ferrari's Superfast below, that engine displaces 6.5 litres. Its power is delivered in a similar manner too, not just with one of the greatest soundtracks of any production car, but in a solid and ever-escalating surge from near idle to the red line.
The SVJ's titanium exhaust makes it rowdier than the 812 though, but Lamborghini's chosen method of transmitting that power isn't as slick as the Ferrari's gearbox. The single-clutch automated manual can be frustratingly jerky and slow, but each life-affirming rush between the gears more than makes up for it.
Ferrari 812 Superfast – 789bhp
Ferrari calls its current range-topper the Superfast, and with a top speed of 211mph the moniker seems wholly appropriate. But it's the way its 789bhp, 6.5-litre naturally aspirated V12 delivers that performance that makes it unique.
If you associate turbochargers with big torque, then remember that capacity is just as important – and the 812's engine has plenty. Throttle response is instantaneous right the way from idle to the 8500rpm power peak, and the surge of acceleration on full throttle is both astonishing and relentless. It's one of the great modern engines.
McLaren Senna – 789bhp
While it's one of the most powerful cars on sale in the UK, horsepower is only a means to an end with the Senna, which uses its performance for track capability rather than top speed. Its 208mph is undoubtedly fast, but when the less powerful McLaren 720S is capable of 212mph flat out, you get a greater clue to the former's mission.
The Senna uses a development of McLaren's twin-turbocharged four-litre V8, and sits in a chassis with a dry weight of only 1198kg. Combined with a dramatic aero kit that contributes 800kg of downforce at 155mph, few road cars are better suited to track use, but it is still a road car, and remains just about usable away from a circuit.
The thousand-horsepower club
Past the Senna, things begin to get silly. The outgoing 'holy trinity' hypercars – Porsche's 918 Spyder, the LaFerrari, and McLaren's own P1 – all eclipsed the output of McLaren's current range-topper, while the original Bugatti Veyron made 987bhp way back in 2005.
Today's modern crop pick up the baton and run with it. The Veyron's successor, the Bugatti Chiron, makes 1479bhp. Koenigsegg, the first manufacturer to make a car with one horsepower per kilogram, in the One:1, matches the Chiron with 1479bhp, albeit with less capacity and a figure of 220bhp per litre.
Koenigsegg's Jesko, revealed at the 2019 Geneva motor show, goes further still – 1578bhp if you can find somewhere to feed it E85 biofuel, though it produces 'only' 1262bhp if you fill it with superunleaded.
And with electric power, the sky seems to be the limit. Rimac, master of the electric hypercar craft, says its new C_Two will output 1888bhp. The Pininfarina Battista, itself with expertise from Rimac under its swooping bodywork, is just shy of this with a claimed 1874bhp. By comparison, the 1341bhp Nio EP9 from China seems undernourished, which is a ridiculous notion for something with nigh-on twice the power of the Panamera Turbo S E-Hybrid that starts our list.
And combustion isn't dead yet – Aston Martin claims a peak power output of 1160bhp (and a red line of 11,100rpm) from its upcoming V12-engined Valkyrie, while the F1-derived V6 in the Mercedes-AMG One is expected to make 1039bhp. The power race doesn't look like it'll be stopping any time soon.