Lamborghini Murcielago
It's been touch and go for the Lambo's V12 the last couple of weeks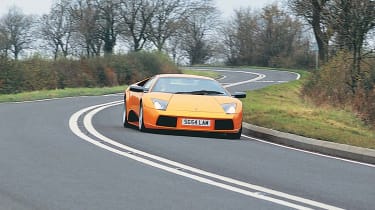 Last time, I mentioned that the failure of the auxiliary belt may have led to further damage requiring major repairs.
Turns out a broken camshaft bolt caused one of the pulleys to bend, throwing the belt. This could have necessitated a new camshaft – a complicated engine-out job – and with only three weeks of warranty left, SG54 was left sailing very close to the wind. But after nine hours drilling out the debris, Simon Stubbs at Lamborghini Manchester fitted a new pulley and belt, and a costly engine rebuild was fortunately avoided. What's more, the Murciélago is running smoother than ever!
It's great to have the flying carrot back in the garage. It's at times like these when I realise just how attached I've become to it. After two full years of ownership, driving it most days, you would think the magic would wear off. It doesn't. Luc Donckerwolke's stunning design still has me doing a double-take even now, and in all that time I have yet to receive one of the usual hand gestures that Ferrari drivers often have to endure. Yes, the bills leave you in a cold sweat, but thankfully, in my case, that has been offset by the income it creates at trackdays.
We're into totally uncharted waters now with the mileage, though, and with the warranty finally expired I'll be keeping my fingers very tightly crossed.
Running Costs
| | |
| --- | --- |
| Date acquired | September 2004 |
| Total mileage | 34,233 |
| Costs this month | £19 (wiper blade) |
| Mileage this month | 469 |
| MPG this month | 10.6mpg |