GTS models have traditionally been a highlight of the Porsche model line-up, so we've been eagerly awaiting the GTS versions of the latest 718 Boxster and Cayman.
While you won't find an extra pair of cylinders however hard you look – like other 718s, the GTS ditches the old flat-six in this generation – you will find an uprated chassis, a host of extra standard equipment and a useful power increase. Is the new Boxster GTS, like its predecessor, the pick of the standard range?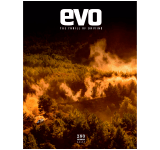 Subscribe to evo magazine
Subscribe today to have every issue of evo delivered straight to you. You'll SAVE 39% on the shop price, and get evo for its original cover price for a whole year!
> Click here to see evo's best sports cars of 2018
Engine, transmission and 0-60mph time
In the space between the passenger compartment and rear axle sits a 2.5-litre, turbocharged and dry-sumped flat-four driving the rear wheels through either a six-speed manual transmission or a seven-speed PDK automatic.
Where the GTS differs from the regular Boxster S on which it's based is in fine-tuning, with a revised intake duct and optimised variable-geometry turbocharger, allowing Porsche to lift boost from 1.1bar to 1.3bar. The end result is 360bhp, 15bhp more than a Boxster S and 35bhp more than its naturally aspirated predecessor.
Likewise, torque increases to 310lb ft, spread in a plateau from 1900 to 5500rpm in the manual version, or 317lb ft up to 5000rpm for the PDK. The PDK is quickest of the pair on paper owing to near-seamless gearchanges, taking only 4.1sec to reach 62mph from rest or 3.9sec in Sport Plus mode, compared with 4.4sec for the manual. Top speed is a claimed 180mph in both versions.
> Click here for our Porsche 718 Cayman review
Technical highlights
Engine aside, GTS tweaks include standard-fit Porsche Active Suspension Management (PASM), with a PASM sports chassis an option and one that chops 10mm from the ride height of GTS models (already 10mm lower than a Boxster S). Sport Chrono is also standard, with a Sport mode for the Porsche Stability Management (PSM) and a mechanical torque-vectoring differential. Cast-iron brakes are standard, with carbon-ceramics (denoted by yellow calipers) an option.
Twenty-inch Carrera S wheels are standard on the GTS, with a staggered tyre set-up putting 235-section rubber up front and 265s astern. In addition to visual changes wrought by the 20-inch wheels, GTS Boxsters can be identified by dark-tinted head- and tail-lights, revised front and rear bumpers with black detailing, and black GTS badging.
What's it like to drive?
Our initial exposure to the Boxster GTS was not in ideal conditions. Southern Spain's driving roads are fantastic when dry but treacherous when wet, and a recent thunderstorm had left a sheen to the tarmac that made grip completely unpredictable.
However, having now driven the car the UK on a mix of drenched wet roads and cold dry surfaces the GTS once more demonstrated why the Boxster remains unmatched for dynamic prowess. There are simply few better cars in which to enjoy the thrill of driving. 
The GTS, like others of its ilk, relays some of the most detailed steering feedback you'll find from an electrically assisted set-up. Since replacing its wonderful hydraulic steering system with the launch of the 981 Boxster  in 2012, Porsche has worked endlessly to refine and improve its electric steering to the point where it is not only the best electric set-up available, but considered to be on a par with, if not better than, many hydraulic systems of old. That last 10 to 15 per cent of detailed granular feel Porsche's steering once processed is still missing, but the clarity of feedback and accuracy is impossible to fault. 
While there could always be more information, the subtle changes in resistance through the rim – combined with utter precision and near-perfect weighting – make feeling for the limits of the tyres (Pirelli P Zeros were fitted to our test car) as satisfying as it is necessary when the roads are greasy. In the dry, the Boxster GTS reminds you just how satisfying a mid-engined roadster is to drive, with its poise, grip and handling balance combining to deliver one of the most rewarding driving experiences in its class.
> New Porsche 718 Cayman GT4 spied with 4.0 flat-six power
On a dry road, the GTS displays fantastic turn-in and strong grip, but not so much that you can't feel the cornering load across each axle. The cornering attitude is pretty much up to you – turn in aggressively and you can let the rear do the work, or work the front tyres harder and lift off to trim your line. Feed in the power gently and there's great traction, or jump on the throttle a little harder and enjoy the sensation of the rear tyres braking traction allowing a few degrees of measured slip. It's predictable, accessible, and a great deal of fun – enough to convince you there's little point to the larger, less playful 911 Cabriolet.
Oh, but for a more enthralling soundtrack! Objectively the tweaked 2.5 is hard to fault, with excellent responses for a turbocharged unit and strong low- and mid-ranges that both effectively negate the bugbear of overly long gearing, and make the Boxster's fantastic balance even more responsive to throttle inputs. Talking of gearboxes, despite the intergalactic gearing we'd still go for the six-speed manual over the seven-speed PDK. Not only is it one of the best manual gearboxes in the business, the GTS a roadster at its best when the driver is integral to every mechanical control. 
But while the extra power makes the GTS even quicker, it still won't feed your craving for the kind of high-revs, high-fidelity tunes played by its naturally-aspirated predecessors. At low revs and under load it sounds like there's a Massey-Ferguson on your tail, while the mid-range has more than a hint of Beetle. At higher revs you can just about kid yourself of some Impreza-style character but it's a bit uncultured even for that, and the popping and crackling overrun in Sport is depressingly artificial – it'll do so even if you're pottering through a village at 2000rpm.
However, as with the aforementioned electric power steering's evolutionary development, Porsche has also been tweaking its four-cylinder turbocharged engine's soundtrack. It's still not great, lacking any real character that encourages you to exploit its peak performance parameters, but it is an improvement on the early S engine in terms of depth of sound and muscular tone. The tininess and hollow sound remains, but is far less prevalent than early 2.5-engined Cayman S modes we've driven, and while it still has little, if any, of the melodic sound enjoyed in the previous six-cylinder engines this latest iteration sounds the best to date. 
It's a real shame as aural qualities aside, it's a cracker of an engine and brilliantly matched to the GTS's six-speed manual – one of the most tactile do-it-yourself gearboxes in a modern vehicle. The brakes are to Porsche's usual high standards too, with great feel and modulation and as much power as you could hope for. And the Boxster's other qualities remain intact: a rigid structure, a solid-feeling cabin with a 918-style 360mm steering wheel, and in GTS models, lashings of touchy-feely Alcantara.
Price and rivals
As has become customary for the 718 range, the Cayman is the cheaper of the GTS pair with prices starting at £59,866. The 718 Boxster GTS begins at £61,727, and while the sensation of driving a car that handles this well with the roof down is hard to beat, there's also something to be said for the Cayman's ability to mute the unappealing flat-four noises…
Rivals? On talent alone, there's little to compare. Perhaps the most intriguing is a car we should be driving very soon – Alpine's new A110 coupe. It's powered by a 1.8-litre in-line four, matches the Boxster and Cayman's mid-engined layout, and is appealingly compact in the metal. Pricing is expected to begin at around £50,000, and no open-top Boxster rival is available for the time being.
One that does offer both fixed and open-roof variants is the Alfa Romeo 4C, in coupe and Spider form. The coupe comes in at £52,820 and the Spider at £59,820, and while they're bustling with character and feel special from behind the wheel, the chassis and drivetrain just aren't up to the 718's quality, even considering our misgivings with the flat-four.