The plight of the diesel car worsened when the UK Government released a new set of VED first year road tax bands in April 2018, applying to all new diesel vehicles sold from April 2018. 
The bands are based around the Real Driving Emissions phase 2 (RDE2) regulations that aim to measure 'real world' economy and emissions. They apply only for the 'First Year [tax] Rate' and cars rise by one band if they cannot meet the Euro 6 emissions standards in the RDE2 'real world' tests.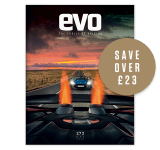 Subscribe to evo magazine
Subscribe today to have every issue of evo delivered straight to you. You'll SAVE 39% on the shop price, and get evo for its original cover price for a whole year!
It is expected that more cars will be exempt in future as a new focus on the reduction of NOx and particulate emissions, as well as CO2, takes hold across the industry but for now there are no diesel cars on sale that meet RDE2. Regardless, this new tax only applies on the initial first year tax payment, and doesn't represent as big a change as was made to the VED tax bands in 2017.  
Road tax changes from April 2018
Potential buyers of new diesel cars were dealt a hammer blow in 2017's budget. Chancellor Philip Hammond announced that from 1 April 2018 new diesels could be moved to higher tax bands if they don't meet certain emissions regulations.
The cars in question are now subjected to the Real Driving Emissions Step 2 test, which measures NOx emissions under real-world driving conditions. A maximum limit of 80mg/km has been set, although the government has allowed for a compliance factor of 1.5 times, elevating the true limit to 140mg/km. However, cars that breach this upper figure are pushed into the tax band above, putting up the cost of ownership in the first year.
> Best new cars 2020 – the performance cars we're looking forward to next year
The Treasury estimates nearly two million cars will suffer the elevation penalty, but those that do are unlikely to incur a large financial penalty. For instance, Ford Fiesta owners see their first year VED rates jump by £20. Only drivers of particularly dirty cars, such as big SUVs, might want to consider downsizing in light of the changes, with a Porsche Cayenne now likely to have £300 added to its first year tax bill. It's also worth considering that these initial VED bills are included in the car's price, so manufacturers may choose to swallow the cost, rather than pass it on to the owner..
The latest round of VED revisions centre around diesel cars and only impact the first year tax rate paid – the annual £140 fee remains. The table below shows how the new rates work. Any car failing to meet the Euro 6 standards in real world testing moves up a band, and thus pays anything from £15 to £500 more in first year rates.
New diesel tax bands from April 2018
| | | |
| --- | --- | --- |
| CO2 emissions (g/km) | Current first year VED rates | First year VED rates for diesels bought from April 2018 not meeting real world Euro 6 standards  |
| 0 | £0 | £0 |
| 1 - 50 | £10 | £25 |
| 51 - 75 | £25 | £105 |
| 76 - 90 | £105 | £125 |
| 91 - 100 | £125 | £145 |
| 101 - 110 | £145 | £165 |
| 111 - 130 | £165 | £205 |
| 131 - 150 | £205 | £515 |
| 151 - 170 | £515 | £830 |
| 171 - 190 | £830 | £1,240 |
| 191 - 225 | £1,240 | £1,760 |
| 226 - 255 | £1,760 | £2,070 |
| Over 255 | £2,070 | £2,070 |
VED Car tax rules as of April 2017
As a reminder, as of 1 April 2017 there became far fewer tax-free cars. In fact, all cars except pure electric vehicles now attract a flat rate of £145 a year, regardless of their emissions. Even the very cleanest plug-in hybrids aren't exempt, though do get a lower £135 per year charge.
The first year's cost is emissions based - with relatively clean vehicles like the Suzuki Swift Sport attracting a £170 charge while dirtier cars like the Ford Mustang are right up there at £2135. This is likely to be factored in to list price, while the following years are set at the fixed rate of £145.
If you were thinking of beating the new system by heading out and buying a Tesla Model S though, think again. EVs with a list price of over £40,000 now cost £320 a year for years two to six of ownership, with alternative fuel cars at £455 a year and regular cars at £465 (each £320 a year more than sub-£40k cars). That means paying £1600 over and above the standard tax rates if you keep your car for six years.
Take the BMW i8 for example. Its CO2 emissions are rated at 42g/km thanks to its plug-in hybrid drivetrain, less than a third that of the Swift Sport at 125g/km. Yet with the new rules, the tax bill after six years will be £1,380 less on the Swift, at £895, than it will be with the i8's new £2275 bill. Before the new changes, the i8 wouldn't have cost you a penny in VED over the same period.