Twenty one years ago, a small group of people gathered in north Wales for an end-of-year group test to name evo's very first car of the year. Our base was a farmhouse within throwing distance of an Anglesey Circuit prior to its redevelopment into the wonderful venue it is now, and our test route was Snowdonia National Park. The weather was predictably awful.
And the cars? As is the case now they were the very best of the time. The headliner was Ferrari's F355, complete with its fancy-pants F1 transmission. Alfa's GTV played the back-up role of junior exotica. The oddball came in the shape of BMW's eccentric Z3 M Coupe, the real-world hero was, naturally, a Subaru Impreza Turbo, and the photographer's favourite was Audi's S4. An Elise 135 delivered the undiluted thrills, a six-speed Caterham Clubsport the biggest grins, Jaguar's XKR the tyre smoke and Mazda's NB MX-5 how less can be so much more. Naturally the Porsche 911 won.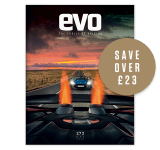 Subscribe to evo magazine
Subscribe today to have every issue of evo delivered straight to you. You'll SAVE 39% on the shop price, and get evo for its original cover price for a whole year!
Every year since, we embarked upon a new location, whether in the frigid dramatic north or somewhere sunnier, with a new selection of top performance cars whether expensive, affordable, big or small. The format was (almost) always the same, underpinned by the most experienced and talented motoring heads in the business.
Over the following two decades eCoty has become a benchmark for this magazine, for the industry and, most importantly, for you the reader. You haven't always agreed with our choices, you've certainly made your feelings felt about some of the winners and have quite rightly let us know when we got it all wrong. 
> Click here for more on eCoty 2019
So here's a list of the winners from the last 20 years, and while there might be a pattern or two to the honour roll, each represents a point in time for performance car development. Do you agree with our winners? Let us know on our social channels.  
evo Car of the Year: the winners 1998 to 2019
1998: Porsche 911 Carrera (996.1)
evo early adopters only had to wait until issue 003 for the first eCoty. Held in north Wales, the 'crushingly capable' 996 Carrera walks it, with Lotus's Elise 135 and Ferrari's F355 also on the podium.
1999: Porsche 911 GT3 (996.1)
To the Scottish Highlands, and a second 911 victory. And who could argue with that? Except maybe Ferrari, whose 360 Modena finishes second. A people's champion, the Subaru Impreza RB5, takes third.
2000: Porsche 911 Turbo (996)
Back to Wales, and – well, this is getting awkward – another win for a 911. And Barker ruins it for everyone by giving away the result in his Ed Speak column.
2001: Pagani Zonda C12 S
Tuscany, and Porsche's dominance is broken as the 996.2 Carrera comes fifth. Newcomer Pagani wins; the E46 M3 comes second – BMW's highest ever finish. And JB spoils it again.
2002: Honda NSX Type R
A surprise winner in Wales – as long as you didn't read the small print on the Ed Speak page first, that is. The 911 Carrera 4S (996.2) has to make do with second; Ferrari's 575M Fiorano Handling Pack finishes third.
2003: Porsche 911 GT3 (996.2)
eCoty splits into two. Winning the sub-£30k 'real world' test in Scotland (aka 'McCoty') is the Subaru Impreza STI Spec C, but taking overall honours in the 'surreal world' group in Italy is, of course, a 911.
2004: Porsche 911 Carrera S (997.1)
North Wales beckons again, and it's back to a single big test. Just 0.4 per cent behind the winning 911, and sharing second place, are Lotus's Series 2 Exige and Renault Sport's feisty Clio 182 Cup.
2005: Ford GT
The biggest ever eCoty, with 21 contenders over two parts. The Renault Sport Clio Trophy takes the, er, trophy in the real world (Scotland), while Ford's GT is the overall winner (on the Route Napoléon).
2006: Ferrari 599 GTB
Another two-parter. Welsh real-world victory goes to the S2 Lotus Elise S, while on Route Napoléon Ferrari claims an overall win at last with its 599 GTB (above).
2007: Porsche 911 GT3 RS (997.1)
A single big test in central France brings forth another Porsche winner. Ferrari throws its toys out of the pram when its 430 Scuderia finishes second.
2008: Nissan GT-R
The Renault Sport Mégane R26.R claims the real-world crown in north Wales, while on Mont Ventoux in France the Nissan GT-R is our second Japanese eCoty winner.
2009: Lotus Evora
The Isle of Skye, and Lotus keeps a 911 GT3 (the 997.2) off the top step. In third, the Noble M600.
2010: Porsche 911 GT3 RS (3.8, 997.2)
Third place is the best the 911 GT2 RS can manage on the North York Moors. Consolation for Porsche probably came with a win for the GT3 RS. Ferrari's 458 Italia is the prosciutto in the Stuttgart sandwich.
2011: Porsche 911 GT3 RS 4.0 (997.2)
But only just… A single point behind in the Algarve is newcomer McLaren with its MP4-12C.
2012: Pagani Huayra & Lotus Exige
Back to the Borders, via Blyton Park, and our first and only tie for the top spot with this mid-engined duo.
2013: Porsche 911 GT3 (991.1)
Route Napoléon again, a GT3 winner again and a second place for Ferrari again (this time the F12). Alfa Romeo's 4C, meanwhile, comes as last as it's possible to come.
2014: Ferrari 458 Speciale
Speciale by name… The pared-back 458 gets a unanimous first place from the judges. In second? Blimey! It's Jaguar's F-type R Coupe.
2015: Porsche Cayman GT4
Scotland's spectacular North Coast 500, and another duo of Porsches in the top three, the Cayman GT4 and the 999.1 GT3 RS split by McLaren's 675LT.
2016: Porsche 911R
Unobtainium rules in Scotland's Southern Uplands, the 911R winning and VW's Golf GTI Clubsport S nipping at its heels.
2017: McLaren 720S
McLaren gets its first eCoty title, and becomes our eleventh non-911 winner. And it won't be the last…
2018: McLaren 600LT
McLaren backs up its victory the year before with the exceptional 600LT. Focused, direct, interactive. The smaller Sports Series chassis also finally shines, and only just beats out the fantastic Alpine A110 for the win.
2019: Porsche 718 Cayman GT4
Porsche's latest victory in the sunshine on and around the Ascari race circuit was built around a familiar package, achieved amongst what was a compact year with two very different AMGs hot on its heels.