Lamborghini Murcielago
A shredded drive belt brought the day's proceedings to an abrupt end...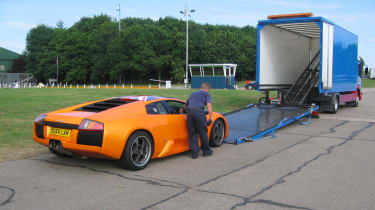 Strange but true: I've actually been trying to find a way of quietening the Lambo recently. With ever more restrictive noise regulations, the monster Tubi exhaust is making it almost impossible to get on track without being black-flagged. After some head-scratching, a specialist fabricator came up with the bright idea of making the Tubi's end tips detachable. Then, for trackdays, a couple of lengths of narrow pipe (crimped at the ends) could be slid on instead and secured by two clamps.
Worked a treat. Until I arrived back from a circuit in the early hours one Sunday, that is. Gently manoeuvring the now quiet Lambo near the garage, I heard a pop followed by a racket resembling a bag of spanners in an oil drum. Turned out the back-pressure had shot one of the makeshift silencers off like a rocket-propelled grenade, waking half the neighbourhood in the process! Back to square one, then.
I'm looking forward to a trip to the Lambo factory in September to spec-up my LP640, due in March. I'd originally hoped to get one of the first examples, but when I swapped my order to the new Miura, thinking Lamborghini would build it, I lost my place in the LP640 queue. Doh!
A very late 30K service at Lamborghini Manchester recently revealed only the need for a new battery, but at £400 I'm going to do a bit of shopping around first. The bill wasn't too bad (£750), since the expensive part – adjusting the valve clearances – had already been done when the clutch was changed (evo 092).
A couple of months ago I mentioned how reliable the Lambo is considering the amount of track use it gets. Asking for trouble! Halfway through a lap of Bruntingthorpe recently, the battery light appeared, closely followed by an ominous oil-pressure light. I pulled over immediately to find the auxiliary belt (which drives the alternator, power steering, etc.) had ripped itself to shreds. To make matters worse, a Ferrari 360 Modena that I co-own (which also earns a crust giving hot laps) gave up the ghost an hour later with gearbox problems.
Partnership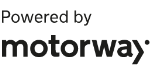 Need to sell your car?
Find your best offer from over 5,000+ dealers. It's that easy.
Lambo Assist arrived an hour later to rescue the Murcie, closely followed by the AA for the 360. Since then, a call from Simon Stubbs, senior technician at Lamborghini Manchester, has indicated that the problem might, in fact, be a lot more serious than a shredded belt. I'm now a worried man, especially as the factory, in common with a lot of Italian industry, closes soon for a whole month, meaning that obtaining any parts not in stock could be difficult.
I once read that running an Italian supercar is like going out with a supermodel. Fantastic when they aren't playing up, but when they are you wish you were dating an accounts clerk from Grimsby. More next month…
Running Costs
| | |
| --- | --- |
| Date acquired | September 2004 |
| Total mileage | 33,764 |
| Costs this month | £750 (service) |
| Mileage this month | 1109 |
| MPG this month | 9.2mpg |