After a decade since it first hit our roads the final Bentley Mulsanne now rolled off the Crewe production, calling an end not just to the last bespoke Bentley, but the powertrain that's been in production for nearly 70 years. To celebrate this automotive institution, Dickie Meaden says a fitting farewell with an iconic drive in the latest evo issue (279).
First produced in 1959, the six-and-three-quarter is one of the longest standing power plants in automotive history. It saw countless revisions in its lifetime, the most notable coming in 1982 with the addition of forced induction. In its final form, 530bhp and a monumental 811lb ft of torque were its headline figures – that's 147lb ft more than its W12-powered successor.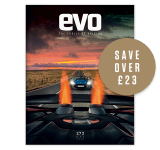 Subscribe to evo magazine
Subscribe today to have every issue of evo delivered straight to you. You'll SAVE 39% on the shop price, and get evo for its original cover price for a whole year!
> 2020 Bentley Flying Spur review
The Mulsanne's 2685kg kerbweight might be huge even by modern standards, but due to the effortless power from that large-displacement V8, 0-62mph happens in a more-than-adequate 4.9sec, with top speed at 190mph. 
Highly-tuned, smaller-displacement engines and in time, electrification, will undoubtedly exceed the numbers achieved by the six-and-three-quarter, but none will likely be able to replicate its character and unrivalled power delivery – it was a true monarch in the automotive world.
For the full experience, make sure to pick up your copy of evo issue 279 where Dickie gets behind the wheel for one last time. If you've been unable to make it to the shops, single issues are available for purchase via magsdirect.co.uk, or subscribe here.
Click here to head to our official Instagram account for your daily dose of evo.
> Best car wallpapers – evo car photography for your desktop and phone
Car pictures of the week: archive
Below are some of our favourite images from previous editions of evo car pictures of the week. Click on the pictures for the full galleries.
Gallery 1
Click below to see all the images of our first car pictures of the week gallery, here featuring the indomitable Bugatti Veyron Super Sport, mk1 Volkswagen Golf GTI, Ford Shelby Mustang GT350 and the stunning Porsche 911 re-imagined by Singer.
Gallery 2
Here we dig further back into the evo archives where we pull out some iconic images of the Ford GT slightly out of context in the European Alps, a TVR Sagaris in central London, the Audi RS2 as well as one of our most iconic twin tests between the Ferrari 599 GTO and Lexus LF-A.
Gallery 3
The previous-generation Bentley Continental GT seemed to get better with age, a notion mirrored by the Jaguar E-type when in modern 'lightweight' form. Both of these British icons, as well as the Aston Martin Vantage GT12 feature in gallery three.
Gallery 4
Fans might have cried fowl when Ferrari decided to turbocharge the Ferrari 488, but it's not like Ferrari don't have a history with turbocharged V8 engines. Here the 488 co-stars alongside the stunning F40, while elsewhere in this gallery we take a Porsche Cayman GTS to Japan for a stunning mountain blast.
Gallery 5
Italian twelve-cylinder supercars seem to be the main agenda in the fourth evo car pictures of the week gallery, here featuring four V12 Lambos and the stunning 599 SA Aperta limited edition alongside its 550 Barchetta predecessor.
Gallery 6
GT3s and GT-Rs are just the beginning for gallery number six, with the Noble M600, Aston Martin One-77 and a couple of McLaren flagships filling out our most amazing gallery yet.
Gallery 7
A gallery of new and old, here the McLaren 720S cemented its place as a truly great supercar alongside a daring night shoot with an Audi R8 LMX, pitch a Nissan GT-R and Audi Quattro against each other on Welsh mountain roads and drive the original 'Hakosuka' GT-R. 
Gallery 8
Ford's RS200 in a moody dark garage is just one of many amazing shoots in our 8th gallery, click on the image for the full gallery
Gallery 9
Click on the image below for our ninth car pictures of the week gallery, including this hardcore lot!
Gallery 10
Our tenth gallery turned it up another notch, including the wettest shoot in history (apparently).
Gallery 11
The best hardcore Ferrari supercars and more feature in our 11th car pictures of the week gallery.