The motoring industry is seemingly hurtling towards an all-electric future like some sort of runaway train, but unlike in your typical Hollywood blockbuster it's looking very much like there's no one left to apply the brakes before disaster strikes. The arrival of the electric car raises many questions – not least whether our infrastructure will be able to cope – but there's also the matter of where this leaves us performance car enthusiasts?
For those more interested in vital statistics than the thrill of driving the arrival of the electric car has led to some impressive performance figures – five-seater family cars with 0-62mph times to make a supercar weep are almost the norm these days – but there should be more to a performance car than its straight-line get up and go. Whether the battery-electric powered car will be able to deliver is a question that's been on our mind for quite some time and the indications are that bar the lack of aural stimulation it's more than possible to build an electric car that entertains.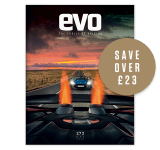 Subscribe to evo magazine
Subscribe today to have every issue of evo delivered straight to you. You'll SAVE 39% on the shop price, and get evo for its original cover price for a whole year!
If you can get past the loss of a soulful straight-six howl, the offbeat woofle of a V8 or the visceral wail of a V12, the other enemy of the electric performance car is weight. Batteries are heavy and if you're going to have a decent range you're going to need to have a lot of batteries, which is unlikely to be to the benefit of vehicle dynamics. However, tech does change rapidly and there's every possibility that batteries with lighter weights yet denser energy capacities will be just around the corner – only time will tell. 
In all likelihood the status quo will remain – there are fewer entertaining ICE cars than there are boring ones – and that's unlikely to change as the electric car makes inroads into the motoring landscape. But if you're tempted to take the plunge here are our BEV top choices, both those on sale now and the ones that are coming soon.
On sale now 
The best electric cars you can buy now...
Porsche Taycan
There was a certain inevitability it would be Porsche that would bring us the first hugely desirable electric car, offering Tesla-rivalling range and performance with the sort of dynamics that are synonymous with the Porsche name. There are three models to choose from, the £83k 4S, the Turbo at £116k and the range-topping Turbo S at nigh-on £140k – the best electric car yet doesn't come cheap. 
All models are rapid, but the Turbo S is sensationally so with 616bhp and 761lb ft of torque. Engage launch control and there's 750bhp briefly available, allowing the Turbo S to hit 62mph in 2.6sec and 100mph in 6.3sec – and unlike some other rapid electrics the Taycan can do this ten times in a row.
> New Porsche Taycan review - Stuttgart puts its stamp on the electric car era
It might weigh 2.3 tons but the Taycan's PASM chassis offers excellent body control and a ride quality that puts a Panamera to shame, along with a steering set-up that might be a little lacking in feel but is unerringly accurate. Naturally enough, build quality is second to none and the cockpit is a superb environment for whiling away those silent journeys… even if there is a little more wind and tyre noise than we were expecting. Still, it undoubtedly feels like a Porsche and thus far it's the best BEV we've driven.
Jaguar I-Pace
Perhaps the biggest impediment to the entertaining electric car is the trend for manufacturers to produce electric SUVs, but with the I-Pace Jaguar has demonstrated that they're not mutually exclusive. With its 600kg of lithium-ion batteries located low down in its chassis the I-Pace has a low centre of gravity, decent weight distribution and is a genuinely engaging car to drive.
Its suspension set-up is shared with the XF and with excellent traction, a flat cornering attitude and a low-slung driving position it feels like more of a sporting proposition than its SUV styling would suggest. It's rapid too, 0-62mph coming up in 4.8sec thanks to twin electric motors (one for each axle) that develop 395bhp and 513lb ft, and a clever torque vectoring system is able to shuffle power to individual wheels for maximum traction.
> Jaguar I-Pace review - beyond the hype, is it any good?
Prices start at £64k and rise to £75k depending on trim level, but all I-Pace models feature the same 292-mile range according to WLTP guidelines. Inside it's as plush as you'd expect from a Jag and just about its only downside is a braking set-up that's sorely lacking in feel.
Tesla Model S
Perhaps more than any other it's the Tesla Model S that's changed our perception of what an electric car can be. Over the last few years it's been sold in numerous guises with different battery and electric motor configurations, but in the UK it's now a simple two model line-up – Performance or Long Range. Both feature all-wheel drive with a motor per axle and offer quite exceptional performance. 
The slower model (the £81k Long Range) takes a leisurely 3.7sec to accelerate from 0 to 60mph, while the £96k Performance model knocks the same increment off in a scant 2.4sec. Their WLTP ranges are 367 and 379 miles respectively and where the Model S really scores is in its unlimited free use of the Tesla Supercharger network which allows rapid charging when out and about.
> Tesla Model S review – supercar-like acceleration for an electric luxury saloon
What's perhaps not so good is the driver involvement offered by the Model S. Sure, its performance is grin inducing but it's rather one dimensional, and while its ride is decent and its handling relatively neutral, you do end up with the feeling that corners are simply something to be dealt with before the next supercar-humbling acceleration-fest. View it as a very rapid luxury saloon and you won't be disappointed, but it's no sports car.
BMW i3S
It looked like BMW had really taken the march on its rivals when the i3 made its debut in late 2013, but the company has failed to capitalise on this and has arguably been overtaken by several other manufacturers. Nevertheless, the i3 is perhaps more popular than ever, recording its best ever year of European sales in 2019, no doubt aided by the arrival of the range-topping i3S. 
It's the most sporting example of the breed, adding a modicum of additional power (now offering 180bhp and 199lb ft of torque) for a 0-62mph time of 6.9sec and a real world range of around 125 miles. It features a wider track than before and wider tyres and this has endowed it with a more engaging drive, aided by a less intrusive traction control system.
> BMW i3s review – BMW adds sporty appeal to electric hatch
It feels nippy rather than super quick, but as well as offering a moderately sporting drive its eco credentials are of the highest order with its carbonfibre chassis being manufactured in environmentally friendly factories and its interior constructed from sustainable materials. Ultimately not the most involving drive, but as an ownership prospect the i3S ticks a lot of boxes.
Tesla Model 3 Performance
This was the car that was to take Tesla into the mainstream and so far it's proved hugely popular, with the Model 3 knocking the BMW 3-series and the Mercedes C-class off their premium mid-size perch in European sales. In the UK the range comprises the Standard Range (£39k), the Long Range (£47k), while the top dog, the Performance model, weighs in at £56k.
And it's the latter model that's our pick of the Model 3s with mind-boggling get up and go (0-60mph is despatched in just 3.2sec) not just from a standstill but on the move too. It's at this point you might be expecting us to cry about lack of driver involvement, but the Model 3 Performance is actually an engaging driver's car. The steering, while lacking in feedback, is very quick, direct and accurate and the chassis offers a degree of composure and refinement that's unexpected. 
> Tesla Model 3 review – an enthusiast's guide to the groundbreaking electric car
It's not perfect – some will struggle to get on with the 15-inch touchscreen, while others will feel that the quality of materials and the fit and finish isn't perhaps what you might be expecting from a machine with a nigh-on £60,000 price tag. The seats are pretty poor too, lacking in support and lateral grip. It's an intriguing prospect though, and one that shouldn't be written off before you try it for size. 
Coming soon
The most exciting electric car models due to hit the market in the coming months...
Lotus Evija
There's been a global trend over the last couple of years for the seemingly monthly announcement of yet another limited-run 2000bhp electric hypercar, many from companies not generally revered for their performance car heritage. Which is why the Lotus Evija could be a little different as Lotus has form for making some of the best driver's cars on the planet, so it should be well placed to make a decent fist of an electric hypercar. 
Like its potential rivals it has a price tag of circa £2m and has the requisite 2000bhp thanks to four electric motors – one for each wheel – each doling out 493bhp along with a combined torque output of 1255lb ft. As a result it'll be the first four-wheel-drive Lotus in its 61-year history of making road cars. Targeted performance includes an under-three-second 0-62mph time along with a mind-bending 0-186mph time of around nine seconds. 
> Lotus Evija hypercar undergoes further testing at Hethel 
With a carbon chassis the Evija has a target weight of 1680kg and will feature a 70kWh battery for a WLTP range of around 250 miles. Just 130 are slated for production and those well-heeled owners will be buying a stunning looking machine that should drive as well as it looks.
Porsche Taycan Cross Turismo
Due to arrive later in 2020, the Taycan Cross Turismo will be the production version of the Mission E Cross Turismo first seen at the Geneva motor show in 2018. In Porsche terms it'll be a similar cross pollination of models as we've seen with the Panamera and the Panamera Sport Turismo, with the Taycan version perhaps erring slightly to the crossover side of the spectrum than aiming to be a family holdall.
It will use the same underpinnings as the Taycan so will be based on the J1 platform, but it's expected to offer a slightly less extreme take on performance with crossover styling and a loftier ride height, although whether the Cross Turismo will include the tough-looking wheelarch and sill extensions of the concept isn't known.
> New Porsche Taycan Cross Turismo to launch in 2020
It'll use the same 800V underpinnings as the Taycan and with a pair of electric motors – one on each axle – it should pack up to around 600bhp. Expect a sub-four-second 0-62mph time with a top speed of around 150mph. If our experience in the Taycan is anything to go by it should be a pretty convincing machine. 
BMW i4
After getting out of the blocks quickly with its battery-electric i3 and i8 plug-in hybrid, BMW has concentrated on hybrid models, citing a lack of demand for pure BEVs. But all that's about to change with the arrival in 2021 of the i4. It was unveiled in concept form at the 2020 Geneva 'digital reveal show', and while it might have a challenging visage its underpinnings seem like they'll be up to snuff. 
The i4 will use what BMW calls its fifth generation of eDrive which will make its production debut in the iX3 that's due to arrive later in 2020. For its i4 application it will include a battery with an 80kWh energy density that will weigh approximately 550kg and be mounted low down in the chassis. In combination with an electric motor that delivers 523bhp, BMW says it will accelerate from 0 to 62mph in around four seconds and have a top speed in excess of 124mph. Expected range is likely to be 373 miles under WLTP testing procedures.
> BMW i4 Concept previews all-electric 4-series Gran Coupe derivative
While the final styling is yet to be revealed, the i4 concept does show how BMW envisages the new car's interior to look, with a large single-piece wrap-around screen that it says is a modern, digital take on the typical BMW driver-centric dash. We should know whether the grille makes production by early next year.
Polestar 2
It seems like the compact executive sector will be one of the most hotly contested battlegrounds for a host of new all-electric models and Polestar's offering will be the Polestar 2, with its sights firmly set on the likes of the Tesla Model 3.
The Polestar 2 utilises Volvo's Compact Modular Architecture as used by the XC40 and will use a brace of electric motors with a combined output of 402bhp and a useful 487lb ft of torque. Performance is promised to include a sub-five-second 0-62mph time along with a projected range of around 310 miles from its 76kWh battery pack. 
> Polestar 2 UK pricing revealed - First Edition priced from £49,900
For those looking for the sharpest steer from their Polestar 2 the company is set to offer a series of chassis upgrades with its Performance Pack which includes Öhlins dampers, Brembo brakes and 20-inch forged alloys. Deliveries are due to start soon with a £49,900 price tag for the First Edition model, with less lavishly equipped versions set to have a lower price tag.