Honda NSX
For a fraction of the amount you'd pay for a 918 Spyder or a LaFerrari, you could take home the eagerly awaited replacement of the original Honda NSX which is now packed full of tech and features a 550bhp twin-turbo V6 hybrid powertrain. Mid-engined with no fewer than three electric motors it mirrors the Porsche by sending drive to all four wheels.
0-62mph takes a smidgen under three seconds which is hypercar performance in something that will set you back 'only' £130,000. The NSX is another supercar that at least gives a nod to the environment with its fuel saving hybrid tech and the option of a quiet mode which offers all electric running over short distances.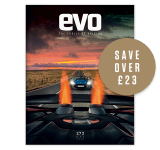 Subscribe to evo magazine
Subscribe today to have every issue of evo delivered straight to you. You'll SAVE 39% on the shop price, and get evo for its original cover price for a whole year!
On mashing the accelerator you can watch the 'assist' gauge rise and fall, showing the 'torque fill' from the three electric motors through the lower and upper regions of the rev range. Hondas NSX doesn't only offer great engine performance, but you get responsive steering, pin-sharp handling with a natural and progressive feel. 
BMW i8
BMW really was a pioneer in the hybrid performance car market and what it created was truly innovative. From its bold breathtaking looks, to its 4.4sec 0-62mph time - produced from a 227bhp petrol engine and 129bhp electric motor – the i8 delivered a hugely convincing plug-in hybrid package that was entirely new in the supercar market when it was first released.
To live with the i8 every day would be no burden as it's quite a comfortable cruiser, though when you need to get a shift on it is surprisingly agile and poised through the corners. It feels even better than some BMW M-division cars in terms of body control over very undulating roads.
To make sure it stays ahead of the game BMW has upgraded the i8 Coupe to match the recently introduced i8 Roadster. Its battery pack increases from 7.1kWh to 11.6kWh increasing electric-only range by nigh on 50 per cent with 34 miles now possible on battery power alone. There's an extra 12bhp from the electric motor with a combined output of 374bhp. It remains a stunning-looking hybrid supercar with real supercar ability as well as impressive environmental credentials and enough comfort to make it a compelling proposition for everyday use. 
Porsche Panamera Turbo S E-Hybrid
Luxury and elegance is all part of the DNA of Porsche's Panamera and hybrid power has been shown to add to the overall appeal. The latest Panamera Hybrid is also probably the best to date with the plug-in hybrid Panamera Turbo S E-Hybrid delivering between 15 and 20 miles of electric-only drive on full charge as well as imperious performance when the road opens up.
With 680bhp matched to chassis magic including adaptive dampers and anti-roll bars, an electronically limited-slip differential and carbon ceramic brakes, it's a formidably high-tech machine. On the road, it integrates the hybrid technology seamlessly, taking energy from its 14.1kWh 136bhp battery and electric motor or the 4.0 litre V8 for instant low down torque. In a car like this the downsides of hybrid tech become impressively hard to pinpoint.
BMW 530e iPerformance
The BMW 5-series is a long-time leader in the executive car class but it's managed to maintain that stable position at or near the top of a competitive marketplace only through constant evolution. The BMW 530e iPerformance hybrid his new plug-in variant in precisely that tradition, one that is intended to keep the 5-series on top.
Using Auto eDrive mode, it alternates between electric and petrol power, though the Max eDrive mode then only draws on the internal combustion engine from 87mph onwards when driving more spiritedly. The car keeps BMW's traditional light and direct steering, which means an enjoyable drive is on the cards, especially when the capable chassis is propelled up the road with some vigour by the 2.0-litre petrol engine and electric motor combo. 0-62mph takes only 6.2 seconds.
Volkswagen Golf GTE
The Volkswagen Golf always springs to mind as a family hatchback class leader but with times changing, can Volkswagen's best-seller also lead the market for hybrid-hatches?
The simple answer is yes. The all-electric e-Golf brought an EV option to the Golf range but this sportier GTE model is a plug-in hybrid with designs on emulating the GTI hot hatch. The hybrid system merges a 101bhp electric motor and the VW Group's 148bhp 1.4-litre TSI turbo to offer strong performance despite 170kg in weight gain compared to a GTI. 
The car retains the DSG dual-clutch automatic gearbox has a GTE mode that provides optimum performance from a mix of both motors or can use electric power alone to save fuel in urban areas. 
Toyota C-HR
Toyota's first foray into the junior crossover segment is a decent effort. Accurate steering, ample front-end grip and a small window of throttle adjustability lend the C-HR qualities not traditionally associated with cars in this class. As a result, it's a better steer than most of its rivals. Hustled down a road it never feels unruly, keeping body movements to a minimum and riding over poor surfaces competently.
It's a shame, then, that the hybrid powertrain can't do justice to the chassis. Performance feels as modest as the numbers suggest: power and torque stand at 120bhp and 105lb ft respectively, so hard acceleration feels like a chore for the C-HR, further confirmed by the 0-62mph time of 11 seconds (slower than the less powerful non-hybrid 1.2-litre turbo petrol model). However, some may choose to excuse the lacklustre performance in exchange for the all-electric drive functionality provided by the powertrain. 
Toyota Prius
We know you weren't expecting to find a Prius in the pages of evo. However, its presence here is merited, begrudgingly. While the popular Mk2 Prius was something of a dud to drive, the newest generation has moved the game on significantly. Precise steering, contained body roll and a pliant ride – a factor of smaller 15-inch wheels – mean it's no longer a wet lettuce dynamically. It's no revolution, though: the Prius still lags far behind sportier hybrids such as the VW Golf GTE for driving pleasure.
Navigating more urbanised environments, the Prius is more at home, thanks to the seamless integration of the elements in the hybrid powertrain. The CVT swaps ratios smoothly and makes better use of the 120bhp and 105lb ft of torque on tap than the C-HR does (above). However, it can't dip under double figures in the 0-62mh dash, taking 10.6 seconds to hit the benchmark.
Click the links below to go to our individual model reviews.
Porsche Panamera Turbo S E-Hybrid