Blending pure driving thrills with a comfortable, continent-crushing demeanour is no small task; the two are almost diametrically opposed to one another. Yet that's what we demand in a proper GT car, for it to be as relaxing as a limousine on the run to the Alps but for it be as sharp as a sport car as a soon as you hit your favourite mountain pass.
As impossible a task as that sounds there are at least ten cars on sale that pair those two attributes with aplomb. Our list of ten best GT cars sees all the usual suspects making an appearance; at least one model from Aston Martin, Ferrari, Maserati and Bentley all make the cut. Yet some unconventional GT cars also make the grade, and we've included some cars that at face value you wouldn't consider a grand tourer because, when you drive them, they exhibit all the qualities needed to thrill you when it's twisty and calm you when the road is straight.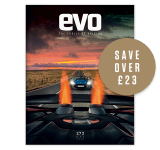 Subscribe to evo magazine
Subscribe today to have every issue of evo delivered straight to you. You'll SAVE 39% on the shop price, and get evo for its original cover price for a whole year!
>Best convertible cars on sale today
The Best GT cars to buy now
1. Bentley Continental GT
The old Continental GT may have been a sales success for Bentley, but it was only really the special models, the Supersports and GT3 versions, that ever really impressed us. The brand-new Continental GT looks lower and sleeker than its processor but, even better, these visual attributes signal just how different it is to drive; it's a more dynamic driving experience than ever before. That's because, firstly, it sits on a platform co-developed with Porsche, so rather than taking the underpinnings from a VW Phaeton it shares a lot with the new Panamera – including electromechanical variable anti-roll bars and three-chamber air suspension. The new platform has allowed the new 626bhp and 644lb ft turbocharged W12 to sit 150mm further back in the chassis, too.
Further more, the Continental GT now has a torque-varying four-wheel drive system too. It predominantly sends torque to the rear wheels, only shifting drive to the front when more traction is required. In Sport mode, when the car's in its most aggressive settings, only 17 per cent of drive ever goes to the front axle.
As well as being more agile and more entertaining on twisting roads than before, the GT is more cossetting and relaxed on a long cruise. The suspension, exhaust noise and gearbox in the new Continental are in their calmest state when the car's in Comfort mode, making it feel like a true luxury car. A third, "Bentley" mode, straddles the gap between Comfort and Sport.
We've been so impressed by the new Bentley Continental GT that we have awarded it our GT car of the year 2017.
> Bentley Continental GT review
2. Lexus LC500
The Lexus LC500 looks like nothing else. In pictures you don't sense just how unique its tall window line, its Predator-style mouth, complicated lights and unadorned flanks make it look. On the road, amongst mostly dour European machinery and grotesque SUVs, it's distinctive and supremely elegant.
But as unusual as it looks, it's equally as conventional and natural to drive. Its 5-litre naturally aspirated V8 not only makes it feel fast thanks to a 470bhp output, but it responds instantly to every squeeze of the accelerator and makes an intoxicating induction howl as you rev it.
The steady progression of torque (398lb ft that peaks at 4800rpm) means every millimetre of throttle travel is useful when controlling the car; it's refreshing after the on/off torque delivery that turbocharged engines typically offer up. The engine allows you to easily exploit the rear-wheel drive chassis, too. You have the control to keep things neat and quick around corners or flamboyant and sideways. It's an incredibly fun car.
If anything, the Lexus's GT attributes have been sacrificed to make its persona sportier; it's a little too firm and a little too noisy to be the perfect cruiser. Also, the infotainment controls and driver aid buttons are so baffling and awkward to use that any serenity you've cultivated will be destroyed by the frustration they generate. However, with such an exquisite, well-built and interesting looking interior there's plenty to appreciate at low speeds.
3. Aston Martin Vanquish S
Few manufacturers have such a long and remarkable history of making grand tourers as Aston Martin. Its current flagship GT car, the Vanquish S, has all the attributes that make up the best modern Astons: a naturally aspirated 5.9-litre V12, a transaxle rear end and a bonded aluminium chassis.
The result feels comfortingly old school, but a modern, well-appointed interior and a quick and efficient automatic gearbox keeps things firmly in the 20th Century. It's a little cramped inside, but there's enough space for two people to spend a long journey together in comfort – though the rear seats are best left unoccupied.
> Aston Martin Vanquish S review
4. Mercedes-AMG GT C
Sitting somewhere in the middle of the AMG GT range, the C could easily be overlooked: expensive compared to the basic GT and a bit tame compared to the R. But thanks to adaptive dampers, rear-wheel steering and a wider track as standard, the C works very well as a GT car. Its ride is calm and its twin-turbo V8 produces ample torque, 501lb ft from 1900rpm, to allow it to cruise along at an accelerated but relaxed pace.
Fiddle with the driving modes, however, and the GT C's inner sports car comes alive. The engine barks louder, giving the impression it's working harder even if it isn't, and the suspension tightens and makes the car more predicable when you're pushing it through some corners.
Even the long bonnet and rearward seating position, which have the potential to erode your connection with the front axle and feels very GT-like as you cruise, actually works to your advantage when you're pitching it into a bend as you're made very aware of how the rear axle is behaving.
5. Ferrari GTC4 Lusso
These days, even Ferrari's sports cars have an amazingly supple ride – especially when in their bumpy road mode. So it's not surprising to find the Italian firm's grand tourer, and its replacement for the FF, the GTC4 Lusso, is even more proficient at smoothing out rough and craggy tarmac.
It's not all about its pillowy ride though. As you'd expect from a Ferrari GT there's a big V12 up front – to be precise, a 6.3-litre naturally aspirated V12 with a rev limit of 8250rpm, developing 680bhp and 514lb ft of torque. There's also four-wheel drive for better traction, four-wheel steering for better agility as well as stability, and four seats for plenty of interior space; it ticks all the necessary GT car boxes.
However, although it might be a refined GT car, we can't help but want to hear the Ferrari's V12 a little bit more prominently within the cabin; it's just a little too muted as it is. 
6. Aston Martin DB11 V8
We weren't initially convinced by Aston Martin's new era of turbocharged cars when it launched the DB11 V12. The chassis felt confused, as if it was trying to spread its abilities too thinly; there wasn't the control and resistance to body roll to make it feel truly competent on the road, and the ride was only comfortable when the road surface wasn't too rough. The sportier chassis settings made the dampers firmer and ruined the ride, but didn't increase the control hugely.
Its engine, in comparison to Aston's old V12, also felt one-dimensional, the noise lacked the depth and its sudden delivery of torque was way too much for the rear axle to cope with alone.
The V8 version, with AMG's 4-litre hot-V V8, rights many of the V12's wrongs. The engine is more suited to the chassis and the lighter motor means there's less for the dampers to try and contain. That the suspension has been treated to a retune has helped significantly too.
7. Porsche 911 Carrera
The rear-engined 911 has long been Porsche's default sports car. But as it grows larger and more sophisticated there's an argument to suggest it's more of a GT car now, with the Cayman taking the mantle as the pure sports car. Its torquey turbocharged flat-six engine means the 911 Carrera is adept at effortlessly crunching big miles, and with its airy four-seater interior and surprisingly deep front boot, it's spacious enough to pack everything you could need for a fortnight away.
Unsurprisingly, as it's still a Porsche, it's also still a gifted sports car. Whether it's the rear-wheel drive Carrera or all-wheel drive Carrera 4, few cars can match the 911 for its any-road ability and deeply talented chassis. Gratification can be gained from simply experiencing the quality of the mechanical components as well as pushing it closer to its limits.
8. Maserati GranTurismo MC
There's no doubt about it, the GranTurismo MC is a bit long in the tooth. Its gearbox feels two or three generations behind modern semi-auto and dual clutch transmissions and Maserati's Skyhook suspension doesn't have the range of its rivals. Its engine also seems to come from a bygone era, but in this instance, in the best possible way. It has a huge amount of character and makes some of the best noises of any car currently on sale. It's growing old gracefully.
> Maserati GranTurismo MC review
9. Audi RS5
Not an obvious GT car by any means, the Audi RS5 would usually fit into the bracket of super-coupe. However, the all-wheel drive, V6-powered four-seater has a Jekyll and Hyde character that means it's very well suited to schlepping across countries as well as unpicking a back road. The engine is smooth and the delivery is instant, making it perfect for both roles. The chassis' range, thanks to different driving modes, can be tweaked to adapt to any situation and, unlike older fast Audis, there's an aggressive balance that means you have the confidence to lean on the car in a corner.
The RS5 doesn't have such an exotic interior as the other cars on this list, black leather and plastic are the order of the day, but it's functional and there's enough kit to make it a pleasant environment to spend time. Audi's virtual cockpit – a screen that replaces the dials and can display a satnav map – is a particular highlight.
10. Mercedes-AMG S63 Coupe
Of all the cars on this list, it's the S63 Coupe that does the best job of being an all-out cruiser, but that comes at the expense of its sporting potential. That's not to say there isn't some performance prowess for the S63 to boast about, with its 4-litre twin-turbo V8 (the same as the one found in the AMG GT C, also on this list) putting out 604bhp and 664b ft of torque it's by no means slow.  The S63 Coupe can reach 62mph in just 4.2sec and a top speed of 186mph if equipped with the AMG Driver's Package – it's restricted to the regular 155mph as standard.
Remarkably, considering those performance figures, there is an even faster and more powerful version of the S-class coupe. With a 6-litre twin-turbo V12, the S65 Coupe has 621bhp and can hit 62mph in 4.1sec. However the V12 is noticeably heavier and its delivery is slightly lazier, shifting the car's attitude even further towards a luxury barge than a sporting GT. The S63 has a better spread of abilities than its V12 brother, and is more likely to put a smile on your face on a twisty back road.
> Mercedes-AMG S63 Coupe review
Best GT cars top 10
Click the links below to read our full review on each or our top 10 GT models.