20 years of evo - the interviews - Harry Metcalfe, Editorial Director (1998-2013) - 20 years of evo
To mark 20 years of the magazine, we ask Editorial Director (1998-2013) Harry Metcalfe to recall his most memorable evo moments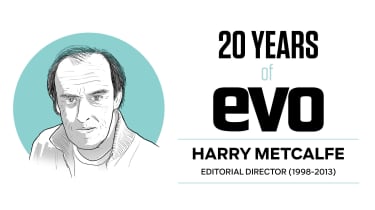 This issue markes the 20th anniversary of evo first hitting the newsstand, so who better to ask for their key moments than the magazine's founder?
Tell us your earliest evo memory
Joining John Barker and Dickie Meaden on a Performance Car group test in May 1998, where we discussed creating a new car magazine for enthusiasts. evo became properly real for me in July 1998 when Damian Smith, our super-talented launch designer, started pinning up potential evo covers around the office. I knew we were onto a winner from that moment on.
What was the first car you drove for evo?
The wonderful orange Lotus Elise that graced our dummy issue. I borrowed it from a Lotus dealer in Manchester for a group test we organised for that issue. I had a wonderful drive up to north Wales for the photoshoot, which took place on roads better known today as the evo Triangle
What was your first car launch for evo?
That would have been the Maserati 3200GT launch at the factory in September 1998. As soon as we had pressed the button on evo, I started pleading with Maserati to allow us on the launch, promising we'd put the car on the cover. It took weeks of persuading but we got there in the end. I had a 3200GT on order, which maybe helped a bit.
What's the most memorable evo test you have been part of?
That must be our world exclusive Bugatti Veyron group test (issue 096). After the launch in Sicily I kept asking Bugatti for another drive and eventually they offered us a drive back to the factory from Le Mans. I offered to bring some potential customers out with me, which they quickly agreed to. What I didn't say was that the 'potential customers' would be travelling out in their Enzo and Carrera GT and I would be in my Zonda. When we arrived in convoy, Bugatti soon realised they had been hoodwinked into doing a Veyron group test, which wasn't allowed. Somehow we got away with it and have remained friends ever since. That issue ended up being the best-selling evo ever.
And your most memorable evo drive?
There are so many. Maybe it was the Lotus 340R  to the Klausen Pass for issue 021. It was a crazy 2000-mile round trip to undertake in a car with zero luggage space and no roof (or doors). We were in good spirits when we arrived at the hotel at the base of the pass, but this quickly faded when the owner informed us the pass was still closed due to snow. It was late May and I hadn't bothered to check if it was open. Long story short, the owner made a few calls and the pass was opened specially for us the next day and we bagged the story by the skin of our teeth.
Tell us about the most disappointing car you drove while at evo
That's easy, the horror that is the Lexus SC 430. An abomination to the world of performance motoring. The designer should have got a gong for making it so ugly; to get it that wrong is impressive work. Inside was a sea of beige plastic and leather carefully treated to make it look like plastic. A truly horrible car.
Your worst evo moment was?
eCoty 2000 (issue 027). I was driving an Alfa 147 on the first morning, which decided to lunch its motor on the way to the first shoot location. David Vivian was following in the TVR Tuscan and offered me a lift. I was struggling to get the seat belt to engage as Viv was pressing on to catch up with the others. As it clicked into place I looked up only to realise we weren't going to make the next corner and we went head-on into a stone wall with all four wheels locked. It wasn't a good moment but there were no injuries. Later, the Lotus 340R got (fatally) pummelled into a bank. One to forget…
Your favourite evo story by a colleague?
Again, almost impossible to choose, but maybe 'The Test' in issue 022 by Peter Tomalin. We'd assembled a wonderful selection of cars, flew out to Bologna and then drove them all down to my house in southern Tuscany. The scene and mix of cars was sensational and Peter's words captured the mood perfectly. Good times.
What's the one car you wish you had driven during the last 20 years?
That's the Ferrari 288 GTO, which I nearly bought before buying the Zonda.
And finally, what's your favourite car launched in the last 20 years?
Not an easy decision to make… It could be the Bugatti Veyron or the Carrera GT. Then there's the Ferrari 458 Speciale. But I'll go for the Pagani Zonda Cinque. We first featured Pagani in issue 008 and to then watch the company grow in stature along a similar timeline to evo was a privilege. Here's to the next 20 years; who knows what wonders they will bring.