Latest evo motor show videos
Audi TT Sportback, TTS Convertible and R8 LMX
Ferrari 458 Speciale Aperta - plus full details and show gallery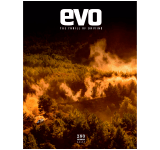 Subscribe to evo magazine
Subscribe today to have every issue of evo delivered straight to you. You'll SAVE 39% on the shop price, and get evo for its original cover price for a whole year!
Honda Civic Type-R Turbo and Honda F1 engine display 
Jaguar XE, F-type Project 7 and Land Rover Discovery Sport
Lamborghini Asterion video - plus full details and show gallery
Vauxhall Adam S video - Plus show gallery and details
Volkswagen XL Sport Concept - plus show gallery
Latest Paris motor show news
Ford Focus ST and ST diesel: more details
Honda Civic Type-R Turbo
Jaguar XE - full details and images
Lamborghini Asterion: the 896bhp hybrid supercar
Mazda MX-5 mk4 full spec and engine details
Mercedes confirms new AMG GT Coupe Black Series
Nissan Juke Nismo RS fully revealed
Nissan Pulsar Nismo concept: pictures and details
Skoda Fabia mk3 unveiled in Paris
Toyota C-HR concept pictures and details
Vauxhall Adam S unveiled in Paris
Vauxhall Corsa show pictures and full specs
Venturi America 400bhp crossover revealed
Show overview
Alternating its place on the motor show calendar with Frankfurt, Paris trades the German manufacturers' monopoly on floor space for a more egalitarian flavour.
While that means plenty of French eco-biased concepts at this year's show, there's plenty to entertain performance car fans. German brands still feature heavily here, with Audi set to preview its new TT roadster – shortly after the launch of the coupe.
Also joining the Audi fray, Paris marks the debut of the TT Sportback concept - an elongated, five-door version of the new TT coupe. Audi hasn't promised to build it just yet but the concept certainly looks production-ready.
A second-gen Audi R8 is also rumoured, while Paris marks the public debut of Mercedes-Benz' new Porsche 911 rival – the V8-powered AMG GT Coupe.
Another Paris debutant is the new Mercedes-AMG C63. The name may be different and turbocharging finally deposes the old naturally-aspirated 6.2 V8, but the new car is promised to be the fastest AMG-fettled C-class yet. Marginally less exciting, Mercedes is lining up a facelifted B-class for Paris - though a 177bhp all-electric one provides a little fizz.
Also promising a dose of electric power is the new Volkswagen Passat GTE. Available in both saloon and estate forms next year, the GTE uses a plug-in hybrid drivetrain for 141mpg economy and an 8-second 0-62mph time. VW has also turned its ultra-frugal XL1 plug-in hybrid into a performance car for Paris. Audi's recent acquisition Ducati provides the twin-cylinder powerplant for the XL Sport concept.
Even more down-to-earth, Opel (and therefore Vauxhall) is launching the Adam S in Paris - the 1.4-litre turbocharged hatch will go head-to-head with the MINI Cooper and Abarth 500.
German-owned carmakers also feature heavily. Bentley will present its new Mulsanne Speed in Paris, and MINI is set to show off the production MINI 5-door, John Cooper Works and the beautiful Superleggera Vision concept.
In the Japanese corner, show-goers will get to see the fourth-generation Mazda MX-5 in the flesh, and Mazda should reveal further details of the new car's powertrain options. Honda will field its production-ready Civic Type R, now with more tha 275bhp to its name.
Infiniti also has Paris plans, showing off its Q80 Inspiration concept. The large luxury concept is the latest to adopt a fastback rather than traditional saloon body style. Infiniti calls it a 'top of the line' vehicle that 'rises above the crowd'.
From the British contingent, Jaguar will follow up its London launch event with a less theatrical glimpse of its new 3-series rival, the Jaguar XE. The XE is available to order now, with new 2.0-litre diesel and 3.0 V6 engine choices.
Most striking of Italy's offerings is the new Ferrari 458 Speciale Aperta, an open-topped version of one of 2014's most exciting performance cars. More innovative, Lamborghini has finally joined its supercar rivals in making a hybrid model - the 896bhp Asterion LPI 910-4.
And the domestic brands? Citroen, Peugeot and Renault will all show off the virtues of light weight and slick aerodynamics with their respective high-mpg concepts, the C4 Cactus Airflow, Peugeot's Quartz crossover and the Renault Eolab concept.
Of these, the Peugeot Quartz has the most promise for keen drivers. Its hybrid powertrain is based around that of the 266bhp RCZ-R sports coupe, with twin electric motors boosting power to just shy of 500bhp. Citroen's stand will also feature a striking concept in the shape of the DS Divine – it too utilising the RCZ-R's 1.6-litre turbo four-cylinder.
Perhaps more relevant, as a fully-fledged production car, Peugeot will celebrate the 30th year of its GTI line in Paris with a special edition 208 GTI 30th Anniversary. There's only a modest power increase over the standard 208 GTI but the car now gains a Torsen diff and a distinctive colour scheme.