Bang for your buck. It's an American term, but it's hard to think of a better phrase to describe the concept of getting a lot of performance car for not a lot of cash.
While it applies in the market for new cars, depreciation makes it even more relevant in the used car market, and the choice of some of evo's past favourite performance cars now selling for pennies is vast. Cheap fast cars are what we're interested in here and, crucially, we've gone in search of models that can be bought, maintained and enjoyed relatively cheaply.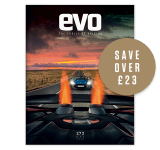 Subscribe to evo magazine
Subscribe today to have every issue of evo delivered straight to you. You'll SAVE 39% on the shop price, and get evo for its original cover price for a whole year!
Set yourself an upper limit of £10,000 – about the same price as a new Dacia Sandero Stepway with a coat of metallic paint – and you'll find everything from V8 muscle cars to turbocharged rally legends and slick sports saloons, with top speeds in excess of 150mph and 0-60mph figures beginning with fives and sixes.
As such, we've broken that £10k limit down into four sections and picked three cheap fast cars in each section that should cover a wide range of performance and practicality considerations. This isn't a buying guide (though we've dropped in a few nuggets of advice here and there), but where appropriate you'll find links to cars we've covered in more depth elsewhere.
Consider it then more of a shopping list – a selection to tempt you when you want to park something a little more exciting alongside your financed diesel family wagon, or if you're ready to take the plunge into ownership of your first proper evo car. And if you can think of any more, drop us a line on Twitter or Facebook @evomagazine.
Fast cars for £1000-3000
BMW 330i (E46)
The classiest option of our cheapest trio, the 330i's biggest bonus is ubiquity. BMW 3-series sales really started to take off with the E46 and before punitive CO2-based taxation there wasn't a huge penalty in opting for the 3-litre in-line six with its 228bhp output. A 6.5sec 0-60mph sprint is the payoff, along with a limited 155mph top speed.
An agile chassis, rear-wheel drive and frequently, a manual gearbox, give it the right driver's car credentials, as well as the performance benefits of that strident straight-six. Low prices mean finding one with the right kind of previous owner can be tough, and E46s have a reputation for rust – but for price and performance, it's a compelling choice.
Skoda Octavia vRS
Skoda's first proper performance car was a bargain at launch and is even more of a performance bargain now. Powered by the Volkswagen Group's 1.8-litre turbocharged four-cylinder (just like its SEAT Leon Cupra and VW Golf GTI contemporaries, as well as the Audi TT and several others) it put 180bhp to the front wheels and, like the current Octavia vRS, was something of a family friendly, pragmatic option in the hot hatch market.
It remains a thoroughly sensible yet curiously appealing option. For similar money you could still get the more stylish and similarly powered TT, but the Skoda gets you proper back seats and a large boot, as well as the joy of unlikely speed in such an unassuming shape. Mechanicals are generally solid and interiors wear well, and with a good set of tyres there's still the potential of keeping modern equivalents in your sights.
Renault Clio 172
While not 'fast' in the way some other cars on this list might be, a car as small as the Clio packed with a 170bhp 2-litre engine isn't what you might call slow, either. Early phase 1 172s are getting rare these days (they're easily identified by their softer styling and 15-inch OZ wheels), but phase 2 cars are plentiful and inexpensive – and probably the best basis for an affordable trackday car on the market.
The 172 (and later 182) doesn't just excel on track though, as they're equally at home on B-roads. A basic 172 takes barely longer than seven seconds to hit 62mph and there's good feedback from the controls. Desirable Cup versions shed weight (1011kg) and kit (there was no ABS) and are even better to drive. Generally reliable, 172s can suffer through hard use and the trim can age badly, but buy a cared-for car and you'll struggle to have more fun for less money.
Fast cars for £3000-5000
Honda Civic Type R (FN2)
There are several inexpensive ways into a high-revving VTEC Honda, from mid-'90s Civic VTis to more recent Accord Type Rs and EP3-generation Civics. But the later, and perhaps less-loved FN2 Civic Type R represents excellent value right now as the newest of the bunch – and as the very last naturally aspirated Civic Type R.
For a start, they're reliable. They need regular oil services and chains and tensioners can be problematic, but once sorted the engines can pretty much go on forever. They're not the best-driving Civic, but if ever a car was all about the engine and transmission, it's this. A slightly lower VTEC engagement point (5400rpm rather than 5800rpm in the EP3) makes it easier to enjoy all those revs, and the gearshift is a pleasure.
Mazda 6 MPS
Few affordable performance cars fly under the radar quite like the Mazda 6 MPS. The clues to its potential are fairly subtle – a restrained bodykit, slightly more bulbous bonnet and grille, and twin tailpipes – and it never sold in particularly grand numbers either, so they're few and far between. Throw in this generation 6's propensity to rust, and some can look quite sorry for themselves too.
But with a 256bhp, 2.3-litre turbocharged four-pot under the bonnet and all-wheel drive, it was something of an understated Impreza or Evo rival back in the day. Not quite as quick or exciting, admittedly, though 6.6sec to 62mph and 150mph aren't to be sniffed at even in a modern context, particularly for under £5k. We called it 'well worth a look' on its 2006 launch (issue 075), and if you can find a cared-for example, it remains worth a look today.
Ford Focus ST (Mk2)
As with the Civic Type R further up, the Mk2 Ford Focus ST's appeal lies largely in its engine. But in a very different way, as back in 2005 the ST broke the trend for turbocharged fours, instead using a Volvo-sourced turbocharged in-line five. With 222bhp and 236lb ft it had more than enough firepower to compete, and a soundtrack unlike anything else in the class.
It wasn't our favourite hot hatchback of the era, feeling quite large and heavy next to some rivals, but it's a car that arguably feels better today, both because subsequent Focus STs strayed even further from the ideal, and because that five-pot soundtrack can only otherwise be had from much more expensive Audi RS3s. STs are generally solid, save the perennial Ford issue of rust and the risk of previous owners spending more on baseball caps than servicing, but buy the best you can and there'll be plenty to enjoy.
Fast cars for £5000-7000
Volkswagen Golf R32 (Mk5)
Will the appeal of dropping a large engine in a relatively compact car ever wane? With 3.2 litres of VR6 engine under the bonnet, the Mk5 Golf R32 is certainly tempting at the £5k-£7k mark, and much more plentiful than the earlier Mk4 R32 equivalent. You can trace that lineage all the way through to the most recent Golf R too – and while the R32 wasn't quite the all-rounder that the Mk7 R was, you do get that characterful engine.
It's not short on grunt either, with 247bhp and 236lb ft, good for 0-62mph in 6.5sec and 155mph flat out. It's a hefty old thing at over 1500kg, but you could consider it more of a hot hatch GT than the lighter, nimbler GTI – think motorways and A-roads rather than twisty B-roads. The Haldex drivetrain needs oil changes every 40k miles, as do DSG boxes, while the engine itself needs fresh oil every 10k. Coil packs and timing chain guides need attention too, but the R32 is generally as solid as it appears.
Nissan 350Z
Japan's early 2000s muscle car is great value right now. The cheapest examples actually sneak below our £5k lower limit, though that won't remain the case for long – interest in Japanese performance cars is growing and as one of the best of its era, the Nissan 350Z will be right near the front of that curve. Good ones are currently plentiful between £5k and £7k, though you'll still have to search for the best examples.
What you get is a neatly styled, surprisingly compact coupe powered by a muscular naturally aspirated 3.5-litre V6. At launch the six produced 287bhp, which rose to 306bhp over time. Even at its least potent it was good for a claimed 0-62mph time of 5.9sec and a 155mph limited top speed. The V6 can sound a bit coarse at times but it's rarely short of performance. When we drove it in issue 048 back in 2002, we described it as 'a coupe that's as good to drive as it is to look at'.
Porsche Boxster S (986)
evo first drove the 986 Porsche Boxster S way back in issue 011, and gave it a full five stars straight off the bat. It's not too difficult to see why: While the regular 986 was ever so slightly down on power compared to its rivals, the 3.2-litre S took power from 204bhp to 252bhp and torque from 181lb ft to 225lb ft. Big increases both, and enough for 161mph flat out, with a 5.9sec 0-60mph sprint.
Today they're awfully affordable too, thanks in part to the megaphone effect of the internet amplifying concerns about the longevity of Porsche's early water-cooled flat-sixes. Buyers should still be circumspect, but most cars with issues will have either died or been fixed by now, so the risks aren't what they were. Still best to find a looked-after example, and when you do you won't just get plenty of performance for the money (actually a little less than our £5k minimum, but above that figure you'll find a wider choice) but also one of the best chassis on this list.
Fast cars for £7000-10,000
BMW Z4 3.0si Coupe
A limit of £10k won't allow for the Z4 M in this list, but the regular 3-litre coupes have fallen within budget and promise a strong mix of performance and style. The Bangle-era BMWs are getting easier on the eye by the day and the Z4 Coupe was fairly attractive from the start, with traditional sports car proportions and sharply sculpted lines wherever you look. We called it 'stunning but not showy' on first acquaintance in issue 096, and they're a touch more affordable today than the entry-level Cayman that debuted in the same issue.
With 261bhp at your disposal – 0-62mph comes up in 5.7sec – it's undoubtedly quick, and like almost all BMWs it's limited to 155mph. When launched, that 3-litre six was the lightest engine of its type and sounds rather wonderful, more so now we're in an era where four-cylinder turbos are becoming the norm. You'll want a healthy service history at this money and a history check to ensure the previous owners haven't got too carried away given the rear-drive layout.
Vauxhall Monaro
Fast cars don't come much more honest than this: conservatively-styled coupe bodyshell, 5.7-litre V8 up front, manual gearbox, and power to the rear wheels. It is, as you might imagine, rather brisk: sub-six seconds to 62mph, and 160mph-plus if you find a long enough stretch of derestricted road.
We drove the regular V8 Monaro (rather than the VXR version) in issue 081, frustrated by its relatively subtle soundtrack (easily fixed) and stodgy steering (not so easily fixed), but still rather taken with its easy-going performance and understated appearance. Four stars was the result, but for around £10,000 in today's money (a third of its original price, but getting harder to find at this level) the appeal of Holden's Vauxhall-badged muscle car has grown significantly.
Jaguar S-type R
So many high-performance Jaguars have passed through evo's hands in the last few years that it's easy to forget Jaguar hit the mark plenty of times before XFs and F-types. One such hit was the S-type R, which was talented enough at launch in 2002 to do the unthinkable – give the E39 BMW M5 a bit of a kicking.
Its advantage lay in a chassis that made its performance more accessible than that of the BMW, a desirable quality in a car unlikely to be constantly driven to the limit. It was quick too, of course; Jag's 4.2-litre supercharged V8 made 400bhp (matching the BMW) and 408lb ft of torque, enabling 0-62mph in 5.3sec. If previous owners have looked after them (not always a guarantee given the relatively low prices) they can be pretty reliable too, though rust can be an issue.