The top five best hot hatchbacks on sale right now
We whittle down our favourite new hot hatchbacks to just five examples
Hot hatchbacks are core to evo and indeed evo's readership. They are the zenith of affordable performance cars, usable every day and fantastic fun on the right road without costing a fortune to run.
Over the years evo has tested dozens of candidates for its greatest-ever hot hatchback, but in the modern market, five cars in particular currently stand out.
This is our guide to the best hot hatchbacks on sale – whether you're looking for some inexpensive fun, a hardcore track machine or simply the best all-rounder currently available.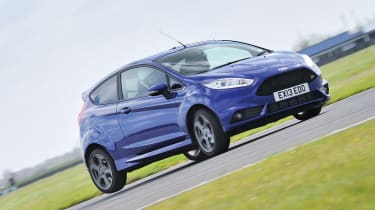 Ford Fiesta ST
Just £17,395 secures you a basic Ford Fiesta ST at the moment. It's the perfect example of what Ford is capable of when at its best – the ST has a fantastic, agile chassis. Firm at low speeds, it flows down roads so well at higher velocities it feels made to be driven quickly. The 1.6-litre turbocharged engine is punchy and sounds great, the gearchange is slick and the brakes offer plenty of feel.
Peugeot 208 GTi 30th
The Fiesta ST has long remained at the top of evo's list when it comes to hot hatches in the supermini segment. A new car now tops that list and for the first time in a very long time indeed, that car wears a Peugeot badge. Fettled by Peugeot Sport, the 208 GTi 30th is more aggressive, sharper, and simply more fun than its Ford rival. More expensive too, but worth every penny.
Renaultsport Megane Trophy-R
For some, the latest Renaultsport Megane Trophy-R will be simply too much. It can be truly twitchy at speed on slippery roads, and the track-focused cabin lacks the practicality of some sports cars, let alone other family hatchbacks. But on the right road, few cars from any class match its focus. More than once we've likened it to a front-wheel drive Porsche GT3 RS...
SEAT Leon Cupra 280
Surprised? SEAT has always promised excellent value for money with their hot hatches, and often a headline-grabbing power figure, but rarely has the Spanish manufacturer delivered a true class-leader. The SEAT Leon Cupra 280 doesn't quite match the aggression of the Megane but its mix of talents – including explosive power, an adjustable chassis, and excellent damping – are just right for this sort of car.
Volkswagen Golf R
Where a Renaultsport Megane is focused and uncompromising, the Volkswagen Golf R is the consummate all-rounder. It's blisteringly quick – 5.1 seconds to 60mph – and interactive on the road, yet remarkably refined and practical. That it finished fourth at evo Car of the year 2014, behind a Porsche, Jaguar and Ferrari, is indicative of how highly we rate it. Of course, it also boasts greater traction than most thanks to all-wheel drive. At just under £30,000 it requires a hefty outlay, but is far more endearing than the Golf GTI sitting below it in the range.