Worried that electric power is about to kill off the performance car as we know and love it? While there's no doubt that electric propulsion will make its way into more performance models during 2020, with manufacturers as diverse as Maserati and Polestar getting in on the act, there are also plenty of other manufacturers still keeping the faith, meaning there should be something for everybody.
The entire Volkswagen Group, for instance, is poised and ready for the Golf 8 to open the floodgates on a host of related models. So, don't just expect a new Golf GTI to be on the doorstep, but so too Skoda's next Octavia vRS, a new Cupra Leon (now fully under the Cupra sub-brand) and an all-new Audi S3. The 992-generation Porsche 911 range is also due to gain its first go-even-faster variants, starting with the next 911 Turbo and Turbo S.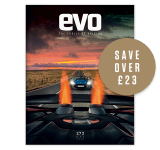 Subscribe to evo magazine
Subscribe today to have every issue of evo delivered straight to you. You'll SAVE 39% on the shop price, and get evo for its original cover price for a whole year!
But it's arguably the more unexpected sources that have perked our attention most, as manufacturers with less reliance on the stagnant European market take advantage of the vacuum left behind. Toyota, for instance, is building an actual, proper rally homologation special on which to base its 2020 WRC car. Called the Yaris GR-4, it's significantly lower, wider and more aggressive than the bubbly hatchback with which it shares most of its name, and will be a new supermini hot hatch in that otherwise dwindling market segment.
Then there's Lexus's LC, already a fantastic GT and about to become a whole lot more serious with the arrival of a flagship LC F version. Mazda's investment into new rear-wheel-drive platforms and straight-six petrol engines will also take shape, so too Hyundai's next N model, which will be based on the incoming i20 hatchback. 
There's plenty more too, so keep scrolling to find out what everyone else has in store…
Aston Martin
2020 will see the launch of Aston Martin's most important new model in a decade, with the DBX and its high profit margins ready to jolt Aston Martin out of its current state of financial life support. Already revealed at 2019's LA motor show, production will start in Aston's new St Athan manufacturing facility in Wales before cars begin reaching customers in the summer.
At around that time, a new Vantage Roadster will also be revealed in full, although images (released by Aston Martin no less) of the finished car in a matte black livery have already surfaced. This new roadster, alongside the full introduction of the long-awaited seven-speed manual transmission, should finally bring some much needed variety to the current Vantage range. 
Audi
The new Audi A3 will be the marque's biggest launch of 2020, with a new S3 not far behind. Like its predecessor, the next A3 will share much with the Golf, including its underlying platform and accompanyin powertrains and tech, but what powertrain the hot S3 variant will use remains something of a mystery. What it will share with the next Golf R remains to be seen, as it's possible the Volkswagen will shift up a gear to clear some space between it and the next GTI, which will also grow in power over the current models. 
The e-tron GT will also arrive in production specification, signalling the first all-electric model to be engineered and built by Audi Sport, the outfit responsible for all RS and R8 models. It will share plenty with the Porsche Taycan under its skin, but should feel different on the road. The Audi RS5 will also go through a subtle update to align it with the A5 and S5's light revisions in 2019. But otherwise, with six reveals in the last six months, Audi Sport will have a quieter 2020.
Bentley
 Bentley's in for a big year, starting with a major update to the Bentayga, which we've already spotted testing. Rather than a simple facelift, the new Bentayga looks ready to adopt a large selection of changes that might even include alterations to the body-in-white – an unusually significant variation for a mid-cycle update. 
The Continental GT should also gain some new variants, not least a Speed model, which should build on the current W12 car's 626bhp with more power, aggression and glamour. The current Continental should be better suited than ever to the Speed's super-GT personality, thanks to its lower, wider and more inherently dynamic chassis. A higher-performance version of the V8 Conti should also be along in time, but it will be the Speed that comes first. The Mulsanne is in for a change, too, with production set to halt in 2020 due to emissions regulations bringing its 6.75-litre V8 engine to an end.
BMW
The next-generation BMW M3 and M4 should arrive during 2020. We've seen plenty of test cars and a few leaked spy shots from inside the factory, but there's still some waiting to do before we see both the M3 saloon and its M4 coupe cousin in production form. We do know that they'll be powered by the same 3-litre turbocharged six-cylinder as the recent X3 M, and will be available with a manual transmission and rear-wheel drive in some forms, sometime after the standard all-wheel-drive arrive in the second half of 2020. 
Before then the regular 4-series will also show its dramatic new face, giving us an insight into the next M3's look, plus the 5-series will also be due for a more gentle mid-cycle update, which will also carry across to the M5.
Cupra
Some might suggest that the separation of SEAT's Cupra performance brand got off to a false start with the release of the Cupra Ateca, but the first real example of what Catalunya's performance brand is all about will arrive during 2020. It'll be based on the all-new SEAT Leon, which alongside its Volkswagen Group cousins will launch in both standard and hot forms in 2020.
It's the Cupra variants we're interested in here, though, and they should emulate earlier hot Leons, with a growth in performance over the current SEAT Leon Cupra model. A plug-in hybrid is also expected to be available, perhaps sharing its underpinnings with the Golf GTE that was revealed in 2019, and the range will eventually be topped with an all-wheel-drive estate version. 
Ferrari
After a busy 12 months, Ferrari looks to be cooling things down for 2020, with a focus on getting the cars it has recently revealed on the road and out to customers. The push will start with the F8 Tributo, followed by the SF90 Stradale and the elegant new Roma later in the year. 
Ferrari's incumbent SUV will likely take a little longer to reach the marketplace, however, with a limited catalogue to draw from in terms of components and engineering expertise.
Hyundai
2020 is set to be a big year for Hyundai, and specifically its high-performance N division. First, the i30 N and i30 Fastback N will receive an update alongside the standard i30 range. The i30 is likely to get an angular new look in keeping with Hyundai's latest design language, and this will be carried across to the N models. Meanwhile the i30 Ns will also be available with an optional dual-clutch transmission for the first time. 
But it's the next all-new N model that we're more excited about, this time a smaller, and more affordable, i20 N that will rival the Ford Fiesta ST. This model will be based on the new i20, which is also due for its reveal in 2020, and although we know little of its technical make-up, it's good to see the supermini hot hatch class is finally getting an injection of new metal to spice it up.
Jaguar
Jaguar's 2020 will start with some updates for key models such as the F-Pace and XF, with a focus on improving interior tech and quality, as well as refining the powertrains – two critical areas where the current models are lacking.
But it'll be Jaguar's next-generation XJ that will be the big news later in the year. It is due to break cover in the second half of 2020 not only with a new aesthetic, but also with a battery electric-only powertrain. The next XJ will rival the Porsche Taycan and Tesla Model S, and build on lessons learnt from the I-pace electric SUV to push Jaguar further into the future. 
Lexus
Lexus is due to give its high-performance F range a new lease of life with an LC F flagship. We're already big fans of the standard LC500 coupe in V8 form, so with an extra jolt of power and a bigger focus on handling, the LC F is shaping up to be one of the most interesting new models of 2020.
Lexus has already revealed a convertible version of the LC, which will arrive in time for summer 2020, although the company's plans elsewhere in the model range remain vague at best. There are, however, whispers of a new lightweight rear-wheel-drive model to be shared with Mazda, and also a new straight-six engine destined to replace the now ancient 3.5-litre V6 that only appears in the UK in hybridised form. Whether this will materialise in 2020, or later, is as yet unknown. 
Maserati
Alfa Romeo's plans for its performance line-up might have been scuppered during the company's transition to a new merged future with PSA, but Maserati's fortunes have been far more favourable, with the brand ready to be transformed into a performance and technology leader for the whole conglomerate. 
First to arrive will be the long-awaited Alfieri coupe. New electrified models are also in the works, including all-electric versions of the next Quattroporte, Gran Turismo and Levante – all ready to transform the image Maserati has built up over the last 105 years.  
Mazda
Mazda is typically one of the more unpredictable manufacturers, but there are encouraging signs that it may revive the rotary engine format for which it is well known. Also, as mentioned above, Mazda is in the process of developing an all-new rear-wheel-drive platform, and also an in-line six-cylinder engine featuring the firm's Skyactiv-X variable compression tech.
These engines will likely replace the high-output turbocharged units found in larger models sold in the US and Australia, but we may also see the return of the high-priced Mazda here in the UK. Mazda's first EV, the MX-30, will also arrive in the UK in 2020, with some pseudo-SUV styling and a fresh design language. 
McLaren
McLaren Automotive's 'variations on a theme' approach will continue in 2020, with a few highlights to look forward to. The first is the eagerly awaited 'Longtail' version of the 720S, itself a previous eCoty winner. The usual updates will apply to create what we expect to be called the 750LT, including a small bump in power and a reduction in weight. 
Another previous eCoty winner, the 600LT, will be further evolved with an even more hardcore 620R variant that will top the Sports Series range. This model will be a road-going version of the GT4 race car, and have a much lower build run and higher price than the LT. McLaren will also begin production of the Speedtail, once Senna GTR production has been completed. 
Mercedes-Benz
The expansion of the Mercedes' EQ range will be the top priority for the German marque in 2020, with the flagship EQS saloon due to be shown some time in 2020, ready to rival the Porsche Taycan, next-gen Jaguar XJ and Tesla Model S. It's already been previewed by the EQS Concept at the 2019 Frankfurt motor show, and has been spied testing with its pre-production body flaunting a completely new design language and proportion set. 
Mercedes' more traditional model range is also set for an overhaul, with an all-new S-class not only refreshing the firm's high-level limo, but also playing its traditional role of previewing the next generation of Mercedes-Benz design and technology. Meanwhile AMG will reveal its most hardcore model yet in the form of the GT R Black Series, and possibly also its next-generation powertrains in the new S-class later in the year.
Peugeot
Peugeot Sport will reveal its first hybridised model in the form of a production version of the handsome 508 Peugeot Sport Engineered Concept, first shown at the 2019 Geneva motor show. Although the production version won't have quite such an impressive power figure as the concept, the notion of a performance-orientated 508, hybridised or not, might well inject a bit of fire into Peugeot's slick but rather staid model range. 
The next-generation Peugeot 208 GTi is also currently in development, although we know nothing yet of what format its underlying powertrain will take: traditional internal combustion engine, purely battery-electric, or a hybridised mix of the two. Either way, with the brilliant 208 GTi by Peugeot Sport preceding it, the next-gen 208 GTi has a lot to live up to. 
Polestar
Polestar has long since revealed its launch line-up, but 2020 will be the year cars are to finally reach paying customers. Our initial drive of the £139,000 Polestar 1 left a pleasant aftertaste, but its high price point, minimal luggage space and left-hand-drive-only build will make it a tough sell in the UK. 
Instead, it's the all-electric Polestar 2 that will be the revolution, rivalling the Tesla Model 3 as well as other, more traditional executive cars with help from its impressive range and new-generation interior tech.
Porsche
Porsche's 992-generation 911 will continue to diversify in 2020, with a selection of variants returning to widen its remit. First will be the Turbo, which will arrive early in 2020, followed closely by the long-awaited manual transmission for the Carrera, which has been promised since the 992's reveal in 2019. Targa, GTS and GT3 will also arrive later in 2020.
Elsewhere, the Panamera will be due for a mid-cycle update, while the all-electric Taycan will gain a Sport Turismo estate variant similar to the Cross Turismo Concept shown way back at the 2018 Geneva motor show. 
Skoda
The new Skoda Octavia has already been revealed in its more demure trim levels, but the next generation vRS isn't far behind. Although Skoda has remained coy about specific technical details, prototype mules have been spotted with tell-tale elements including a more aggressive front bumper, twin trapezoidal exhaust finishers and red brake calipers. 
The next-gen Fabia is also due later in 2020, and will finally move onto the VW Group's MQB-A0 platform, although the likelihood of a Fabia vRS reboot remain slim. Skoda's first bespoke EV models will arrive in 2020, too, based on the Group's new MEB platform and kicking off with a production version of the Vision E Concept shown at the 2019 Geneva motor show. 
Toyota
After a big 2019 with the new Supra, Toyota's 2020 promises great things, too. That's because Gazoo Racing, Toyota's racing and performance arm, will reveal the first true WRC homologation special in years. Based on the new Yaris, and as seen in a teaser already released by Toyota, the Yaris GR-4 will be significantly wider and lower than the standard car, allowing Gazoo Racing to tailor its WRC entry more finely than if it was to base it on a standard Yaris model. 
Rumours also persist of a next-generation mid-engined roadster – a successor to the MR-2, if you will – plus a Corolla hot hatch, and a new generation of GT86. These models are likely working on a longer time-frame than 2020, but as is Toyota's way, we may well see some concepts giving us an early look. 
Volkswagen
The new, eighth-generation Golf has already been revealed in standard and plug-in GTE forms, but we're more interested in the forthcoming performance variants. Both the GTI and R models are expected to arrive in 2020, although specifics as to the powertrain outputs remain vague at this point.
Volkswagen's electric ID.3 range will also reach customers in March, signalling the beginning of VW's EV offensive that will quickly diversify. A high-performance ID.3 is also under consideration, although Volkswagen will prioritise the rollout of its wider EV range to spread the cost of its €6billion investment in EV development.