The Alpine A110 has been a long time in the making. Not only is the first car to emerge from the French sportscar firm in more than two decades, it's also suffered a trouble gestation that saw it start its life as part of joint venture with British brand Caterham. That venture has long since been dissolved (although you can seen Caterham's styling buck in its Dartford showroom), but Alpine has put the car's trouble past behind it and delivered something truly remarkable.
Although it's targetting the Porsche 718 Cayman and Audi TT RS, the Alpine ploughs its own defiant furrow, pursuing a low weight approach that brings to mind Lotus. Constructed largely from aluminium and Powered by a mid-mounted four-cylinder turbo, the Alpine tips the scales at just 1103kg, which is around 4-500kg less than the opposition. More hefty is the price, because at around £50,000 it is priced smack in the middle of the German machines' playground.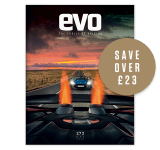 Subscribe to evo magazine
Subscribe today to have every issue of evo delivered straight to you. You'll SAVE 39% on the shop price, and get evo for its original cover price for a whole year!
Tech highlights
The Alpine A110's mid-engined chassis, its all-round double-wishbone suspension and most of its body panels are fashioned almost entirely from aluminium, hence the impressively low kerb weight. The engine is a new 1.8-litre, four-cylinder turbo unit that will eventually come in various power outputs, starting with the base version here that has 249bhp. This entry-level motor gives a power-to-weight ratio of 229bhp per ton, which just edges the 225bhp per ton of an entry-level 718 Cayman.
There are three different drive modes to choose from – Normal, Sport and Track. In each, the parameters for the engine, gearbox, steering, exhaust, ESC and electronic differential alter to suit the conditions and/or your desires. But the passive dampers remain unchanged throughout, Alpine wanting to maintain a degree of comfort, as well as control, no matter which mode the driver selects.
Alpine also wanted to keep the aesthetics of the A110 as clean as possible, hence the lack of a rear wing. Instead, there is a functional rear diffuser and some clever aerodynamics at both ends that help generate the required stability at high speed while reducing drag at all speeds.
An electronic (rather than mechanical) differential, complete with a torque-vectoring function, can tickle the rear brakes to minimise traction loss – effectively aiming to do the job of a proper limited-slip diff but without the added weight and with added control under braking and during turn in. It's effective enough most of the time, but occassionally the Alpine will spin away excess power through an unloaded inside wheel.
Engine, transmission and 0-60mph time
The A110 is powered by a new 1.8-litre, four-cylinder engine with a single turbocharger and direct injection. In the fullness of time this engine will produce 300bhp-plus (the much mooted Renault Megane uses the same engine rated at 296bhp), says Alpine, but for now it offers 249bhp at 6000rpm and 236lb ft at just 2000rpm. That's sufficient energy to propel the lightweight A110 to 62mph in a claimed 4.5sec and to an electronically limited top speed of 155mph.
Emissions and economy are highly competitive, with a claimed 46.3mpg combined economy figure and 138g/km of CO2. Somewhat controversially, perhaps, the A110 is not available with a manual gearbox, Alpine instead going with a seven-speed dual-clutch gearbox by Getrag, complete with column-mounted aluminium shift paddles behind the wheel.  
What's it like to drive?
Pretty sensational, if we're being honest. In simple terms, we reckon the A110 is the equal of the entry-level Cayman. That is saying something, but we really do mean it - although they go about their business in very different ways.
How so? Well not only does the A110 weigh several hundred kilograms less than a 718, it also has a higher power-to-weight ratio and carries far less inertia around with it, so it's quicker and more agile. It also makes a much nicer noise (not hard given the Porsche's fairly agricultural flat-four), is built to a surprisingly high standard and, to some eyes, looks rather lovely too.
And despite its relatively tiny dimensions, the A110 doesn't feel small or cramped inside, either. Alpine MD Michael van de Sande is a towering six foot seven inches tall and he fits into it, just, so for anyone of remotely regular proportions there is plenty of room in which to operate. Not that the A110 feels in any way clinical on the move, anything but.
Press the starter button and there's a distinctive, surprisingly loud burst of noise from behind as the 249bhp 1.8-litre turbo engine settles to a meaningful burble at idle. Engage first via the right-hand paddleshifter – as we've said, there is no manual gearbox option, instead you get a dual-clutch transmission, like it or not – and the moment the A110 starts to move it feels correct, feels right, feels great. As only the very best-sorted performance cars do. 
There's a refreshing absence of inertia to it right from the word go, not just via the light but feelsome electrically assisted power steering but through the seats as well – through everything, in fact. And when you put your foot down it goes, properly, and sounds raspy and sporting and potent in a way that a Cayman never really does. 
There's a touch of lag but that's OK. In a curious kind of way it almost adds to the A110's overall appeal because when the torque arrives, it does so in a rush, in an old-fashioned kind of way, and you feel like you need to hold on tight to the reins just to keep up. Subjectively this makes the A110 feel both quicker and more exciting than a Cayman.
The gearbox works fine but isn't a highlight. It's fast, efficient, decent. But not mind-blowing, even though the auto blips on downshifts are well executed and there are some nice crackles to be heard on overrun in Sport and Track modes.  
The chassis, on the other hand, is very much the star of the show. With a classic set-up of double unequal length wishbones at each corner and a lightweight aluminium body and frame, the A110 has all the credentials to deliver ride and handling greatness. But even so, the way in which it flows across the ground, 'breathing' with the road like only the best cars from Lotus did all those years ago, still comes as a very pleasant shock.
The steering is light, delicate and accurate, but delivers genuine feel through the rim, in all of its modes. You place the A110 to the nearest millimetre through most bends and have total faith in the front end because the turn-in response is so crisp, without being hyper-reactive. 
At the same time the tail is also beautifully controlled, and very well balanced relative to the front end. And while all of this is going on there's a fundamental composure to the ride that provides the A110 with a unique sense of maturity on the move. Over really bumpy stuff it can suffer from a little bit of float as the dampers just struggle to hold onto th exaggerated movements, but it in no way feels anything less than controlled and precise.
As a first-time effort it is phenomenally sharp, even if the amount of luggage space is a bit disappointing and the price seems a touch high for a relatively unknown brand.
Prices, specs and rivals
Alpine has yet to confirm an exact UK prices for the A110 line-up, although the limited Premiere Edition launch model is listed at £51,805. There will be just 1955 of these, but they are all sold out. Final specification has yet to be nailed down either, but expect a fairly comprehensive list of kit that'll run to LED headlamps, keyless entry, an upgraded Focal hi-fi, sat-nav and much more besides.
The UK price of the regular A110 is due to come in at a whisker under £50,000, which will make it more expensive than the less well equipped entry-level 718 Cayman (£42,897) and a touch less than the more powerful (394bhp) but also far heavier Audi TT RS (£52,100).