Finances permitting, making the decision to buy a used performance car is easy and something we at evo encourage wholeheartedly. What's not so easy, however, is choosing the right used performance car.
The options at any price point are wide-ranging; £10k affords you a 5.7-litre, V8-engined Vauxhall Monaro or a Renault Sport Clio 200 – simply establishing a shortlist could take hours, even days of deliberation. To save you some time, we've put in the legwork, and put forward our favourites from the used car classifieds across three segments: hot hatches, sports cars/coupes and supercars. So read on and find your next evo-approved used car…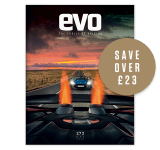 Subscribe to evo magazine
Subscribe today to have every issue of evo delivered straight to you. You'll SAVE 39% on the shop price, and get evo for its original cover price for a whole year!
Hot hatches
We love a properly sorted hatch, and here are four crackers that won't break the bank but will put a big smile on your face every time you get behind the wheel.
Honda's Civic Type R is currently in its fifth generation, but the second-generation car, the first introduced to the UK and which made its debut in 2001, is perhaps the best value of any hot hatch currently on sale.
Central to the experience is a 2-litre engine making 197bhp, and it does so with a scream - few mainstream cars have revved as easily, or quite as high, as the Civic Type R. The whole car feels light and agile too, and while the steering is a little numb, Honda reliability makes ownership relatively painless. Prices currently start at under £3k, though £5k will get a very tidy and original example with good history.
Our next contender is the evergreen VW Golf, here in Mk2 GTI guise: practical, lightweight and old enough to be eligible for classic insurance. Funny to think that in 1984 112bhp was deemed enough to be 'hot', but from 1986 there was a 16v version with 136bhp. Good, original 8-valves start at around £4k, but any sensibly priced Mk2 should provide plenty of depreciation-proof thrills.
If a Golf's too old or lacking in urgency then perhaps a modern classic like the Renault Sport Clio 182 would fit the bill. You'll need to be quick, though, as good examples are being squirrelled away and it's easy to see why: punchy performance (we recorded 0-60mph in 6.6sec), interactive handling and a reputation for being one of the last of the old-school hot hatches that's still affordable. Make sure it's had a cambelt change, check for worn synchros and watch for accident damage, and for £3k you can have a cracker.
Our modern hatch is the previous-gen Ford Fiesta ST. And for good reason: a brilliant 197bhp turbo 1.6 four, entertaining handling, and it makes a good daily, too. Prices have now dipped under £6k, making it a fantastic bargain, though owning one can be a bit like having a fast Ford in the early 1990s – the internet is rife with stories of theft, so do your best to keep the car secure.
Sports cars/coupes 
If you don't need the practicality offered by a hatchback then something more sporting could be in order. Our pick for a useable classic here is Toyota's first-generation MR2. It's a characterful thing, with an excellent engine and a sweet mid-engined balance. Despite its age, parts availability isn't a problem... although rust is. A Mk1 MR2 is never likely to be hugely valuable but it will gently appreciate while you enjoy driving it. And aside from the two generations of MR2 that followed (both also very tempting), what other mid-engined machine can you buy for under £5k these days? (No, we don't want an MG F thank you very much.
If you're after something brawnier, our pick of the modern classics would be TVR's rowdy Tuscan. Launched in 1999, all versions were powered by a straight-six, with outputs ranging from from 350 to 400bhp, and as you'd expect in something weighing little over a ton, performance is vivid to say the least. Early cars were pretty twitchy but suspension upgrades can tame them if done properly. Running costs can be high but you'll be owning a piece of British sports car history. Prices are on the up and now start at around £27k.
Even more modern is the Porsche  Cayman R. Launched in 2011 and gone by 2013, it's a relatively rare machine. It had 9bhp more than the 987 Cayman S and had been on a diet too, although speccing air con and a radio did put back some of the 55kg Porsche had shaved off. There was a limited-slip diff and some new aero, but it was the tweaked suspension that made it a step up from the S. It'll be the most collectible and sought- after 987 Cayman. Right now one could be yours for £40k.
Finally, there's perhaps the purest sports car of all: the Lotus Elise. The earliest models are now 24 years old which is quite remarkable, not least because the Elise you can buy brand new from Lotus today isn't that far removed from its ancestors.
Early, friendly-faced Elises have been going up in value for a little while now, and the cheapest have risen to meet S2 Elises on their way down. The insect-like S2 styling is an aquired taste, some preferring it to the softer original but losing the early purity for others, but subtle changes made it slightly more liveable than the first Elise, a situation that improved further as the S2 gained a new dashboard, a Toyota engine, and even luxuries like electric windows.
The starting point for any Elise is now around £12,000, though you'll want to spend a little more for those with the best history and in the best condition. Few sports cars deliver such a thrill to drive, though.
Supercars
For most of us a supercar has to have a mid-mounted engine, and while our classic choice here might be a little light on the cylinder count, it makes up for it with a turbocharger and a low kerb weight.
The Peter Stevens-styled Lotus Esprit Turbo lost some of the edginess of Giugiaro's original, but by the late '80s that design was in need of a refresh. Running gear still included the 2.2-litre 16-valve four-cylinder unit, now good for 215bhp and a 0-60mph time of 5.3sec. Good going for what is 2-litre diesel power these days... A 264bhp SE was launched in 1989, bringing a sub-5sec 0-60mph time. Stunning looks, very decent performance, but a little on the fragile side. Prices start at just over £20k.
There wasn't much arguing in the office over our choice of the Audi R8 V8 as a modern-classic supercar. It simply has it all: looks, performance, road manners and surprisingly manageable costs for a supercar if you buy wisely. A future classic in the making? Time will tell. Early 414bhp versions start below £40k.
> Ferrari 458: review, specs and buying guide
We've always had a soft spot for the Ferrari 458 Italia, and with a 562bhp 4.5-litre V8 that sounds absolutely sublime it would be hard not to include it in this roundup. It's not just the engine, though – staggering grip, pin-sharp handling and excellent brakes combine to make this one of the best supercar packages ever. £120,000 will get you sitting behind the wheel – almost a bargain given the car's £178k original list price.
Similarly bargainous (it's all relative!) is the Ferrari's sworn rival, the McLaren MP4-12C. Early cars have now dipped below £80,000, which is remarkable for a carbonfibre supercar with 592bhp at its disposal.
Even the styling, once declared too dull next to the wilder Ferrari, has aged nicely – some even prefer it to the more alienesque McLarens that followed, and the slatted back end is a distinctive touch. McLarens do have a reputation for electrical maladies and the company's early infotainment systems were woeful, but buy well (and buy a warranty) and few supercars are as pleasant to use daily
Expert view
VW Golf GTI MK2 - Andy Gregory (VW Heritage)
'As you'd expect of a car of this era, the thing to really watch out for is rust. They can vary a huge amount depending on whether they've been pampered or led a hard life, but you still need to check the sills, the seam where the floor panel meets the sill, the wheelarches, the doors, the lower bulkhead and the front suspension subframe.
Mechanically they're strong and easy to work on too – you can have a stab at finding out what's wrong without resorting to a specialist as they're pretty simple. They can get a little smoky, mainly down to old valve stem seals, and they can become a little rattly on the bottom end. Gearboxes are generally strong but watch for a failing second-gear synchro. Suspension and brakes are straightforward; rear brakes have a tendency to seize if the car's been standing.
> Volkswagen Golf GTI – Seven generations of the iconic hot hatch
'Most parts are still available and we've had quite a few made for the Mk2, too. The factory Recaros are super desirable but the standard sports seats are pretty good and we now stock the cloth to have them re-trimmed.
The Mk2 Golf GTI is a very achievable classic. You can buy one for a grand – it'll be rough, but you can get them – and for £5000-6000 you should be able to buy a very good example.'
Porsche Cayman R - Philip Raby Porsche (Philip Raby Porsche)
'The Cayman R is a brilliant machine. Any Cayman is really good and begs the question as to why you'd buy a 911 – and I'm a big fan of 911s. The handling is very neutral and predictable – it's an easier car to drive fast than a 911.
'I drove a Cayman R to Scotland when they were new and even in no-air-con, no-radio spec it was incredibly useable on the drive up there, and of course when we arrived it was brilliant fun on the mountain roads.
'While there were plenty of changes for the Cayman R it's the suspension that makes it feel so good – there's a bit of weight saving, but that's more a marketing thing as far as I'm concerned, and if I were buying today I would want air conditioning and a radio; I think most people buying would want these in a modern car.
'All Caymans hold their value pretty well, and here the rarity will add value, as will the R badge. If it was badged as an RS it would be worth even more! Sometimes you just can't predict what's going to happen to values but, that said, I think it would be worth taking a punt on a Cayman R – people love anything that's slightly rarer.
'If you're buying, ensure the car you're looking at has an excellent service history – history is key with these cars as many will want them as an investment – and also low mileage and low owners.'
Audi R8 V8 - REPerformance (Ricky Elder)
'The R8 is a fantastic car and the earlier V8s represent superb value for money, but there are a number of things to look out for. Probably the most expensive potential pitfall is the mag-ride dampers, as they can leak. They're £1000 each, plus labour. Personally I find them too stiff for road use so I wouldn't say they're a must-have option.
'Clutches can be problematic, especially on early cars. The slave cylinder can seize up – a heavy clutch pedal is the sign. The knock- on effect can be transmission damage or premature clutch wear, and a new clutch is £3600 [fitted, at a specialist]. Some people don't rate the R-tronic gearbox but I think it's fine if driven properly, with a slight lift on upshifts.
'Brakes can suffer from corrosion where the steel slider plates bolt to the aluminium calipers. This can cause the brakes to start to seize on, which can lead to warped discs. 'Ensure the air con works. The front-mounted condensers can take a battering but it's the compressor that's the big worry because replacement is an engine-out job.
'The engines are incredibly strong but ensure the car has an impeccable history. You can get into a V8 from around £35k, but many cars at the cheaper end of the market need work. A pre-purchase inspection is money well spent.'