It might be over 60 years since Harold Macmillan declared 'we've never had it so good' and it's unlikely he was referring to the plethora of thrilling hot hatches to choose from, but we truly are in a golden age of the rapid hatch. Our top 10 features machinery from nine different manufacturers from the established players such as Volkswagen to the new kid on the block from Hyundai.
They come in all shapes and sizes, too. Four-, five- and six-cylinder engines, front-wheel drive, all-wheel drive and even rear-wheel drive are all represented here and despite their hugely different characters these ten hot hatches have one thing in common – they offer a blend of practicality and performance that used to be the preserve of the supercar fraternity. Read on to discover which hot hatches make up our top ten.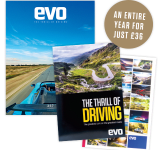 Subscribe to evo magazine
evo is 21 and to celebrate, we're returning to 1998 prices! Subscribe now to SAVE 39% on the shop price and get evo for its original cover price of £3.00 an issue, plus get a FREE gift worth £25!
1. Honda Civic Type R
The new Honda Civic Type R has taken our title as our 2018 hot hatch of the year. Yes, it might be one of the most powerful hot hatches on sale, and yes, it set the fastest lap time in our Super Test against the Focus RS and SEAT Cupra 300, but its pace and performance aren't the main reasons why it sits at number one.
We rate it because it's one of the most sophisticated hot hatches we've ever driven – just not to look at. Its refined ride, its ability to cover ground, its impressive traction even when unleashing 316bhp though the front wheels, and the chassis' poise and interaction make it a joy to drive. A short but well-defined, smooth gear change as well as perfectly positioned and weighted pedals add another level of satisfaction too.
2. Renault Sport Megane RS
Renault Sport's return to the class has been eagerly awaited and the Megane RS packs the necessary ingredients to mix it with the best of the best. Its 1.8-litre turbocharged four-pot might be a little down on power when compared to the Civic Type R but the RS's light weight means it's still a strong performer.
It's packed with tech too, such as the 4Control four-wheel steering set up and its hydraulic bumps stops and both work well to ensure the Megane RS feels suitably pointy and while the 4Control set up does take a little getting used to there's no doubt it does improve the car's agility. Less successful is the twin-clutch transmission – we'd recommend you stick with the manual.
> Click here for our review of the all-new Megane RS
There's excellent body control yet the passive dampers offer up a very decent ride while the brakes are strong and more than up to the job. There was a worry that Renault Sport might have been left behind by the latest crop of super hatches but the Megane RS proves there's plenty more to come from one of our favourite hot hatch manufacturers.
3. Ford Focus RS
A lot of hype surrounds the current, third generation Ford Focus RS and rightfully so. Its 345bhp, 347ft lb of torque and its 4.7sec 0-62mph time are all figures that are hugely impressive in a hatchback. It's the Focus's four-wheel drive system that has caused the most controversy though, partly because of its Drift Mode. But the ingenious rear differential that uses a clutch pack for each rear wheel doesn't just create oversteer at will (in very specific, low speed situations) but improves the car's traction and gives it an agility and exuberance that very few cars can match.
However, the four-wheel drive can make the Focus feel a bit contrived – especially on throttle when it gives the sensation as though it's going to oversteer but nothing ever materializes. A bouncy ride and unusual driving position (the optional shell-backed Recaro seats look and feel great, but are set way too high) mean that the RS isn't universally loved, but it's hard not to argue that it's a lot of fun when you're in the right mood.
4. Volkswagen Golf R
Since the Golf GTI Clubsport is no longer on sale, it's the four-wheel drive R that is our highest-ranking Volkswagen. Since its launch in 2014, the Mk7 R has continued to delight us every time we drive it. Subtle looks are matched by the delicate and nuanced way it drives. It's not as expressive and as flamboyant as some other hot hatches, but there's real adjustability and poise nestled beneath its traction and usability.
What's such a surprise is that the R uses many components (a platform, engine and drivetrain) that other performance cars in the VW portfolio use, like the Audi S3 and TT S. Yet in the R they are calibrated in a way that makes it far more involving and fun to drive than any of its siblings. It might not be our absolute favourite hot hatch, and there's definitely room for it to be a little more wild, but none of its rivals offer this performance in such a discrete and refined package. 
4. Hyundai i30N 
As the new kid on the hot hatch and performance car block, it'd be completely excusable if Hyundai's first attempt showed promise but was way off being a contender in such a competitive market. To have made the i30 N into a car that feels as solid and as robust as a Golf GTI, as ruthlessly determined as a Focus RS and almost as involving as the Civic Type R is a truly exceptional achievement.
Much more powerful and expensive cars do still trump the Hyundai, but its main rivals, the Golf GTI, Peugeot 308 GTi and Ford Focus ST, are left floundering by the newbie. The Hyundai now provides a stepping-stone between the traditional performance hatches and the new breed of intense hyper hatches.
5. SEAT Leon Cupra R
The regular SEAT Leon Cupra 300 is an exciting, if not a little bit ragged and wayward, hot hatch. The R fixes many of the 300's foibles with more power (306bhp up from 296bhp), a 20mm wider track, revised suspension with greater amounts of negative camber and Michelin Pilot Sport Cup 2 tyres.
 The more potent engine is slightly fiercer at its top end, yet the R doesn't feel much faster than the regular Cupra 300. However, grip, composure, body control and ride are all improved. These all add up to increase your confidence hugely and make the Cupra even more enjoyable to drive.
There are some major downsides to the Cupra R however: it's only available in eminently practical but not very sporty five-door format and, at £34,995, it's £4840 more than a regular Cupra 300. Not that price matters hugely as only 24 units will come to the UK, all of which are sold out. It's a good job then that the Cupra 300 isn't far behind the R and makes a very fine alternative.
6. Peugeot 308 GTi
Very few cars, including many on this list, provide such transparent, approachable and natural handling characteristics as the Peugeot 308 GTi. If you like the experience of a front-wheel drive car, the 308 offers all the sensations you'll be familiar with – its passive dampers, mechanical locking differential, torsion beam rear axle and Michelin Pilot Super Sport tyres combine to make a car that behaves in such a predictable manner. It combines accessible limits with more than respectable pace making it a car truly demanding car, but one where your return on commitment is high.
It might not be quite as savage and as fun as its little brother, the 208 GTi by Peugeot Sport, or as fluid and sophisticated as the RCZ R (another product of the Peugeot Sport team) but it's a pleasure to experience the 308's no-fuss, mechanical methodology.
7. BMW M140i
It's rare to find a hot hatch with more than four-cylinders; the RS3, with its turbocharged straight-five, is the only other car on this list that fits that criteria. Rarer still is to find a hot hatch with rear-wheel drive. The M140i isn't just the only one that is in this list – it's the only rear drive hot hatch currently on sale. Its layout means that the M140i behaves in a very different way to its rivals and, even more so than the Focus RS, you can induce power oversteer. But it's not on this list purely because it will drift, as the rear-drive format also allows genuine throttle adjustability allowing you use the rear axle to help steer the car in the direction you wish. This helps creates a truly demanding, but very rewarding drive.
Sadly, BMW just hasn't made the M140i as focused as its rivals and other hot hatches – the lack of a limited-slip differential being indicative of this. Its chassis is softer and it lacks the precision of a real performance hatch, feeling more like an ordinary car with a sport pack rather than one with a specially-honed chassis. It's an improvement over its predecessor, the M135i, but it still lacks the body control at the rear axle to make it truly great.
8. Audi RS3
The highlight of the RS3 is its 2.5-litre five-cylinder turbocharged engine. Figures of 394bhp and 354lb ft of torque are mightily impressive, but the instant, lag-free nature of the engine and real throttle response it delivers is even more extraordinary.
The engine has another trick up its sleeve, though. As well as the exhilarating speed it generates it also makes a glorious noise; the RS3's soundtrack is the quintessential, warbling five-pot. It really is reminiscent of a Group B Audi Quattro, only rather than hearing it from a distance interrupted by a blockade of trees, your right foot controls just how loud you want it to be. 
> Audi RS3 review
Arguably anything would seem disappointing after such a magnificent engine, but even so the RS3's chassis feels like a let down. Audi has favoured ultimate grip, unshakeable body control and rapid pace over interaction and driver immersion. As a result it's unquestionably fast and precise but it lacks the fun and involvement that make a great hot hatch. At least you've got that engine to listen to.
9. Volkswagen Golf GTI Performance
As power, grip and acceleration times alone don't make a great hot hatch, the Golf GTI still has a good chance of rivaling its bigger brother, the R, as a better drivers' car. And, before the Mk7 Golf, it was often the GTI that bettered the more powerful Rs and R32s. Things have changed now; the four-wheel drive R has come of age, pairing its bigger power output and traction with a dollop of driver interaction that the GTI can no longer live with.
That doesn't mean you should ignore the GTI, however. Ok, it isn't the last word in adjustability or interaction, but there's respectable performance and a real class to its interior and the way it rides. Its breath of talents are perhaps broader than any other car in this class, being easier to live with day-to-day than its rivals but still able to hold its own down a challenging B-road or on track. What's more, the GTI badge has unrivalled prestige and provenance as it has defined hot hatches since its launch back in 1976.