The hot hatch. It once was a simple notion of taking a potent engine from a larger car and shoehorning it into a small commuter hatchback. The good ones were always interesting, but the best of the genre came when Peugeot, Volkswagen, Ford and others put all their effort into the whole package, creating icons such as the 205 GTI and Golf GTI which defined a generation of performance cars (and enthusiasts).
Today, the best hot hatches are a very different proposition to models of the past and the future of the class is far from certain, as modern-era limitations such as fleet average CO2 complexities and the rise of the SUV threaten the very existence of the affordable performance hatchback. Thankfully, we don't have to worry quite yet, as the hot hatchback sector has been through something of a renaissance in recent years - the best exponents not just exhibiting performance talent, but also diversifying into products and price points that would have been unthinkable in the days of the early hot hatches.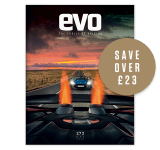 Subscribe to evo magazine
Subscribe today to have every issue of evo delivered straight to you. You'll SAVE 39% on the shop price, and get evo for its original cover price for a whole year!
Even better, the rest of 2020 is set for a significant shake-up of the class, with new products such as the incoming Golf GTI and Toyota GR Yaris ready to go later this year.
But for now, which are the best hot hatchbacks on sale? We dived into the matter in our 14-car hot hatchback megatest in issue 267, so the list below gives you an idea of what we are dealing with, plus there's a couple of newer additions that starred in 2019's evo Car of the Year. Here's the honour roll.
Best new hot hatchbacks on sale now
Click the links above for the full reviews or scroll down for more on each of our top 10 best hot hatches...
1. Honda Civic Type R
The new Honda Civic Type R is once more at the top of our hot hatch list this year. Yes, it might be one of the most powerful hot hatches on sale, but its pace and performance aren't the main reasons why it sits at number one.
We rate it because it's one of the most sophisticated hot hatches we've ever driven. The impressive ride, fluidity over even the toughest road surfaces, imperious traction, and the chassis' playfulness yet utter composure and poise make it a joy to drive. It's an experience no other hot hatchback has been able to replicate, even now, a few years since its introduction to the market.
This is enhanced by the short but accurate and smooth six-speed manual transmission, while the perfectly positioned and weighted pedals add another level of satisfaction too. It's a masterclass in hot hatchback engineering that only jars when you step out and have to look at it.
> Click here for our Honda Civic Type R review
2. Hyundai i30 N 
As the new kid on the hot hatch and performance car block, it'd be completely excusable if Hyundai's first attempt showed promise but was way off being a contender in such a competitive market. To have made the i30 N into a car that feels as solid and as robust as a Golf GTI, as ruthlessly determined as a Focus RS and almost as involving as the Civic Type R is a truly exceptional achievement.
Much more powerful and expensive cars do still trump the Hyundai, but its main rivals, the Golf GTI, Peugeot 308 GTi and Ford Focus ST, are left floundering by the newbie. The Hyundai now provides a stepping stone between the traditional performance hatches and the new breed of intense hyperhatches.
> Click here for our Hyundai i30 N review
3. Mercedes-AMG A45 S
Mercedes-Benz didn't start the hot hatchback game off particularly well with the original A45 AMG. It was certainly powerful, trading blows with the Audi RS3 for the hottest hot hatchback title over the years, but it was also dreadfully inert and not at all what we consider a good hot hatch. The same cannot be said for the all-new A45 S though, as this model is as far removed from its predecessor as you could possibly imagine.
Gone is the harsh wooden-like suspension, inert steering and utter disinterest in anything other than its task of putting up to 387bhp to the ground. Now, with even more power under the bonnet (415bhp) the A45 S is shockingly supple and considered, and even interactive when the right modes are selected.
It's expensive, and rather more than a hot hatchback in the traditional sense, but as a performance car its talent and interaction made it one of the real shocks of 2019.
> Click here for our review of the Mercedes-AMG A45 S
4. Renault Sport Mégane RS
Renault Sport's return to the class has been a somewhat rocky affair, but now spread into a range of four different versions (Cup and non-Cup chassis models included), the RS Mégane can be a tantalising hot hatch, so long as you choose carefully to suit your needs, as we found in our hot hatch megatest, when we had both the entry-level RS 280 and Trophy models on test.
As we found, the Trophy's compromised ride over rough roads proved to be its undoing, as the standard 280 model without the Cup chassis shone brighter, with a level of fluidity recognisable from the brilliant Alpine A110. If a hardcore hot hatchback is your top priority though, the extreme Trophy-R proved that with a little less weight and the removal of the RS's divisive rear-wheel-steering system, the Mégane can be sharpened into the most intense and exciting hot hatchback on sale.
All Méganes share the same 1.8-litre turbocharged four-cylinder engine with either a six-speed manual or dual-clutch transmission, and although neither transmission is especially good, the manual does the job when being hustled.
There's superb body control, impressive brakes and the very attractive design, which paired to the excellent seats (bucket or not) and enthusiastic steering makes for a very impressive hot hatchback.
> Click here for our review of the all-new Megane RS
5. Ford Fiesta ST 
A firm favourite in the office, the Fiesta is proof that four cylinders, independent rear suspension and other expensive 'big car' tech isn't required in the making of a fun hot hatchback. STs with the performance pack are the preferred choice as the Quaife limited-slip differential adds an extra notch of performance.
Even more preferable is the limited-run Performance Edition, which brought changes to the dampers that add an extra layer of sophistication to the quite stiff base model. The Deep Orange paint work and dark finish to the Ford Performance 18-inch wheels only add to the overall package, although its near-£27k price point does hurt it as a value proposition
> Click here for our Ford Fiesta ST review
6. Ford Focus ST
The Focus ST has always struggled to outshine its smaller sibling, and this is the case with the latest-generation Focus ST too. Don't be mistaken, it's far more capable and rounded than it ever has been, but it exhibits one or two key flaws that chip away at the overall dynamic package. Power and poise are certainly there – it's fantastically involving on track as the Focus's trademark rotation makes itself felt, but the issues take hold on the road.
The driver modes that now so distinctly affect the handling balance can't seem to strike a good balance on the road, being too stiff in sportier settings and a little under-damped and loose in the more benign ones. Add to this a vague steering set-up and its on-road performance is just too compromised in a class that doesn't forgive any dynamic flaws.
> Click here for our review of the Ford Focus ST
7. Volkswagen Golf GTI TCR 
The Golf GTI TCR came to be at a tricky time. The Golf R remains a deeply talented and desirable flagship, while for those after something a little more aggressive there was the GTI Clubsport. This TCR picks up where that model left off with a more potent 286bhp version of the venerable EA888, but rather than pairing it to VW's slick, if numb, six-speed manual, the TCR is DSG only, robbing some of the much-needed interaction that made the Clubsport a winner in our book.
Despite its transmission woes, it's still a more interactive machine than the R, and commands the road surface with the same unimpeachable quality that's become a trademark of the seventh-generation GTI. Just keep away from the graphics package that makes the TCR look like a company car for a honey firm.
> Click here for our review of the Volkswagen Golf GTI TCR
8. Volkswagen Golf R
It might be mere months away from being replaced, but the Golf R remains on this list as its combination of pace, interaction and quality still make it an intensely desirable hot hatchback. Its Mk8 replacement, to be revealed later this year, will likely keep many of the current model's attributes, but for the moment the current Golf R 7.5 remains a compelling package.
That's despite the fact the R shares many components (platform, engine and drivetrain) with other performance cars in the VW portfolio, such as the Audi S3 and TTS. Yet in the R they are calibrated in a way that makes it far more involving and fun to drive than any of its siblings. It might not be our absolute favourite hot hatch, and there's definitely room for it to be a little more wild, but none of its rivals offers this level of performance in such a sophisticated and refined package.
> Click here for our Volkswagen Golf R review
9. Mercedes-AMG A35
AMG's shameless copy of the highly successful (and profitable) Golf R might sound like more of a marketing move than genuine engineering exercise, but the A35 does draw a few compliments. The outright chassis, as proven in the A45 S, is a solid base point for a hatch that might lack involvement, but this is still an entertaining car to hustle down a back road. The suspension layout is about right, variable to the point of never feeling out of step with the road, or unable to contain the body. It's agile, and the steering is a faithful, if not particularly talkative sidekick.
The powertrain represents a respective weak point though, without much in the way of character or fireworks beyond the synthesised pops emanating from somewhere under the rear bumper. So too is its inability to breathe with as much fluidity as the Golf R that it has so obviously been benchmarked against.
>  Click here for our review of the Mercedes-AMG A35
10. Volkswagen Up GTI
Volkswagen's junior GTI has been a favourite in the evo office since its introduction, pairing a fantastically low entry price with just enough performance pizzazz to warrant those three iconic letters on its one-piece glass tailgate. Its powertrain is only a subtle upgrade on that of lesser models, with a 113bhp power figure barely blipping the hot hatch radar, but so small and light is the Up GTI that it seems plenty, even for performance car veteran Richard Meaden.
Its playful nature does have its limits though. This is not a deeply immersive hot hatchback like some of the more complex cars on this list are, rather it performs best up to about eight-tenths, where the rudimentary underpinnings are able to function in their comfort zone. Don't think this is a criticism though, as the Up GTI remains one hell of a brilliant baby hot hatch. Just don't go expecting too much.
> Click here for our Volkswagen Up GTI review