As we approach the halfway point of 2019, information continues to emerge about the new performance cars we can look forward to before the year's end. Despite it being a year of changing legislation and one that's seen a downward trend in internal combustion, there is still plenty of enthusiasm for the performance cars that will be incoming over the next six months.
The big German players, for instance, still have plenty to give this year, with a new Volkswagen Golf, Audi A3 and BMW 1-series all due to be revealed by the end of the year. These may be fairly low-key mainstream offerings, but each will lay the foundation for the next generation of hot hatches that are bound to play a prominent part in group tests in 2020. Mercedes' A-class has already been revealed, of course, but the hottest one of the range, the next A45, is still to come, and if the images of it slithering around the Nürburgring are anything to go by it might well be the game-changer AMG is hoping for.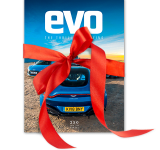 Subscribe to evo magazine
If you're passionate about the world's greatest performance cars, experience the thrill of driving with evo magazine. Try your first 5 issues for £5.
> Click here for more on the Porsche Taycan
Further upstream, Audi Sport has a flagship pair of performance offerings waiting in the wings, as both the RS6 and RS7 undergo final calibration testing. An updated AMG E63 S is also due, likewise a flagship BMW M8 that will combine the M5's powertrain with a lower, smaller and lighter bodyshell. But this is just the start, as 2019 promises plenty more before the year's end.
It'll be a big year for all the car industry stalwarts, all under pressure to reform their winning packages not only for the new emissions legislation, but also what's to come over the next eight or so years.
Best new cars coming in 2019
Below is our round up of the new car launches that have got us excited in 2019…
Aston Martin
Aston Martin's rapid growth was thrown into focus at this year's Geneva motor show, with a whole range of new mid-engined supercars shown before they arrive from 2021. But it's arguably Aston's most important new model, namely the DBX SUV, that will hopefully bankroll the development of that future halo range.
> Click here for more on the Aston Martin DBX
The updated Vantage AMR has been a recent revelation, too, featuring a seven-speed manual transmission, and a set of subtle chassis tweaks that promise to close the gap between it and the numerous rivals at the £120k price point. A roadster is also in the works, but we suspect this won't appear until the very end of 2019, or even into 2020.
Audi
Highlighting an exciting year for Audi Sport, the year's launches will culminate in the new RS6 Avant and RS7. Both are likely to be available in two states of tune for the first time, the first a 4-litre twin-turbocharged V8 with somewhere around 650bhp, and the second, arguably more interesting variant, a hybrid-boosted version, possibly closing in on around 700bhp.
> Click here for more on the upcoming Audi RS6
Both models will pick up a bespoke, widened body, and new panels, with a likely cross-pollination of the RS7's sleeker nose on the RS6 too. The next-generation A3 should also show up, along with the new S3, which we expect will be a little more potent in its fourth generation. Both will be built on a heavily revised MQB platform with all-new styling, interiors and powertrains. 
Bentley
Bentley has already revealed its Bentayga Speed and Continental GT Convertible this year, and 2019's new models will be joined by a new Flying Spur too, combining the new Continental's Porsche-derived MSB platform with a long four-door, three-box bodystyle for the first time.
> Click here for more on the new Bentley Flying Spur
Expect the same sumptuous interior, but with considerably more rear seat space and the same pair of W12 and V8 powertrains. Speed versions will inevitably follow, but we'd not expect a release of that pair until 2020.
BMW
BMW's next big reveal for 2019 will be the all-new 1-series; the first version to be front-wheel drive, building on a new platform that will go on to underpin a vast variety of BMW models. An all-wheel-drive M135i will join the standard car, sharing the same 302bhp B48 2-litre four-cylinder engine as in the recently revealed X2 M35i – which will become yet another rival to the Volkswagen Golf R.
> Click here for more on the incoming BMW 1-series 
Elsewhere, we'll soon see a four-door 'Gran Coupe' version of the 8-series, and the incoming M8 flagship, which will be available in all three of the standard car's body styles. A new X6 is also in the wings, joining BMW's rapidly expanding SUV range.
Chevrolet
Chevrolet may not seem like a particularly UK-centric company to focus on here, but when it's an all-new Corvette, not to mention one that will likely throw out the rulebook, it's big news. That's because the new Corvette will be mid-engined, likely be turbocharged, built from carbonfibre and not fibreglass, and rather than take on sports cars, will have its eyes on supercars.
> Click here for more on the incoming Chevrolet Corvette
This is like Porsche making the next 911 front-wheel drive, such is the attachment many have to the Corvette's front-mounted small-block, rear-drive combination. We won't have to wait long to see the reactions, but regardless of your allegiances, it's one more fascinating sports car to look forward to this year.
Ford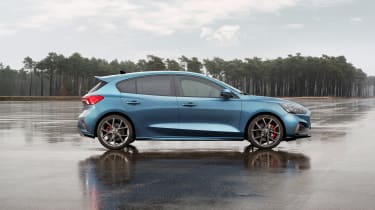 The model might already be out in the open, but we're yet to get behind the wheel to put it through its paces. 
> 2019 Ford Focus ST estate priced from £30,595
A larger, 2.3-litre turbocharged 4cyl produces a 276bhp and a very healthy 310lb ft of torque, a significant 50lb ft more than the outstanding Hyundai i30 N - perhaps new interior design and power gains will finally bring it up to speed with rivals...
Honda
Honda's new e electric car has now been shown in near production-ready guise, but it appears that our current hot hatch favourite, the Civic Type R, might well be in the process of a light update later this year.
> Click here for more on the upcoming Urban EV
Spotted testing on the Nürburgring with a subtly updated fascia, and in some cases a low-slung wing replacing the BTCC-style unit of the current model, the CTR might be about to get even better.
Mercedes
Mercedes' extensive roster of new models, and its AMG derivatives, promises to keep the Mercedes press departments busy for the rest of 2019, but without a doubt it's the new A45, and its platform mates that is most interesting for us. Promising a new, rear-biased all-wheel-drive system, and a power figure of over 400bhp from its 2-litre turbocharged four-cylinder engine, we're hoping the A45 will finally have the driving feel to match its potent performance potential.
> Click here for more on the upcoming A45 AMG
Elsewhere, Mercedes' E-class will undergo its mid-life update, taking its AMG variants along for the ride. AMG will also apply its hand to the new GLE to create the GLE63, with the same to apply to the massive new GLS. Mercedes' big two – the S-class and C-class – are both due total overhauls in 2020 and 2021, missing out on our 2019 deadline.
Peugeot
Peugeot's 508 PSE arguably stole the (mainstream) show at the Geneva motor show this year, and even though it was touted as a concept, a production version (with less power) should be with us before the end of the year.
 > Click here for more on the Peugeot 508 PSE Concept
Expect Peugeot to remain tight-lipped about a new 208 GTi though, as it focuses on launching the standard and electric 208-e models before the end of the year.
Porsche
We're all waiting with baited breath to see what form the new Porsche 911 Turbo will take when it arrives later this year. With standard Porsche 911 Carrera S models already dipping under the 3.5sec to 62mph mark, what Porsche might have in store for the new Turbo and Turbo S is very exciting. GT3 models will likely slip into 2020, but in the meantime, for your naturally aspirated flat-six fix, the new Cayman GT4 and Boxster Spyder will be on hand later this summer.
> Here's more on the Porsche Taycan
Porsche's Taycan will also be revealed in full this year, the new electric luxury saloon taking the fight to the Tesla Model S, with its devout customer base in its sights. This is no rush-job either, as it'll sit on a new bespoke skateboard platform, developed from scratch to take Porsche into the electric age. Porsche's Cayenne Turbo will also pick up a level of electrification, with a flagship Cayenne Turbo S E-hybrid in the wings with a near-700bhp combined power figure likely.
SEAT
SEAT will join Audi and VW in launching its MQB-platform C-segment hatchback, with the new Leon very close to its reveal. Like its Golf, A3 and Octavia cousins, the new Leon will feature new styling inside and out, dramatically improved tech and updated powertrains.
> Click here for more on the new Leon
Of course, it's the Cupra Leon we're most looking forward to, which will join the Ateca and incoming Formentor SUVs in the sub-brand's range. Cupra remains tight-lipped about possible powertrains, and with the likelihood of hybridisation becoming a larger part of all of the Volkswagen Group's performance offerings, it's increasingly likely that a future Cupra Leon might feature a plug port and petrol cap.
Skoda
Skoda's all-new Octavia will arrive just before the end of the year, joining its smaller Golf, Leon and A3 relatives on a revised MQB platform. As in those cars, the interior is due a massive update over the current model, with new infotainment tech, interior layout and sharp new exterior styling. A vRS is due to follow next year, likely sharing its underpinnings with the forthcoming Golf GTI.
Volkswagen
Volkswagen's 2019 will be highlighted by the all-new Mk8 Golf. It's to be based on a heavily updated version of the current car's MQB platform, but with further adaptations for hybridisation and a dramatic improvement in interior tech. The new exterior design has already been caught pretty much undisguised, and follows the previous model's crisp styling, but with added drama of LED lighting surfaces and bigger wheels. GTI and R models will follow, but these will likely come later in 2020.
> Click here for more on the next-generation Golf
The second big car for Volkswagen is what it's calling the next step after the Golf – the new ID. It's been designed from the outset to be the first proper attempt at a mass-produced, high-volume all-electric family car for VW. If it succeeds, it'll mean that for one of the biggest and most influential manufacturers of all time, 2019 will be the year it both rewrites one of its most prominent current chapters, and creates a whole new one. Important times indeed.