In a world obsessed with SUVs and legislators obsessed with autonomous driving, it's reassuring to know there are still dozens of cars available on sale today that deliver exactly what evo has always attempted to seek out: the thrill of driving.
Below you'll find 20 such models, currently on sale, which fit the definition. From hot hatchbacks through coupes, lightweights and sport saloons, to some of the most exciting supercars around.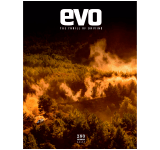 Subscribe to evo magazine
Subscribe today to have every issue of evo delivered straight to you. You'll SAVE 39% on the shop price, and get evo for its original cover price for a whole year!
Alfa Romeo Giulia Quadrifoglio
Alfa Romeo made us wait for it, but the Giulia saloon, and the hot Giulia Quadrifoglio even more so, are the BMW-beating sports saloons we'd been wanting Alfa to make for decades. And among many other reasons, Alfa's adoption of rear-wheel drive plays a not insignificant part in that.
What it means is that the Quadrifoglio is more than capable of putting its 503bhp output, courtesy of a 2.9-litre twin-turbo V6, to the tarmac. It's a hell of an engine, not just in terms of punch but also power delivery – we can't think of many 500-horsepower cars that make metering out their performance so intuitive.
That in turn breeds confidence, aided further by quick, accurate and well-weighted steering, and a relatively lightweight chassis that breezes over poor surfaces without complaint. Alfa still appreciates theatre too, with Ferrari-style gearshift paddles and excellent seats making the contact points as involving as the driving experience.
Alpine A110
Since 2007 the Porsche Cayman has had things all its own way in the two-seater coupe market. No longer. Alpine's A110 sports car has been a true highlight of the last couple of years, doing what the Alfa Romeo 4C never could and putting up a proper challenge to the Cayman's dynamic masterpiece.
Alpine was clever though, and didn't simply replicate the Cayman's recipe – a strategy that surely would have resulted in failure. Instead, the A110 went down the path of light weight, straddling the gap between the Cayman and a Lotus Elise, and mixing in a near-magical ability to ride bumps.
The result is a very different experience to the Porsche, or indeed the Lotus, but a hugely appealing one nevertheless. There's a more powerful, more focused A110S, but even the regular car is engaging, characterful and fairly rapid in its own right. Throw in a modern design with some clever retro touches and a compact footprint and it's among the most relevant performance cars on sale today.
Ariel Atom 4
It may look like the old Atom we know and love, but the Ariel Atom 4 is effectively all-new. With a stronger frame, revised suspension and the turbocharged engine from a Honda Civic Type R, it's a significant evolution of the Atom formula.
It's also, as we discovered upon first driving the car, incomparably rapid until you've wrapped your head around the newfound shove. A Civic R is already a very quick car – now imagine it with the best part of a ton less weight.
The surprising part is that the other controls feel so much more delicate, with light steering, an easy gearshift, a less nervous feel than before, and a ride quality that, thanks to softened springs and new Bilstein dampers, is wholly appropriate for British B-roads. You'll need to wear a helmet – even a Caterham is more usable day to day – but few driving experiences are as intense.
Aston Martin Vantage
We'll preface this by saying the Vantage is at its best in manual form, graced with extra character and involvement that's missing, to a degree, from the standard car. The seven-speed dog-leg 'box takes some getting used to, but does have an auto-blip function should you wish to take things at least a little easier.
But the Vantage as a whole is a car transformed from our earliest experiences with this latest car. The ride quality is supple, giving the Vantage a long-distance gait appropriate to a car wearing the winged badge and taking the edge off crusty B-roads, at least up to a point. The chassis feels approachable and engaging too.
Combined with the motive power of the AMG-sourced V8, the Vantage has that cultured muscle car feel that British car companies have long done so well – an iron fist in a velvet glove. Aston Martin has traditionally tamed its beasts over time too, so we expect future Vantage variants to be even better.
Audi R8
Audi's supercar is getting on a bit these days, now five years old and facing very different rivals to those it faced at launch. Yet there's still something very desirable about the R8, and much of the credit for that can go to the reciprocating mass found behind your head.
With downsized engines, turbocharging and hybrid assistance becoming the norm, Audi's 5.2-litre V10 stands out even more now than it did at launch. It's sharp, hugely powerful, and sounds very special indeed – an aspect of the car you can enjoy on any journey.
Thankfully, it's also paired with an accomplished chassis. Long, low and wide, the R8 has proper supercar proportions and can feel intimidating on some roads from your low-set perch. But the steering has improved over time and the mid-engined layout gives the R8 greater agility than its front-engined rivals. It doesn't feel out of its depth on a track, either.
BMW M2 Competition
BMW's M division hasn't exactly been on a roll recently, with brash SUVs, the lumbering M8s and erroneous Competition badging making us wonder whether anyone in the division still remembers cars such as E30 M3s or E39 M5s.
If they do, they were behind the M2 Competition, which took the best bits of the M2 launched in 2016 and massaged away the less desirable aspects. The M2 Comp gained a proper M engine, the S55 found in the BMW M4, and tweaks to its chassis to tame the original car's occasionally wayward handling.
It's now as composed and capable as it is exciting. The S55 straight-six fizzes with energy, huge front-end grip gives the car remarkable agility, and with a six-speed manual 'box it offers an additional layer of interaction that's increasingly rare in its class. To us, it looks fabulous too – buy one while you still can.
Caterham Seven 310
You could spend all day choosing paint schemes, wheels and accessories on Caterham's online configurator, but we'll save you some time picking a variant to modify; bar one or two dissenting voices, evo's favourite Caterham Seven is the 310.
In essence, the 310 is the most extreme of the 1.6-litre Sigma-engined Sevens, before the range steps up to the 2-litre Duratec models. Clearly, the 1.6's 152bhp doesn't quite match the 360's 180bhp, but in a car that weighs under 500kg, you still get 310bhp per ton – hence the name. And that's still good for 0-60mph in under five seconds.
What you gain is the ability to really work the Seven hard, even on the road, without instantly breaking the law. The engine's top end is far better than the more modestly tuned Seven 270, and the chassis is as brilliant as on any Seven – with even more focus in 310R form. Sure, Sevens are hugely compromised in some ways, but few compromise so little on the actual driving experience.
Chevrolet Corvette C8
For the first time in its history, the Chevrolet Corvette has gone mid-engined – and for not unrelated reasons, it's among the most impressive new performance cars launched in the past year.
It is, to be brutally honest, not an attractive car, but under the skin Chevrolet's engineers really have done their best work. Behind the seats there's a stonking 6.2-litre pushrod V8 making 495bhp directed through an eight-speed dual-clutch auto, the result being 0-60mph in 3.2sec and a deep-chested soundtrack.
But the chassis is the real highlight. We even described it as being Lotus-like at launch, which is about as high praise as we can offer a car. There's good steering feel and precision, a flowing feel to the chassis, and mighty brakes. And in its home market, it costs less than a Porsche Cayman.
Ferrari 488 Pista
The most focused variants of Ferrari's mid-engined V8 line have traditionally been quite special – think 360 Challenge Stradale, 430 Scuderia and 458 Speciale. The 488 Pista is the latest in that line, and true to form it's another eye-widener.
A 711bhp variant of the twin-turbo V8 is a large reason for the dilated pupils and white knuckles, and while it doesn't scream like the naturally aspirated units of its predecessors, it's truly remarkable even so – lag-free, mind-bendingly rapid and still more tuneful than say, the V8s used in rivals from McLaren.
The Pista gets the same ultra-quick steering as other 488s, and like those cars it takes time to acclimatise. When you do, it feels surprisingly natural though, and the car's dynamics are similarly instinctive. Clever electronics allow you to feel out the car's abilities without overstepping the mark, and adapting to those abilities is all part of the experience.
Ford Fiesta ST Performance Edition
Ford more or less has the supermini hot hatch market to itself at the moment. There's no Renault Sport Clio on the horizon and Peugeot is between GTis. The Fiesta ST is therefore one of our favourite hot hatchbacks by default, but there's a way to make it even better: the Performance Edition.
The modifications are subtle, if expensive – it's now a £26,495 car – but the most profound changes are a set of lighter alloy wheels and adjustable Ford Performance coilover suspension. Together, these changes retain the ST's taut handling, but also let it breathe with the road in a way the standard car can't match.
And that means even more fun on the kind of bumpy tarmac UK buyers have to deal with, the Performance Edition otherwise retaining the same quick steering and agile balance as the standard car. The three-cylinder engine lacks the raw edge of the four-pot it replaces, but it's got even more punch to it, too.
Honda Civic Type R
It may not be a stripped-out, lightweight special, and it might not have a high-revving naturally aspirated engine, but Honda's latest FK8 Civic Type R thoroughly deserves to wear its legendary Type R badge.
Put simply, it's the best hot hatchback on sale. Honda has taken what made the FK2 Type R an entertaining hot hatchback, and lavished it upon the latest Civic platform – lower, longer and lighter, with more sophisticated suspension – to hugely impressive results.
It's astonishingly capable on both road and track, but not to the expense of entertainment. Few current hatches have better steering, even fewer have better damping, and none has a gearshift as crisp as the Type R's. It's capable and thrilling, and priced from around £30,000, it's also pretty good value given its standard of performance.
Hyundai i30 N
Hyundai wasn't a complete stranger to driver's cars when it introduced the i30 N Performance – there'd been a few generations of coupe in the past, and the V6-powered, rear-drive Genesis coupe in overseas markets – but as a first proper attempt at a hot hatchback, the i30 N is remarkable.
It's no token effort either. The i30 N is among the best cars in its class, and when that class includes the Honda Civic Type R and Renault Sport Mégane, that's a real accolade. Like the best driver's cars, it doesn't simply try to replicate the experience of another car either, but offers something new.
In the i30 N's case that's a chassis that feels eminently liveable everyday, with a polished ride and easy-going controls, but instantly ups its game when you push it harder. A vast range of configurable options allows you to customise its attributes to near-perfection too, but it's the basics Hyundai has really got right: a stiff structure, well-judged controls, a great driving position and exploitable performance.
Lotus Elise 220
A drive in a Lotus Elise is enough to make you question the need for any other performance car. And people have been saying the same for well over two decades now, which illustrates just how right Lotus got the original recipe and how difficult it might be to eventually replace.
You'd struggle to come up with a better recipe if you tried: light weight, a rear-drive, mid-engined layout for maximum agility, no power assistance to cloud steering feedback, a responsive engine, a manual gearbox, and a compact footprint.
This would all be for naught if badly executed, but the Elise remains fabulously involving. The latest supercharged cars are genuinely quick but not excessively so. The steering is a model of tactility and the ride still soothes away the worst bumps, while the gearchange, once a weak point, is now a clackety work of art. If you ever get a chance to drive one, don't pass it up.
Lotus Evora GT410
For Evora, think scaled-up Elise. More size, more practicality, and with a supercharged 3.5-litre V6, more performance – but still presented in a package that's unmistakably Lotus, from the styling to the steering feel.
These days the Evora is somewhat hamstrung by its pricing structure, which puts the car well into Porsche 911 territory. There are some things Lotus can't compete with at that level, but pleasingly, the Evora is still right at the sharp end for driver interaction, which is what really matters.
It's an easier car to drive than an Elise thanks to the power-assisted steering (still hydraulic, and still dripping with feedback), and a more companionable long-distance partner, with a ride quality few other sports cars can match. That's especially true in the latest GT410 form (without the Sport suffix), which is probably the best Evora yet.
McLaren 600LT
Any number of McLarens could have featured in this list, but 2018's eCoty winner is surely most relevant, and distils the best of McLaren's other sports cars into one neat Sports Series-based package.
Power climbs to 592bhp from the 570S's 562bhp, but the 84kg weight reduction is similarly profound, while an upgraded chassis completes the picture. The result, as you'd expect from a car able to fend off the very best of 2018's performance models, is hugely impressive.
The 600LT is effectively a 570S with all the slack removed – and there's not much slack in a 570S. McLaren does good work with its steering and the 600LT's is among the best even among McLarens, and while the boosty power delivery keeps you sharp – the fun starts at 3000rpm – it's explosively fast the rest of the time. And it's not just a track car, though that's undoubtedly where you'll get the best from it.
Mercedes-AMG A45
The previous AMG A45 wouldn't have appeared in this list, which tells you most of what you need to know about how vastly the new A45 improves upon its predecessor. So talented is the latest A45 in fact that it achieved a podium position at evo Car of the Year 2019 – behind only the Porsche 718 Cayman GT4 and Mercedes-AMG GT R Pro.
Outwardly similar to the AMG A35, and not dissimilar on paper – both use 2-litre turbocharged engines and all-wheel drive – AMG has actually gone to great lengths to differentiate the pair, no greater example of which is the engine, which in S form develops 416bhp, a full 114bhp more than in the A35.
This makes it incredibly quick, obviously, but the old car was fairly rapid too. Where the new A45 differs is that it's genuinely involving, with a chassis that combines pliancy and adjustability and no small degree of entertainment. Where the old car was one-dimensional, the new one feels like a reincarnation of the Mitsubishi Lancer Evo.
Mercedes-AMG GT R Pro
Each iteration of Mercedes-AMG's GT seems to be better than the last. The base car was good, but the GT S went a step better and the C a step further than that. The GT R was really quite something – but in GT R Pro form, the GT becomes one of the most exciting road cars on sale.
For a start, it looks like a full GT3 car has been plucked from Spa Francorchamps and put in the high street, and there's a strong race car vibe to the interior too, thanks to the deep bucket seats, harnesses, and hilariously wide feel.
What's most appealing though is that the Pro offers genuine driver involvement. The V8 is mighty, in both sound and performance, but the chassis still has the measure of it. Four-wheel steering gives it incredible agility, while the precise throttle response makes it surprisingly easy to feel out the car's levels of traction. It's a much richer experience than you might expect.
Porsche 718 Cayman GT4
eCoty's reigning victor is an obvious inclusion here, but everything we mention in the next few paragraphs can also be applied to its stablemates, the 718 Boxster Spyder, and the 718 GTS in both Boxster and Cayman form. And realistically, even the four-cylinder 718s deserve a spot, even though we still struggle with those engines.
But the 981 Cayman GT4 was an eCoty winner, so the latest car's victory was almost assured. It's a car that's both incredibly capable in the hands of a skilled driver, but also flatters those still learning. Best of all, so many of the GT4's qualities are as easy to enjoy at sensible velocities as they are flat out on a track.
Overly long gearing still irks some of us, but the four-litre engine is rich in sound and sharp in delivery, so you can enjoy it whichever gear you're in. Steering feedback is among the best in modern cars and the chassis a model of adjustability. We're tempted to say the GTS is even better though – just as fun but significantly less expensive.
Renault Sport Mégane
A last-place finish at eCoty 2018 for the Mégane Trophy might have you questioning what it's doing in a list of the best driver's cars. Turns out though that the Trophy is only part of the Mégane RS story, and that the models at the top and bottom of the range are the ones you should be paying attention to.
At the top, you have the Trophy-R, the most extreme Mégane yet and among the most extreme hot hatchbacks ever. The £70k price tag makes the headlines, but its performance and cornering abilities, particularly on a circuit, are what make it a great driver's car.
It's perhaps a little too much for the road though, which is where the entry-level, Sport chassis Mégane 280 comes in. With similar performance to the Trophy but a more fluid, road-friendly set-up, it feels like a big, front-wheel-drive Alpine A110, and the four-wheel steering no longer feels as nervous as it does with the stiffer settings. It's one of our favourite current hot hatchbacks.
Subaru BRZ/Toyota GT86
Enthusiasts were crying out for a simple rear-wheel-drive, naturally aspirated, manual-gearboxed sports car when the Subaru BRZ and Toyota GT86 arrived, but the reception wasn't quite as warm as perhaps Subaru and Toyota had hoped.
Examine the BRZ and GT86 carefully though and there are only a few areas that could be significantly improved. The 2-litre boxer engine needs working hard to make progress (with only limited rewards when you do), and the standard-fit Michelin Primacy tyres aren't particularly confidence inspiring in quick driving.
The rest of the car though is top-notch. It's more spacious and feels more substantial than its closest rival, the Mazda MX-5, the chassis has wonderful poise and balance, the gearshift is a cracker, and it's actually decently quick if you stoke it hard enough. BRZ or GT86 is up to you, but both are more satisfying to drive than Toyota's own Supra.