Best family cars 2022 - sensible haulers that are still fun to drive
Saloon, hatchback or SUV, family cars come in all shapes and sizes, and needn't be a snore to drive. These are some of the team's favourites.
The Volvo estate, a base-spec Ford Cortina, the Renault Espace. Cars one thinks of when the words 'family car' are uttered. Hardly sporting, let alone evo, but if there is one positive spin on the industry's recent diversification of niche into niche, it's that the family car no longer need be a snooze to drive.
Hot hatchbacks with stunning track ability, saloons and estates with supercar-beating performance times, and even an Italian supercar that has morphed into practical all-wheel-drive hatchback, times have never been better if you're after a practical performance car.
The list we've compiled here is not an ordered list, rather a collection of brilliant-to-drive performance cars that have just as much emphasis on the way they drive as they do isofix points.
So what does the team fancy? Sure, there are some of the usual suspects – superfast performance saloons and estates, the occasional hot hatchback – but also a couple of two-door models that might be less useful to lug much associated children's fodder, but can still be used for the school run or an emergency trip to M&S when your last white shirt gets covered in baby sick.
Alfa Romeo Giulia Quadrifoglio
We've used the terminology 'four-door' Ferrari more than once when referring to the Alfa Romeo Giulia Quadrifoglio, so if you've just had to give up that two-seater sports car the Giulia's undeniably exotic feeling makes it an ideal candidate. Space inside is reasonable too, about right for a compact executive saloon, although we'd suggest avoiding the (albeit wonderful) carbonfibre bucket seat option, as they will not only reduce the already tight back seat space but will also be at the mercy of children's mucky shoes.
What it does do brilliantly is entertain when the roads and back seats are empty, its brawny, charismatic twin-turbo V6 engine barking its way up and down the short ratios with a thump on every fantastic gear change. The hyper-agile chassis and ultra-fast steering might initially shock, but get in tune with the Giulia's quite spectacular rate of response and you'll find out the chassis can handle it, making this still one of the best sports cars on sale, regardless of its door count.
Mercedes-AMG E63 Estate
An obvious addition perhaps, but the Mercedes-AMG E63 Estate now more than ever really does offer supercar speed with van-like practicality. The new E-class's vast load-lugging capability has not been hindered in the slightest in its AMG transformation, the rear seats are just as commodious as the last time you took an overpriced cab from a German airport, and yet its 563bhp twin-turbo V8 engine and accompanying soundtrack still delight in equal measure.
Being a modern Mercedes, other aspects including interior tech and build quality are also top notch, making this the perfect everyday hauler for the sort who can stomach running a car capable of little more than 20mpg. It even looks great, and specced right plays the ultimate Q-car game.
Porsche 911 Carrera S
Remember we mentioned not all family cars need to be a 'real' family car? Well it was mentioned only really to justify the Porsche 911's inclusion on this list. The new 992 generation keeps its rear seats, and the boot is bigger than ever, so really, it's all the family car you could ever need.
In reality, the real reason 911s have always appealed is their innate ability to drive with a clarity and depth while still (just about) offering space for four. It's a unique talent, and one that pretty much no rival can match this side of an Aston Martin DB11. And remember, the front boot of a 911 might not fit a child's buggy or baby bag, but it does just about fit an evo snapper, and they're far more useful.
Alfa Romeo Stelvio Quadrifoglio
We thought it essential to collate this list without resorting to the sports utility vehicle, but then we remembered the Stelvio Quadrifoglio – a similar beast to the Giulia listed above, but here not as a slightly worse derivative, rather one that offers a different experience and which is no less entertaining. The key difference here is not weight figure or body size, but driven wheels, as the Stelvio's all-wheel-drive system does fundamentally change the way it handles down a challenging road. There is an added layer of security and traction, and the all-wheel-drive system allows you to take more liberties with it than the Giulia.
The Stelvio is more of a thug. Get the nose locked in and the whole chassis grips and goes, with just enough front-wheel-driven action to keep the tail in check, with perhaps a degree or two of angle if you get greedy with the throttle. The added space inside isn't significant, and we'd be happy to give a degree of that up for the sake of a lower centre of gravity, but as performance cars of any type go, the Stelvio is a genuine laugh.
Jaguar XE SVR Project 8 Touring
The standard Jaguar XE SVR Project 8 makes little sense in reality. Rear doors without anything behind them, netting, track-dialled tyres and a pointless-looking rear wing give the impression of this being a GT3-like track monster, and yet excellent though the chassis is, it was never going to be able to compete.
The Touring, visually identified by its tiny lip spoiler, is a different proposition – more a British thug from Peaky Blinders than the Pimp my ride image the standard Project 8 can sometimes portray. In Touring form, the XE's appeal reveals itself; an eccentric British supersaloon that doesn't appeal to the ordained regiments of an AMG C63 S or BMW M3. This is more – a tiny, overwrought, 592bhp supercharged V8 saloon built in an era increasingly defined by volts and not velocity. Four doors, four seats, a boot and carbonfibre bodywork. Sounds like an ideal family car to us.
Hyundai i30 N
A firm favourite in these parts, the i30 N is now ingrained into the hot hatch hierarchy as one that offers a hugely entertaining driving experience for not much money. There are flaws; it's quite heavy, and when really pushed has less depth to its capability than rivals such as the Civic Type R. But this it counters with a supremely well sorted package, one that feels like every part of it has been under the microscope of people who know exactly how to engineer a hot hatch from less than ideal underpinnings. For it to come from a start-up hot hatch manufacturer such as Hyundai that's reason in itself to be impressed, until you remember it was crafted under the watchful guidance of Albert Biermann, the man behind BMW M's greatest hits of the '90s and noughties.
Its underlying commuter car body does it nothing but favours in practical terms too, with a spacious (if somewhat underwhelming) interior, a big boot and low running costs. Press a few buttons, though, and the i30 N turns into a little gremlin of a hot hatch, popping and banging its way into corners like a Frankenstein hybrid of a TCR touring car and WRC rally car.
Toyota GR Yaris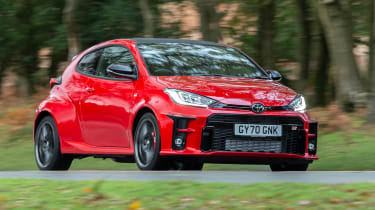 Finally we've brought some sense and sensibility to this list of suggested family cars – and what could be more sensible than a Toyota Yaris. Of course, if one was to utter that car's name in evo any year before 2020 we'd have assumed it were April fools', but the Yaris name went through quite a transformation in 2020. That's because for the first time in a generation Toyota brought us a true WRC homologation special in the GR Yaris, a car of which has totally blown everyone's preconceptions of the humble Yaris. 
In many ways the GR Yaris is related to its lesser sibling by name only, as aside from its lights, mirrors and some interior components it shares almost nothing with the standard supermini. The lower and wider body shell hides a composite of both bespoke and off-the-shelf mechanical components from elsewhere in the range, all of which have been put together to create the most exciting new road-going hot hatchback in recent memory. Sure, some of the Yaris practicality has been washed away, namely its much lower roofline, small rear seats and the fact that it'll easily consume over twice as much fuel as its hybridised sibling, but where there's a will there's a way, and those back seats will just about do the job for a couple of your little proteges. And the best bit. It'll be impossible not to justify, as once you utter your next car is a Toyota Yaris,  
Honda Civic Type R
Forgetting for a moment the Civic Type R's impossibly sweet dynamic package and you'll find a very child-friendly proposition. This could be down to its recent upsizing, as the new Civic's dimensions don't differ greatly from the larger Accord of only a generation or so ago, but the massive boot and capacious rear seats are perfect for those in need of some space. 
The Civic's real talent is its wonderful chassis though, with an innate ability to breathe with whatever road surface it faces and with a superb level of fluidity and poise. It's not boring either, as the chassis is more than happy to play given the opportunity, and it even rides well in standard mode. The engine's effective rather than tuneful, but be in no doubt the Type R is about as close as you can get to the polish and poise of a real sports car with only its front wheels being driven.