The 2010 Paris motor show opens its doors to the press on September 30 (October 2 for the general public), and evo.co.uk will be reporting live from the show with all the latest news, pictures and car reveals.
Bookmark this page and keep heading back for updates, with links to all the Paris show stars below as well as our image galleries and videos live from the show floor.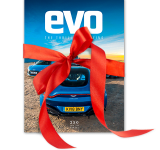 Subscribe to evo magazine
If you're passionate about the world's greatest performance cars, experience the thrill of driving with evo magazine. Try your first 5 issues for £5.
And don't forget to share your thoughts on the latest news on the evo Forum.
Paris Video: Lamborghini Sesto Elemento supercar